Gold extended its rally overnight, trading in a range of $1230.55 - $1241.30. It took out stiff resistance at $1235-38 (7 tops –10/29, 11/1, 11/2, 11/5, 11/6, 11/7, and 12/3 highs) along with $1239-40 (double top, 10/23 and 10/25 highs) to reach $1241.30 – a 5-week high – with a fair amount of short covering seen.
The yellow metal's advance was fueled by weakness in the US dollar (DX from 96.98 – 96.37), a pullback in global equities, and a dip in US bond yields.
The dollar was pressured by strength in the yuan (6.8307 – new 3-month high, trade truce supporting), the pound ($1.2718 - $1.2839, EC Court of Justice opinion provoking hopes of the UK revoking Article 50 and opting to remain in the EU should the UK Parliament fail to pass the current Brexit deal; stronger UK Construction PMI) and the euro ($1.1350 - $1.1418, progress in Italian budget issue, stronger Eurozone PPI).
Gold was also boosted by dip in US bond yields, as the US 10-year yield slipped to 2.941% (3-month low, 2 -10 year spread falls to 12 bp, lowest since 2007), and the 5yr yield slipped below the 2-year – inverting for the first time since 2007.
Mostly weaker global equities were also gold-supportive, spooked by the yield curve inversion, and some skepticism / confusion as just what was agreed to between Trump and Xi on the trade truce: the NIKKEI shed 2.4%, the SCI was +0.4%, European shares were off 0.7%, and S&P futures were -0.3%.
Firmer oil prices (WTI to $54.55, expected production cut at OPEC meeting Thursday, Canadian supply reduction) were supportive of stocks.
US stocks opened weaker and softened further into mid-day (S&P -23 to 2766), with the Financials and Industrials sectors weighing. Some hawkish comments from the Fed's Williams (quite strong and healthy labor market, above potential 2.5% growth in 2019 expects further gradual increases in interest rates) - who was a bit more dovish yesterday – contributed to the softness in stocks.
The US 10-year yield bounced to 2.968%, and the DX rebounded to 97.13. The greenback was boosted by sharp reversals in the pound ($1.2659 – 18 month low) and the euro ($1.1346) as PM May lost a contempt of Parliament vote for refusing to turn over legal advice on Brexit. Gold retreated in response - falling to $1236.50 – but remained above prior resistance at $1235-38.
Into the afternoon, US losses in US stocks accelerated when the S&P crossed its 200-day moving average at 2762, reaching 2701 (-90). Only the Utilities sector was positive, with losses in Financials, Industrials, Consumer Discretionary, and IT exceeding 3%. The US 10-year bond yield sank to 2.89%, and the DX retreated to 96.90. Gold rebounded, but was capped ahead of its overnight high at $1241.
Later in the afternoon, a 30 point rally in the S&P that was aided by some upbeat comments on trade from the Treasury's Mnuchin was sold into, and equities made fresh lows (S&P finished off 90 to 2700). The US 10-year yield recovered to 2.928%, while the DX clawed back to 96.98. Gold declined again to $1236.50 where it found support, and was $1238 bid at 4 PM with a gain of $7.
Open interest was up 6.9k, showing that new longs (along with some new shorts) outstripped the good amount of short covering seen (and some long profit taking) from yesterday's advance. Volume increased with 254k contracts trading.
Bulls were pleased with today' $7 gain, and especially impressed that it was able to hold over the key $1235-38 level – despite the DX rebounding from 96.40 to nearly 97.
Bulls remain steadfast in their thinking that gold bottomed at $1160 on 8/16 after a $35 2-day capitulation. They still have an uptrend in place from that level, and will look to continue to add to long positions on weakness, or on some expected ensuing upside momentum.
They maintain the market has been and remains extremely oversold - having dropped $205 (15.0%) since the 4/11 $1365 high, and $149 (11.4%) since the $1309 high on 6/14.
Bulls strongly believe that the dollar's recent climb from its 9/21 93.81 low to the 97.70 high three weeks back (+4.15% to fresh 17-month high) was badly overextended and expect a correction to drive a significant short covering rally in gold. Bulls are looking for continued financial market turbulence to test next resistance at $1243 and then $1245-46 (double top – 7/16 and 7/17 highs).
In addition, bulls maintain that Friday's Commitment of Traders Report still shows the funds with a massive gross short position (155k contracts). They feel the that the short side of gold is still a very crowded trade, and that the gold market is still set up in a highly favorable position to move up from potential heavy short covering (as we saw today) and sidelined longs returning to the market.
Bears are concerned that despite a snap back higher in the DX, gold held above former resistance at $1235-38.
However, they remain comfortable scale up selling into strength feeling moves toward overhead resistance at $1243 and $1245-46 will continue to provide a good entry points for short positions.
Bears point to the lack of follow through gold has presented on recent rallies and that the fairly heavy amount of short covering seen thus far from the prior few week's COT reports has failed to lead to a breach of at least $1250 - as signs of a tired market – and expect a significant pullback to unfold.
Many bears are firm in their conviction that fuel from dollar strength, higher interest rates (though that argument has lost some steam with 10-year yield probing 2.90% today and recent Fed speak decidedly more dovish) and a rebound in equities will provide downside pressure on gold, and see prices north of $1200 offering a great opportunity to get short(er).
This is witnessed by Friday's COT Report that a shows massive gross short position (155k contracts) still remains. Bears will look for a breach of initial support at the trendline at $1225 to bring about a re-test of $1211 (100-day moving average, double bottom) and then expect a challenge of $1208 – the up trendline from 8/16 $1160 low, followed by a test of $1200.
All markets will continue to focus on geopolitical events (especially Brexit developments), developments with the Trump Administration (especially on US-China trade, potential legal issues), oil prices, and will turn to reports tomorrow on Japan's PMI, China's PMI, Germany's PMI, Eurozone PMI and UK PMI for near-term direction. However, with most financial markets in the US closed tomorrow for the funeral of President George H. W. Bush, gold will be left somewhat rudderless.
In the news: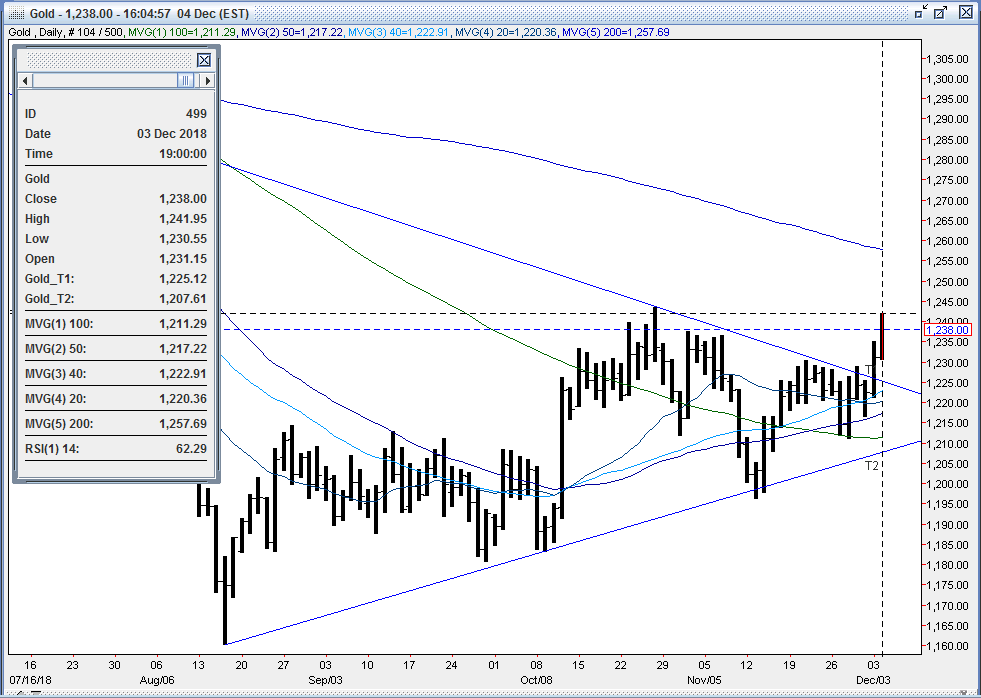 Resistance levels:
$1235-38 – 7 tops –10/29, 11/1, 11/2, 11/5, 11/6, 11/7, and 12/3 highs
$1239-40 – double top, 10/23 and 10/25 highs
$1242 – 12/4 high
$1243 – 10/26 high
*$1245-46 – double top – 7/16 and 7/17 highs
$1250 - options
$1251-53 – triple bottom 7/4, 7/5, and 7/6 lows
*$1258 – 200-day moving average
$1259-61 – quadruple top – 6/27, 7/4, 7/5, and 7/6 highs
$1262 – 50% retracement from 4/11 $1365 high to the 8/16 $1160 low
Support levels:
$1231 – 12/4 low
$1228-30 5 tops – 11/20, 11/21, 11/22, 11/23 and 11/26 highs
$1226 – 27 – double top, 11/28 and 11/30 highs
$1225 – down trendline from 4/23 $1336 high
$1225 – options
$1223 – 40 day moving average
$1218-21 – 6 bottoms, 11/19, 11/20, 11/21, 11/23, 11/25, and 11/29 lows
$1220 – 20-day moving average
$1217 – 11/30 low
$1217 – 50 day moving average
$1211 – 100-day moving average
$1211-12 – double bottom (11/27 and 11/28 lows).
$1208 – 11/15 low
*$1208 – up trendline from 8/16 $1160 low
$1201 – 50% retracement of up move from 8/16 $1160 low to 10/26 $1143 high
$1200 – psychological level, options
$1196-98 – double bottom – 11/13, 11/14 lows
$1191 – 10/11 low
*$1181 - 85 – 9 bottoms - 8/20, 8/23, 8/24, 9/27, 9/28, 10/1, 10/8, and 10/9, and 10/10lows
$1175 – options strike
$1172 8/17 low
*$1160 – 8/16 low
$1156 – 1/4/17 low
$1150 – options
$1146 – 1/4/17 low