Gold rose overnight in a range of $1237.30 - $1243.15, where resistance at $1242 – 44 (triple top 10/26, 12/4, and 12/6 highs) held.
Gold was able to climb despite the US dollar remaining fairly steady (DX between 96.77 – 96.93), and with mixed global equities. The NIKKEI was up 0.8%, the SCI was flat, Eurozone shares were up from 0.5% to 1.4%, and S&P futures were off 0.5%.
At 8:30 AM, the much-awaited US Payroll Report was weaker than expected. Nonfarm Payrolls were much lower than anticipated (155k vs. exp. 198k) and Average Hourly Earnings were lighter (0.2% vs. exp. 0.3%).
S&P futures rose (2698) with equity investors hoping the Fed will be less aggressive in hiking rates. The US 10-year bond yield declined to 2.89% and the DX tumbled to 96.53. Gold – which had previously pulled back to $1240 - pushed higher and took out resistance at $1242-44 briefly to trade $1245. However, profit taking sent it back to $1243.
US stocks opened stronger (S&P +13 to 2709), boosted by some optimistic comments on trade from Larry Kudlow, a better than expected University of Michigan Sentiment Report (97.5 vs. exp. 97), and an OPEC production cut (1.2M bpd) that lifted oil to $54.15. The 10-year yield edged back over 2.90% to 2.906% while the DX rebounded to 96.80. Gold remained resilient, however, trading between $1242.50 - $1244.
Later in the morning, US stocks turned down (S&P -28 to 2667) as tech shares rolled over. Some pessimistic comments on US-China trade from Peter Navarro contradicting the early more conciliatory remarks from Kudlow weighed.
The 10-year yield ticked down to 2.89%, and the DX pulled back to 96.69. Gold probed higher and took out the double top at $1245-46 (7/16 and 7/17 highs) to reach $1247, but it lacked follow-through buying to challenge next resistance at $1248-49 (double top 7/12 and 7/13 highs).
Into the afternoon, US equities continued to sell off (S&P -45 to 2650), holding just above the 10% correction level of 2646. Weakness in the IT, Health Care, and Consumer Discretionary sectors led the decline.
The 10-year yield slipped to 2.879%, but the DX firmed to 96.78 – boosted by weakness in the pound ($1.2715, persistent Brexit uncertainties). Gold was caught in the cross-currents and came off modestly in response but was choppy between $1244 -$1245.50.
Later in the afternoon, US stocks had a brief modest bounce (S&P to 2665) off of dovish comments from the Fed's Bullard (Fed could consider delay hiking in Dec due to narrowed yield curve…no purpose in Fed inverting yield curve…Fed could then move in Jan…).
However, bears used the strength to sell into and equities quickly resumed their decline (S&P finished off 63 to 2633). The 10-year yield moved down to 2.85%, and the DX worked down to 96.51. Gold took out resistance at $1248-49 (double top 7/12 and 7/13 highs) but was halted by options resistance at $1250 (5-month high). The yellow metal was $1248 bid at 4PM with a gain of $11.
Open interest was up 0.8k contracts, showing a small net of new longs from yesterday. Volume was higher with 259k contracts trading.
Bulls applauded today's $11 rally, especially that gold finished firmly near its high. The bulls have seen a combination of short covering and formerly sidelined long players returning to the market to lift gold to higher highs during 6 of the last 8 trading sessions during a $39 rally from $1211 to today's 5-month $1250 peak.
Bulls feel the market has demonstrated a clear upside break of its pennant formation (down trendline from 4/23 $1336 high) and should be able to continue to prey on covering shorts and use the momentum from sidelined new longs to drive the market considerably higher.
Bulls remain steadfast in their thinking that gold bottomed at $1160 on 8/16 after a $35 2-day capitulation. They still have an uptrend in place from that level and will look to continue to add to long positions on weakness, or on some expected ensuing upside momentum.
They maintain the market has been and remains extremely oversold - having dropped $205 (15.0%) since the 4/11 $1365 high, and $149 (11.4%) since the $1309 high on 6/14. Bulls strongly believe that the dollar's recent climb from its 9/21 93.81 low to the 97.70 high 4 weeks back (+4.15% to fresh 17-month high) was badly overextended and expect a correction to drive a significant short covering rally in gold.
Bulls are looking for continued financial market turbulence to re-test resistance at $1250 and then challenge $1257 – the 200-day moving average.
Bulls feel a breach above the 200-day moving average will be consequential to launch a sharper upside move. In addition, bulls maintain that last Friday's Commitment of Traders Report (this week's delayed by Bush's funeral) still shows the funds with a massive gross short position (155k contracts).
They feel the that the short side of gold is still a very crowded trade and that the gold market is still set up in a highly favorable position to move up from potential heavy short covering (as we saw today) and sidelined longs returning to the market.
Some bears were forced to cover today, thinking that the persistent weakness in stocks, the pullback in bond yields, the recent shift in the tone of Fed members to the dovish side, and a dip in the DX have combined to change the calculus for short positioning.
However, deeper-pocketed bears remain comfortable scale-up selling into strength, feeling moves toward overhead resistance at $1250 and $1257 will continue to provide good entry points for short positions – especially with gold approaching overbought (14-day RSI = 67.3).
Bears point to the lack of follow-through gold has presented on recent rallies, and that the fairly heavy amount of short covering seen thus far from the prior few week's COT reports has failed to lead to a breach of at least $1250 - as signs of a tired market – and expect a significant pullback to unfold.
Many bears are firm in their conviction that fuel from dollar strength, a return to higher interest rates (though that argument has lost some steam with 10-year yield hovering around 2.85% today and recent Fed speak decidedly more dovish) and a rebound in equities will provide downside pressure on gold, and see prices north of $1200 offering a great opportunity to get short(er).
This is witnessed by last Friday's COT Report that a shows massive gross short position (155k contracts) still remains. Bears will look for a breach of initial support at the trendline at $1223 to bring about a re-test of $1212 (100-day moving average, double bottom) and then expect a challenge of $1209 – the up trendline from 8/16 $1160 low, followed by a test of $1200.
All markets will continue to focus on geopolitical events (especially Brexit developments), developments with the Trump Administration (especially on US-China trade, potential legal issues), oil prices, and will turn to reports on Japan's PMI, China's Caixin PMI, Eurozone PMI, US Markit PMI, Construction Spending, ISM Manufacturing, and comments from the Fed's Clarida, Williams, Brainard and Kaplan for near-term direction.
In the news: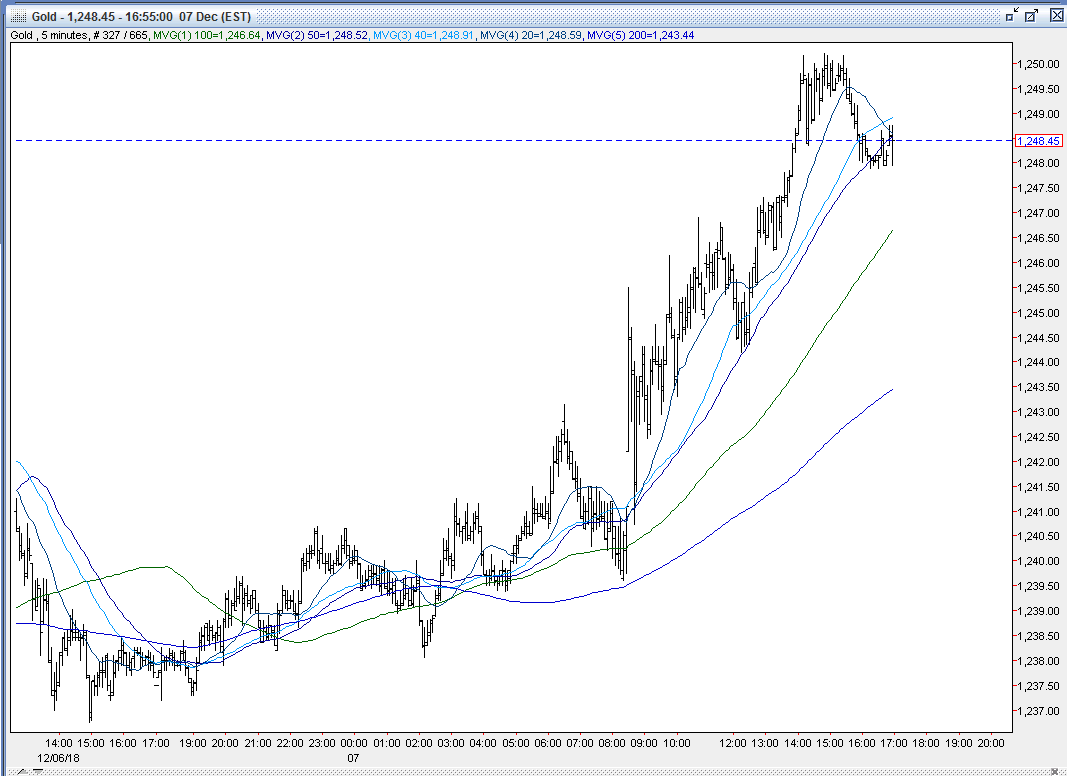 Resistance levels:
$1248-49 – double top 7/12 and 7/13 highs
$1250 - options
$1257 – 7/11 high
*$1258 – 200-day moving average
$1259-61 – quadruple top – 6/27, 7/4, 7/5, and 7/6 highs
*$1262 – 50% retracement from 4/11 $1365 high to the 8/16 $1160 low
$1266 - 68 – double top, 7/9 and 6/26 highs
Support levels:
*$1245-46 – double top – 7/16 and 7/17 highs
$1239-40 – triple top, 10/23, 10/25, and 12/5 highs
$1242 –44 – triple top 10/26, 12/4, and 12/6 highs
$1239-40 – triple top, 10/23, 10/25, and 12/5 highs
$1235-38 – 7 tops –10/29, 11/1, 11/2, 11/5, 11/6, 11/7, and 12/3 highs
$1235 – 12/6 low
$1233 – 12/5 low
$1231 – 12/4 low
$1228-30 5 tops – 11/20, 11/21, 11/22, 11/23 and 11/26 highs
$1226 – 27 – double top, 11/28 and 11/30 highs
$1225 – options
$1225 – 40 day moving average
$1224 – 20-day moving average
$1223 – down trendline from 4/23 $1336 high
$1218-21 – 6 bottoms, 11/19, 11/20, 11/21, 11/23, 11/25, and 11/29 lows
$1220 – 50 day moving average
$1217 – 11/30 low
$1212 – 100-day moving average
$1211-12 – double bottom (11/27 and 11/28 lows).
$1208 – 11/15 low
*$1209 – up trendline from 8/16 $1160 low
$1201 – 50% retracement of up move from 8/16 $1160 low to 10/26 $1143 high
$1200 – psychological level, options
$1196-98 – double bottom – 11/13, 11/14 lows
$1191 – 10/11 low
*$1181 - 85 – 9 bottoms - 8/20, 8/23, 8/24, 9/27, 9/28, 10/1, 10/8, and 10/9, and 10/10lows
$1175 – options strike
$1172 8/17 low
*$1160 – 8/16 low
$1156 – 1/4/17 low
$1150 – options
$1146 – 1/4/17 low