Gold slipped a tad last night in a range of $1299.50 - $1304.65. It rose to its $1304.65 high during Asian hours, taking out the double top at $1303 (1/25 and 6/15/18 highs), but failed to trigger any follow-through buying.
The advance was driven by a softening in the US dollar (DX to 95.67 – 2 week low), which remained under pressure from Friday's WSJ report that the Fed is considering maintaining a larger portfolio of Treasuries – putting an end to their wind-down closer in sight.
Later during European time, however, gold retreated back to $1299.50, as he DX rebounded to 95.92.
The greenback was supported by a pullback in the pound ($1.3206 - $1.3140), as the strong rally took a breather ahead of tomorrow's crucial vote on Brexit "plan B".
Global equities were weaker and supportive of gold, with the NIKKEI down 0.6%, the SCI was off 0.2%, European markets were off from 0.3% to 0.5%, and S&P futures were -0.4%.
A report that China's Industrial Profits declined along with a dip in oil (WTI from $53.59 - $52.50, US added rigs) weighed on stocks.
After the NY open, more downbeat comments from the ECB's Draghi sent the euro lower ($1.1405), and pushed the DX, which had pulled back to 95.73 (weaker Chicago Fed National Activity Index) back up to 95.90. Gold was tugged further down to $1297.75.
US stocks opened softer, (S&P –37 to 2627) hurt by weaker reports from Caterpillar and Nvidia, and with the IT, Healthcare, Energy, and Industrial sectors leading decliners.
A further decline in oil (WTI to $52) contributed to the softness. The US 10-year bond yield slid from 2.766% to 2.737%, and the DX fell back to 95.68.
The DX was also under pressure from a bounce in the euro ($1.1437) when Draghi mentioned that the Eurozone's economy wasn't bad enough to warrant additional monetary support. Gold rebounded sharply but was capped at the prior highs at $1303.50.
Equities fell further into mid-day (S&P -41 to 2623), as did the US 10-year yield (2.735%). The DX ticked down to 95.64, and gold edged up to $1304 – but was unable to take out the overnight high.
In the afternoon, US stocks pared losses (S&P finished -21 to 2644 ), while the 10-year yield moved back up to 2.746%.
The DX recovered to 95.76, but gold remained fairly well bid, only and only edged lower to $1302.50. It was $1303 bid at 4PM – unchanged.
Open interest was up big – 14.4k contracts – reflecting a good chunk of new longs from Friday's $22 rally. Volume ballooned with 405k contracts trading – but a fair amount of this was from the ongoing Feb-April contract rollover.
Some bulls were disappointed that the breach of the $1303 7-month high last night didn't generate follow-through buying and that gold finished flat, especially with a weaker dollar (DX remaining south of 96), a pullback in stocks, and the US 10-year yield dipping back below 2.75%.
However, other bulls will take today's consolidation in gold today – given its sharp rally Friday and in the context of the significant drivers this week: Draghi speech to EU Parliament, Brexit plan B vote, FOMC meeting, resumption of US-China trade talks, and the US Payroll Report.
The bulls feel that the trend is their friend, and note the up trendline from the 11/13 $1196 low is still intact, and expect the yellow metal's strong rally over the past two months to carry further.
They're expecting continued volatility in equity markets along with a pause in Fed rate hikes and a further decline in the US dollar to continue driving gold higher.
While we haven't seen the COT report in 6 weeks, bulls maintain that despite gold's sharp rally, a significant amount of large fund shorts still remain, and will provide further upside momentum when forced to cover.
Bulls expect a breach of initial resistance at $1303-05 (6/15/18 high), that should bring quick challenges to the next resistance levels at $1309 (6/14/18 high), and $1315 (5/15/18 high).
Bears feel that Friday's $22 rally to $1303 was overdone, pointing to the fact that despite the sharp decline in stocks, and the pullback in the US dollar and the US 10-year bond yield today – gold was unable to attract any follow-through buying over the $1303 7-month high.
They maintain that the 20% correction in equities – much of which occurred during very illiquid holiday trading – was also overdone, and expect the rebound seen over the past month to continue.
Bears feel that the plunge in the US dollar seen since 12/14 (97.71 – 95.03, 2.74%) has also overshot, and look for the rebound in the greenback to carry forward. Bears will look for a breach of initial support at the former resistance at $1295-98 to lead to a test of $1286-88 (6 bottoms – 1/10, 1/11, 1/14, 1/15, 1/16, and 1/17 lows).
All markets will continue to focus on geopolitical events (especially Brexit developments), developments with the Trump Administration (especially on US-China trade, potential legal issues), oil prices, Q4 corporate earnings, and will turn to tomorrow's Brexit vote along with reports on the US Trade Balance, Retail Inventories, Wholesale Inventories, S&P/Case-Shiller Home Price Index, and Consumer Confidence for near term direction. Looming ahead on Wednesday is the FOMC meeting statement followed by Powell's Press Conference.
In the news: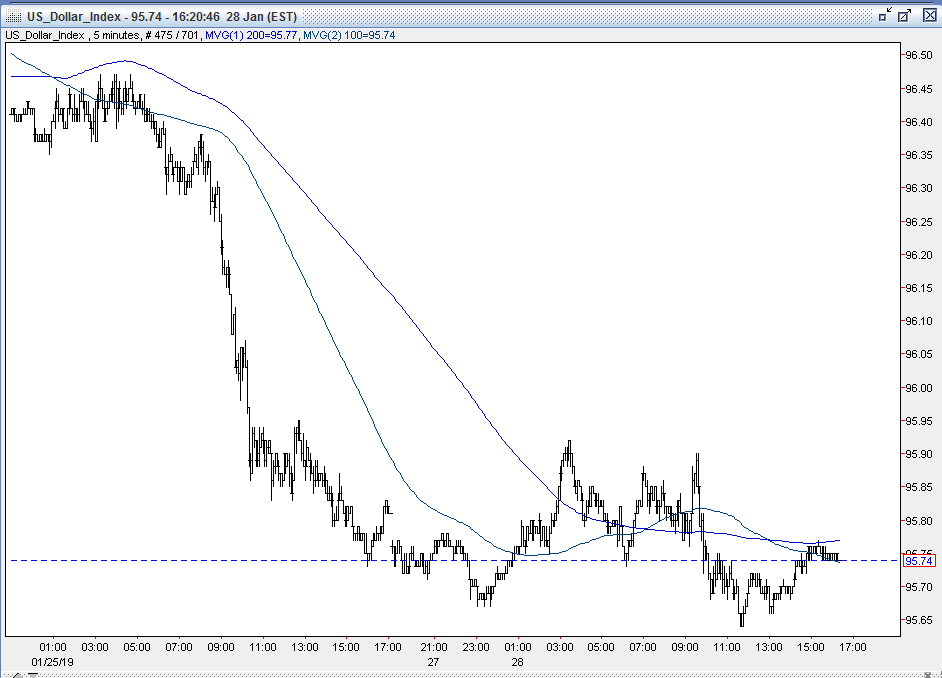 Resistance levels:
$1303-05 – triple top, 6/15/18, 1/25, and 1/28 highs
$1309 – 6/14/18 high
$1315 – 5/15 high
$1318 -19 – quadruple top 5/3/18, 5/7/18, 5/8/18 and 5/9/18 highs
$1322 – 5/14/18 high
$1325 - options
$1325 - 26 – quadruple top - 4/26/18, 4/27/18,4/30/18, and 5/11/18 highs
Support levels:
$1300 – psychological level, options
$1298 – 1/28 low
*$1295-98 – 8 tops – 1/3, 1/4, 1/10, 1/11, 1/14, 1/15, 1/16, and 1/17 highs
$1289 – 20-day moving average
$1287 – 1/23 high
$1286-88 – 6 bottoms – 1/10, 1/11, 1/14, 1/15, 1/16, and 1/17 lows
$1280 – 1/25 low
$1277 – 79 6 bottoms – 12/28, 1/4, 1/21, 1/22, 1/23, and 1/24 lows
$1275 – options
$1274 – 12/28 low
$1271 – 40-day moving average
$1270– up trendline from 11/13 $1196 low
$1265-67 – 12/25, 12/26 ,and 12/27 lows
$1262 – 50-day moving average
$1259 – 12/24 low
$1254 – 12/21 low
$1250 – options
*$1247 – 50% retracement of up move from 11/13 $1196 low
$1246 – 200-day moving average
$1242-43 - double bottom – 12/19 and 12/20 lows
$1237 – 100-day moving average
$1233-36 – quadruple bottom12/5, 12/6, 12/14 and 12/17 lows
$1231 – 12/4 low
$1229 – 50% retracement from 8/16 $1160 low to 1/4/19 $1298 high
$1225 – options