All markets were choppy last night as the returns on the US Midterm Elections came in. An early report that Republicans had a 60% chance to with the House saw the DX surge to 96.47, and gold plummeted to $1223.
However, as the night progressed, pollsters were proved correct, with the Democrats taking control of the House, while Republicans held on to control of the Senate. Though Far Eastern equity markets were soft (while returns were just coming in and news was fluid), strong gains were seen across Europe +0.9% to 1.3%) and in S&P futures (+0.9%) as results became more certain.
Equity market participants were bullish on the prospect of a divided US Government - expecting business-friendly policies to continue, but a check and balance would rein in spending, and in turn, allow the Fed to proceed slower with removing policy accommodation.
The US 10- year bond yield (after weathering a dive to 2.95% followed by a spike to 3.247%), declined to 3.18% as hopes of further US stimulus faded. The dollar tumbled sharply (DX to 95.67), weighed by the decline in rates, strength in emerging market currencies, some along with as surge in the pound ($1.3077 - $1.3174) and the euro ($1.1395 - $1.15) on some positive Brexit developments.
Gold rallied to reach $1236.45 – but was again unable to breach the stiff resistance at $1235-38 (5 tops –10/29, 11/1, 11/2, 11/5 and 11/6 highs), where rallies have failed the past 4 sessions. Ahead of the NY open, continued strength in S&P futures helped turn the DX back up to 95.85, and gold retreated to $1231.
US stocks continued to surge through their open (S&P +43 to 2798), with strong gains in the Health Care (ObamaCare shouldn't be repealed now), IT (less chance Trump will attack IT giants on anti-trust), and Consumer Discretionary sectors. The 10-year yield hovered around 3.18% - 3.19%, and the DX kept climbing to reach 96. Gold was pressed lower, and retreated to $1226.25.
Into the afternoon, US equities continued to rally (S&P +56 to 2811) – despite a pullback in oil (WTI to $61.19 – fresh 8-month low, larger than expected build in US oil inventories, US production hits record 11.6M bpd). Stocks were helped by comments from Trump indicating he's willing to work with Democrats on policy initiatives that would help the economy keep growing. The 10-year yield climbed to 3.221%, and the DX rose to 96.09. Gold fell further, but bargain hunting buying limited the decline to $1255.50.
Later in the afternoon, US stocks remained firm (S&P finished +58 to 2814 ), shrugging off news that Attorney General Jeff Sessions was forced out. The 10-year yield hovered around 3.22%, while the DX was steady around 96.05. Gold remained steady near its $1225.50 low, and was $1226 bid at 4PM with a loss of $1.
Open interest was up 6.2k contracts, showing a net of new shorts from yesterday's decline. Volume was higher with 215k contracts trading.
Bulls were disappointed with today's $1 decline and that gold failed again at $1235-38 (6 tops –10/29, 11/1, 11/2, 11/5, 11/6, and 11/7) last night when the DX pulled back to significantly to 95.67.
Other bulls were comfortable with today's slight dip – give the hefty rally in equities and the US 10-year yield retaking 3.20%. Bulls remain steadfast in their thinking that gold bottomed at $1160 on 8/16 after a $35 2-day capitulation, and will look to continue to add to long positions on weakness, or on some expected ensuing upside momentum.
They maintain the market has been and remains extremely oversold - having dropped $205 (15.0%) since the 4/11 $1365 high, and $149 (11.4%) since the $1309 high on 6/14. Bulls strongly believe that the dollar's recent climb from its 9/21 93.81 low to last Wednesday's 97.20 high (+3.61% to fresh 16-month high) is badly overextended, and expect a correction to drive a significant short covering rally in gold.
Bulls will look to breach $1235-38 (6 tops –10/29, 11/1, 11/2, 11/5, 11/6, and 11/7 highs) followed by $1239-40 (double top 10/23and 10/25 highs), which would trip the down trendline from the 4/23 $1336 high. Bulls feel that should open up a move to at least $1245-46 (double top – 7/16 and 7/17 highs).
Beyond this, bulls are looking for a move to at least $1262 – the 50% retracement of the move down from the 4/11 $1365 high to the 8/16 $1160 low. In addition, bulls maintain that last Friday's Commitment of Traders Report still shows the funds with a massive gross short position (155k contracts).
They feel the that the short side of gold is still a crowded trade, and that the gold market is still set up in a highly favorable position to move up from potential heavy short covering and sidelined longs returning to the market.
Bears will take today's $1 drop – especially since the DX weakened significantly to (DX to 95.67 low), and only managed a modest bounce just past 96.
They are still comfortable trading gold from the short side and scale up selling into strength. Bears point to the lack of follow-through gold has presented on recent rallies: failure to breach resistance last night at $1235-38 (6 tops –10/29, 11/1, 11/2, 11/5, 11/6, and 11/7 highs), failure to take out $1244 on 10/26 (would have tripped down trendline from 4/23 $1336 high), and that the massive amount of short covering seen thus far from the prior few week's COT reports (61k contracts) failed to lead to a breach of at least $1250 – as signs of a tired market – and expect a significant pullback to unfold. Many bears are firm in their conviction that fuel from dollar strength, higher interest rates and a continued rebound in equities will provide downside pressure on gold, and see prices north of $1200 offering a great opportunity to get short(er).
This is witnessed by last Friday's COT Report – that despite a decent amount of short covering in the past week - a massive gross short position (155k contracts) still remains. Bears will look for a breach of support at the 100-day moving average at $1218 to trip some aggressive stop-loss selling to lead to a test of next supports at $1216 (11/1 low) and then $1212 (10/31 low, 40 day moving average).
All markets will continue to focus on geopolitical events (especially Brexit developments), developments with the Trump Administration (especially on US-China trade, potential legal issues), oil prices, Q3 corporate earnings, and will turn to reports tomorrow on the BOJ Summary of Opinions, Japan's Machine Orders, Trade Balance, and Economy Watcher's Survey, China's Trade Balance, Germany's Trade Balance, ECB Bulletin, US Jobless Claims, and the FOMC Meeting Statement for near-term direction.
In the news: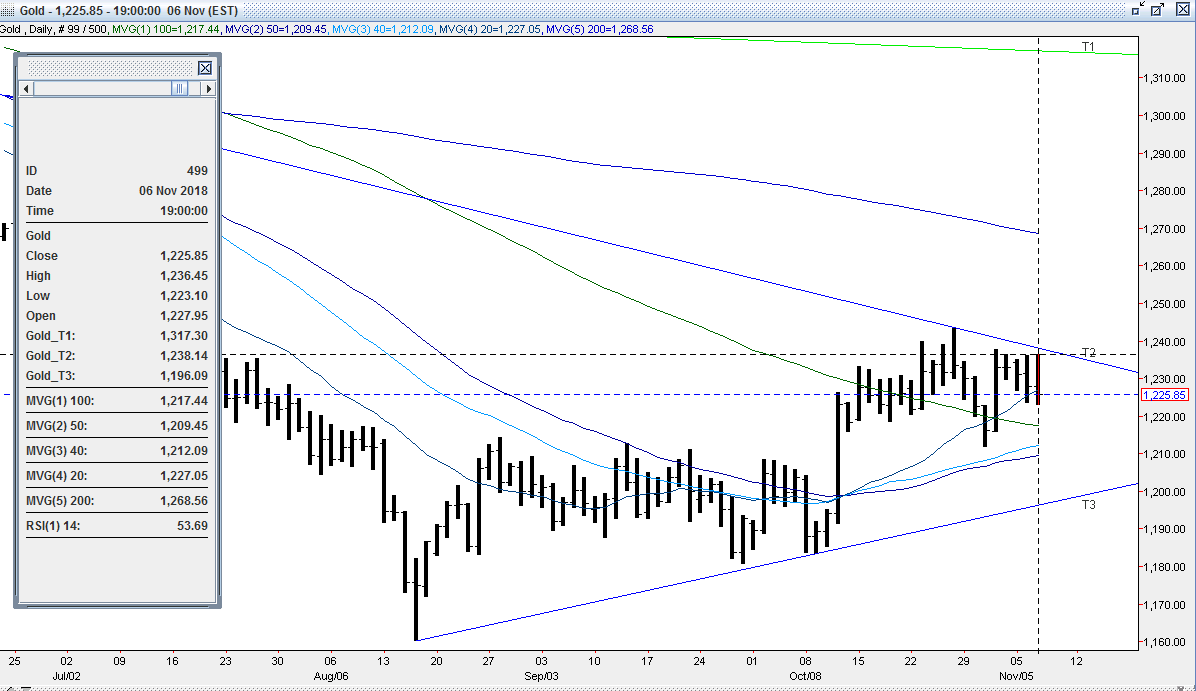 Resistance levels:
$1227 – 20-day moving average
$1235-38 – 6 tops –10/29, 11/1, 11/2, 11/5, 11/6 ,and 11/7 highs
*$1238– down trendline from 4/23 $1336 high
$1239-40 – double top, 10/23 and 10/25 highs
$1243 – 10/26 high
*$1245-46 – double top – 7/16 and 7/17 highs
$1250 - options
$1251-53 – triple bottom 7/4, 7/5, and 7/6 lows
$1259-61 – quadruple top – 6/27, 7/4, 7/5, and 7/6 highs
$1262 – 50% retracement from 4/11 $1365 high to the 8/16 $1160 low
Support levels:
$1225 – options
$1223 – 11/6 low
$1219-21 – 5 bottom, 10/15, 10/17, 10/18, 10/22 and 10/29 lows
$1217 – 100-day moving average
$1216 – 11/1 low
$1212 – 10/31 low
$1212 – 40 day moving average
$1209 – 50 day moving average
$1207-08 –10/2, 10/3, and 10/4 highs
$1204- 06 – double top – 10/5, 10/8 highs
$1200 – psychological level, options
$1196 – up trendline from 8/16 $1160 low
$1191 – 10/11 low
$1183-85 – triple bottom10/8, 10/9, and 10/10 lows
*$1181 - 85 – 9 bottoms - 8/20, 8/23, 8/24, 9/27, 9/28, 10/1, 10/8, and 10/9, and 10/10lows
$1175 – options strike
$1172 8/17 low
$1160 – 8/16 low
$1156 – 1/4/17 low
$1150 – options
$1146 – 1/4/17 low