Gold rose last night in a range of $1220.70 - $1228.75, trading against movement in the US dollar.
Gold rose to its $1228.75 high during Asian and early European time but was again halted by stiff resistance at $1228-30 (5 tops – 11/20, 11/21, 11/22, 11/23 and 11/26 highs).
The advance was fueled by a further decline in the US dollar (DX to 96.62) and a dip in the US 10-year yield to 2.999% (2- month low) with Powell's dovish remarks from yesterday still resonating.
Though the DX rallied back to 97.01 later during European hours off of weakness in the pound ($1.2850 - $1.2755, EU's Barnier tells UK Parliament the current Brexit deal was the only one possible) and the euro ($1.1395 - $1.1347, gives up gains from stronger Economic and Industrial Confidence readings, Italian budget concerns weigh), gold held up fairly well and only dipped back to $1224.
Global equities were mixed with the NIKKEI up 0.8%, the SCI shed 1.3%, Eurozone shares were up from 0.1% to 0.5%, and S&P futures were off 0.3% (hopes of US-China trade deal dimmed on reports that hardline trade advisor Peter Navarro will attend dinner with Trump and Xi). A further decline in oil (49.40, fresh 13-mo. low, Putin says current oil prices fine for Russia) weighed on stocks.
At 8:30 AM, stronger than expected readings on US Personal Income (0.5% vs. exp. 0.4%) and Personal Spending (0.6% vs. exp. 0.4%) overcame a miss on Jobless Claims (234k vs. exp. 220k). S&P futures rose to 2739 while the US 10-year bond yield moved up to 3.028%. The DX – which had pulled back to 96.79 – rebounded to 96.90, and gold – which had traded up to $1227 – dropped back to $1224.50.
US stocks opened weaker and worked lower during morning hours (S&P -23 to 2723), with the IT, Financials, and Consumer Discretionary sectors lagging. Stocks were hurt by a miss in US Pending home sales (-2.6% vs. exp. 0.5%), the overnight news of Navarro attending the Trump/Xi dinner, and news that Michael Cohen plead guilty of making false statements to Congress - while Trump accused his former attorney of lying to get a lesser sentence.
The 10-year yield ticked down to 3.013%, while the DX retreated back to 96.70. Gold took out its overnight high but was capped at $1299.
Near mid-day, US stocks trimmed losses on a WSJ report that the US and China were exploring a suspension of further tariffs through spring in exchange for new trade talks. The S&P improved to 2735 (-8), and the 10-year yield edged up to 3.03%. The DX traded in a choppy fashion either side of 96.80, and gold slid back to previous intraday support at $1224.50.
In the afternoon, US stocks rallied into positive territory (S&P +10 to 2754) with the Materials, Energy, Health Care, and Communication Services sectors leading the rebound.
The move was aided by a recovery in oil (WTI to $52.16, reports Russia was now accepting need to cut production together with OPEC) and the release of the FOMC minutes from 11/9.
The Fed's minutes showed that several members felt that the Fed Funds rate could be "near its neutral level" – echoing the view from Powell yesterday. The 10-year yield ticked up to 3.044%, while the DX rose to 96.85. Gold retreated in response and broke the intraday support at $1224 to reach $1222.
Later in the afternoon, US stocks turned down (S&P finished off 6 to 2738), while the 10-year yield was either side of 3.03%. The DX drifted down to 96.75, and gold bounced back to $1224.50. The yellow metal was $1224 bid at 4PM with a gain of $3.
Open interest was off big for the 3rd consecutive session – down 23.9k contracts - reflecting the heavy short covering from yesterday's rally. Volume was higher, with 475k contracts trading – bloated from the Dec-Feb rollover.
Bulls will take the $ advance today given the move up in the DX and stocks. However, some bulls were disappointed with gold's failure to take out stubborn resistance at $1228-30 (down trendline from 4/23 $1336 high and now 6 tops – 11/20, 11/21, 11/22, 11/23, 11/26 and 11/29 highs).
Nonetheless, bulls are encouraged that gold is back again on the verge of challenging this key resistance level.
Bulls remain steadfast in their thinking that gold bottomed at $1160 on 8/16 after a $35 2-day capitulation. They still have an uptrend in place from that level and will look to continue to add to long positions on weakness, or on some expected ensuing upside momentum.
They maintain the market has been and remains extremely oversold - having dropped $205 (15.0%) since the 4/11 $1365 high, and $149 (11.4%) since the $1309 high on 6/14. Bulls strongly believe that the dollar's recent climb from its 9/21 93.81 low to the 97.70 high two weeks back (+4.15% to fresh 17-month high) is badly overextended and expect a correction to drive a significant short covering rally in gold.
Bulls are looking for a spark that will aid in taking out $1228-30, which they feel should ignite further buying to challenge $1235-38 (6 tops –10/29, 11/1, 11/2, 11/5, 11/6, and 11/7 highs), and then $1245-46 (double top – 7/16 and 7/17 highs).
In addition, bulls maintain that Monday's Commitment of Traders Report still shows the funds with a massive gross short position (157k contracts). They feel the that the short side of gold is still a very crowded trade, and that the gold market is still set up in a highly favorable position to move up from potential heavy short covering (as we saw yesterday) and sidelined longs returning to the market.
Some bears are concerned with gold's resilience today – given the strength in stocks and the dollar – on top of its ability to hold above $1212 yesterday. However, other bears remain comfortable scale up selling into strength.
Bears point to the lack of follow-through gold has presented on recent rallies: the failure to take out $1228-30 during the past two sessions, the failure to breach $1235-38 (6 tops –10/29, 11/1, 11/2, 11/5, 11/6, and 11/7 highs) during the first week of Nov, the failure to take out $1244 on 10/26 (would have tripped down trendline from 4/23 $1336 high), and that the fairly heavy amount of short covering seen thus far from the prior few week's COT reports has failed to lead to a breach of at least $1250 - as signs of a tired market – and expect a significant pullback to unfold.
Many bears are firm in their conviction that fuel from dollar strength, higher interest rates, and a rebound in equities will provide downside pressure on gold and see prices north of $1200 offering a great opportunity to get short(er).
This is witnessed by Monday's COT Report – that despite a good chunk (21k contracts) of covering in the past week - a massive gross short position (157k contracts) still remains. Bears will look for a breach of initial support at $1212 (100-day moving average, double bottom) and then expect a challenge of $1205 – the up trendline from 8/16 $1160 low, followed by a test of $1200.
All markets will continue to focus on geopolitical events (especially Brexit developments), developments with the Trump Administration (especially on US-China trade, potential legal issues), oil prices, and will turn to reports tomorrow on Japan's CPI, Jobless Rate, Industrial Production, Consumer Confidence, and Housing Starts, UK Consumer Confidence, China's PMI, German Retail Sales, Eurozone Unemployment and CPI, US Chicago PMI, Baker-Hughes Rig Count, and the Commitment of Traders Report for near-term guidance.
In the news: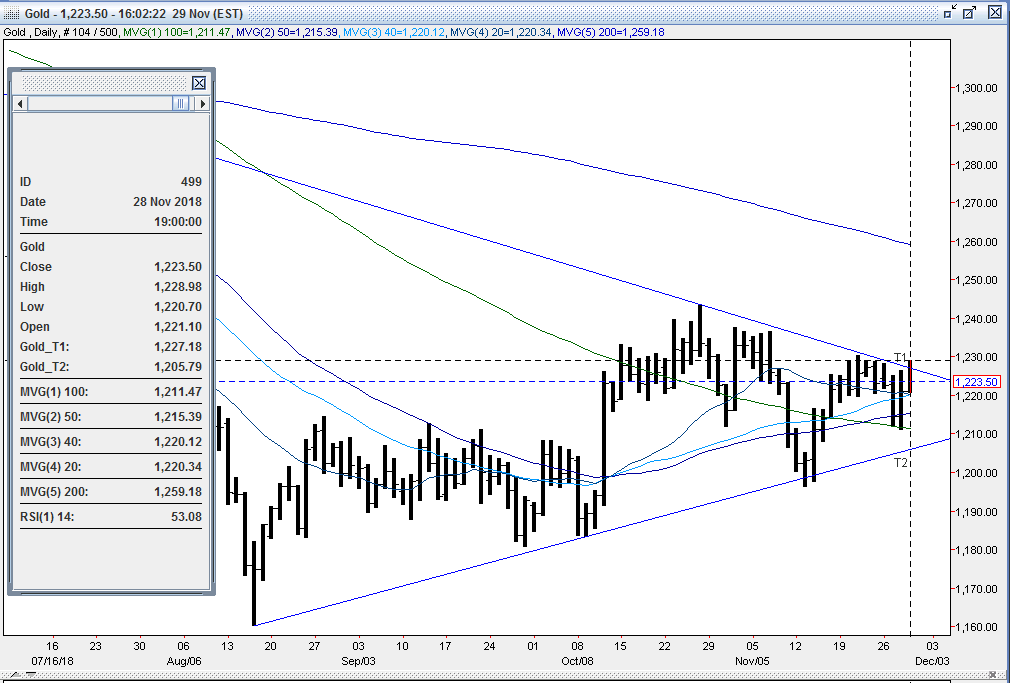 Resistance levels:
$1225 – options
$1227 – 11/28 high
*$1227 – down trendline from 4/23 $1336 high
$1228-30 6 tops – 11/20, 11/21, 11/22, 11/23, 11/26, and 11/29 highs
$1235-38 – 6 tops –10/29, 11/1, 11/2, 11/5, 11/6 ,and 11/7 highs
$1239-40 – double top, 10/23 and 10/25 highs
$1243 – 10/26 high
*$1245-46 – double top – 7/16 and 7/17 highs
$1250 - options
$1251-53 – triple bottom 7/4, 7/5, and 7/6 lows
$1259-61 – quadruple top – 6/27, 7/4, 7/5, and 7/6 highs
$1262 – 50% retracement from 4/11 $1365 high to the 8/16 $1160 low
Support levels:
$1218-21 – 6 bottoms, 11/19, 11/20, 11/21, 11/23, 11/25, and 11/29 lows
$1220 – 20-day moving average
$1220 – 40 day moving average
$1215 – 50 day moving average
$1211-12 – double bottom (11/27 and 11/28 lows)
*$1211 – 100-day moving average
$1208 – 11/15 low
*$1206 – up trendline from 8/16 $1160 low
$1201 – 50% retracement of up move from 8/16 $1160 low to 10/26 $1143 high
$1200 – psychological level, options
$1196-98 – double bottom – 11/13, 11/14 lows
$1191 – 10/11 low
*$1181 - 85 – 9 bottoms - 8/20, 8/23, 8/24, 9/27, 9/28, 10/1, 10/8, and 10/9, and 10/10lows
$1175 – options strike
$1172 8/17 low
*$1160 – 8/16 low
$1156 – 1/4/17 low
$1150 – options
$1146 – 1/4/17 low