Gold retreated last night in a range of $1295.95 - $1309.85, largely fading strength in the US dollar.
The DX climbed from 96.38 to 96.94 against weakness in the yuan (6.7009 – 6.7254, weak Chinese Industrial Production and Unemployment), the yen (111.10 – 111.73), the pound ($1.3378 - $1.3208, concern over how MPs can agree over delaying Article 50, await vote later today) and the euro ($1.1337 - $1.1295, miss in German CPI).
Global equities were mixed as the NIKKEI was flat, the SCI shed 1.2%, European shares were unchanged to +0.5%, and S&P futures were flat.
A pullback in oil from 4-month highs (WTI from $58.65 - $58, concern over Chinese demand) and comments from Trump (he was in no rush to complete a trade pact with China, there was no meeting set yet, insists that any deal include IP protection weighed on stocks) weighed on stocks.
At 8:30 AM, stronger than expected readings on US Import Prices (0.6% vs. exp. 0.3%) and Export Prices (0.6% vs. exp. 0.1%) overcame a miss on US Jobless Claims (229k vs. exp. 225k). S&P futures rose (+2 to 2821), but the US 10-year bond yield – which had climbed to 2.638% overnight – edged back to 2.619%.
The DX, which had backed off to 96.70, rose to 96.80. Gold was pressed lower and took out support at the overnight low to reach $1293, where support in front of $1291-92 (double bottom - 3/11 and 3/12 lows) held.
US stocks softened after their open (S&P -7 to 2803), with losses in the Materials sector weighing.
Equities were hurt by a worse than expected New Home Sales Report (607k vs. exp. 623k), and weakness in Facebook (under a criminal investigation, outage of apps), and as sentiment was dampened for an early trade agreement between the US and China from Trump's comments last night.
The 10-year bond yield ticked down to 2.612%, and the DX retreated to 96.72. Gold bounced to $1296.50 in response, but residual selling interest tugged it quickly back to the $1294-95 level.
Equities recovered and pushed into positive territory by late morning (S&P +5 to 2815), with gains in the IT and Financials sectors leading the advance.
The 10-year yield moved up to 2.641%, but the DX was steady (96.68 – 96.78), checked by a climb in sterling to $1.3285 ahead of this afternoon's Brexit extension vote. Gold fell back to $1293, where support held once again.
Into the afternoon, US stocks drifted down back into the red (S&P -4 to 2806), and the 10-year yield edged back to 2.623%. The DX hovered either side of 96.75, and gold edged up to $1297.
Later in the afternoon, US stocks traded modestly higher (S&P finished -2 to 2808) while the 10-year yield inched up to 2.63%.
Stocks were aided by news the UK Parliament voted to delay Brexit as expected and by reports that China is suggesting to combine a state visit by Xi with the announcement of any forthcoming trade agreement.
The pound slipped to $1.3211 (EU now considering a long extension, adding to uncertainty), and pushed the DX up to 96.80. Gold ticked down to $1296, and was $1296 bid at 4pm with a loss of $13.
Open interest was up 3.4k contracts, showing a net of new longs overshadowing the short covering seen from yesterday's rally. Volume was higher with 256k contracts trading.
Bulls were disappointed with gold's outsized weakness today ($13, 100 bp drop) against the more modest (37 bp) increase in the DX, while equities were little changed.
However, they maintain that gold's correction down from $1347 has been overdone, and still feel that gold has consolidated ahead of key support at $1277-80 (7 bottoms – 12/28, 1/4, 1/21, 1/22, 1/23, 1/24 and 1/25 lows).
Bulls are confident that the trend is their friend, and while the up trendline from the 11/13 $1196 low was violated, technicians have other up trendlines that are still intact, going back to the 8/16/18 $1160 low.
They look for the strong rally over the past 4 months to carry further, expecting continued volatility in equity markets along with a pause in Fed rate hikes for a considerable period (especially given the poor US Payroll and Retail Sales reports last week) and a correction in the torrid US dollar to resume driving gold higher.
Bulls also point to last Friday's Commitment of Traders Report (as of 3/5 and current) that still has the large funds with a significant gross short position. Therefore, the bulls feel the gold market remains set up to move higher, as these shorts will provide fuel to further upside moves – when forced to cover.
Bulls look for a breach of initial resistance $1303-05 (former breakout over 6/15/18 top and prior 5 bottom support - 1/29, 2/7, 2/11, 2/13, and 2/14 lows) to lead to a retest of $1310-11 (double top, 3/13 and 3/14 highs).
While some bears were stopped out yesterday over the key $1303-05 former breakout and support level, and down trendline from $1347 – other bears with stronger hands saw that move as just a modest bounce within the early stages of a more significant downside correction.
They still remain comfortable selling into strength and will continue to use rallies as entry points for getting short(er).
They maintain that gold's advance to $1347 had been overdone – having rallied $70 since the $1277 low on 1/24 (5.48%), $114 since the $1233 low on 12/14 (9.25%), and $151 since the $1196 low on 11/13 (12.63%).
They feel that the 20% correction in equities – much of which occurred during very illiquid holiday trading – was also overdone, and expect the rebound seen over the past 11 weeks to resume – especially with the S&P having breached the key 2800 level. Bears also feel that the strength in the US dollar has legs – especially given the recent surprise dovishness from the ECB and continued flow of weak Chinese economic data – and will continue to pressure gold lower.
In addition, bears think that the recent severe cuts in growth estimates by the UK, the Reserve Bank of India, and a recent change to lower guidance by the Bank of Australia leaves the US as the sole global growth engine. This, they feel should keep the US dollar well bid. Bears expect further long liquidation to resume, and expect a breach of support at $1281-84 followed by $1277 – 80 (7 bottoms – 12/28, 1/4, 1/21, 1/22, 1/23, 1/24 and 1/25 lows) to bring a test of the 100-day moving average at $1271.
All markets will continue to focus on geopolitical events (especially Brexit news), developments with the Trump Administration (especially on US-China trade, potential legal issues), oil prices, Q4 corporate earnings, and will turn to reports tomorrow on the BOJ Rate Decision, German Wholesale Prices, Eurozone CPI, US Empire State Manufacturing Index, Industrial Production, Capacity Utilization, JOLTS Job Openings, University of Michigan Consumer Sentiment, Baker Hughes Rig Count, Long Term TIC Flows, and the Commitment of Traders Report for near term guidance.
In the news: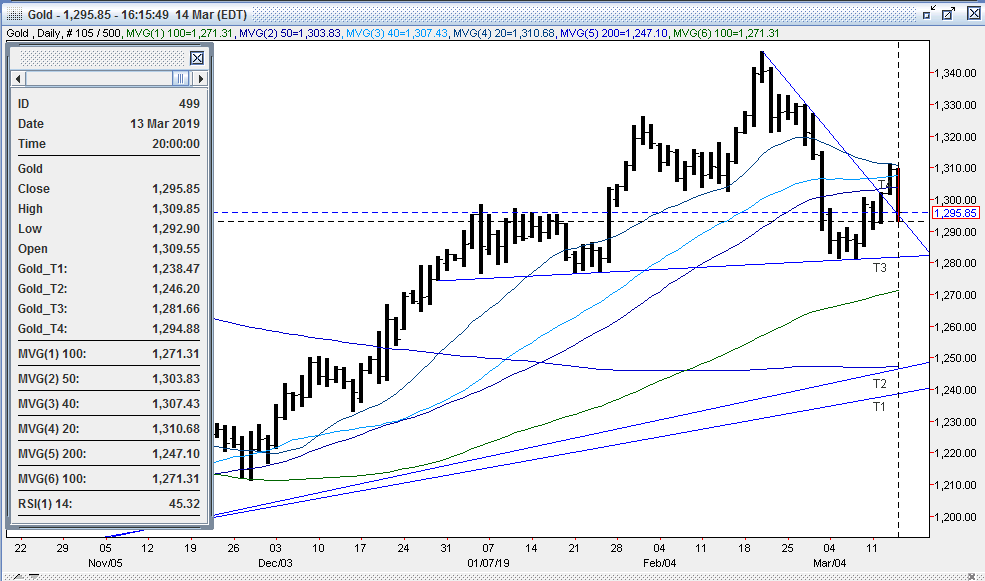 Resistance levels:
$1300 – psychological level, options
$1303-05 – former breakout (6/15/18 top) and prior 5 bottom support (1/29, 2/7, 2/11, 2/13, and 2/14 lows)
$1304 – 50-day moving average
$1307 – 40-day moving average
$1310-11 – double top, 3/13 and 3/14 highs
$1311 – 20-day moving average
$1314 – 50% retracement of down move from 2/20 $1347 high to 3/7 $1281 low
$1315 – 3/1 high
$1325 – options
$1327 – 2/28 high
$1330 – double top – 2/27 and 2/26 highs
$1333 –double top 2/22 and 2/25 highs
$1336 – 4/23/18 high
$1342 – double top - 2/19 and 2/21 highs
$1346-47 – double top 2/20 and 4/20/18 highs
$1353-56 – triple top – 4/12/18, 4/18/18 and 4/19/18 highs
*$1365-67– triple top – 8/2/16, 1/25/18 and 4/11/18 highs
*$1373-75 – double top – 7/6/16 and 7/11/16 highs
Support levels:
$1295 – down trendline from 2/20 $1347 high
$1291-93 – triple bottom - 3/11, 3/12, and 3/14 lows
$1289-91 – triple top – 3/5, 3/6, and 3/7 highs
$1281-84 – quadruple bottom 3/4, 3/5, 3/6, and 3/7 lows
$1282 – up trendline from 12/28 $1274 low
$1277 – 80 7 bottoms – 12/28, 1/4, 1/21, 1/22, 1/23, 1/24 and 1/25 lows
$1275 – options
$1274 – 12/28 low
$1271 – 100-day moving average
$1265-67 – 12/25, 12/26 ,and 12/27 lows
$1259 – 12/24 low
$1254 – 12/21 low
$1250 – options
$1247 – 200-day moving average