Gold remained choppy last night, trading either side of unchanged in a range of $1285 - $1291.
The yellow metal climbed to its $1291 high during late Asian time, as the US dollar was pulling back to 96.85 after a previous advance to 96.98.
During European time, gold dipped to its $1285 low as the DX recovered to 96.96, boosted by weakness in the pound ($1.3175 - $1.3129, Brexit talks remain stuck after UK's Cox and Barclay met with the EU's Barnier).
A decline in the US 10-year bond yield (2.701% - 1-week low) was gold supportive, while global equities were mixed with the NIKKEI down 0.6%, the SCI up 1.6%, European shares ranged from -0.2% to +0.2%, and S&P futures were off 0.1%.
A decline in oil (WTI from $56.50 - $55.80) from a much larger than expected build in US oil inventories reported by the API last night and the OECD cutting its global growth to 3.3% from 3.5% forecast were headwinds for stocks.
Gold's choppy trade continued through the NY open off of two early US economic reports.
At 8:15 AM, the headline US ADP Employment Change Report was worse than expected (183k vs. exp. 190k) and algorithmic trading sent the DX down to 96.82, took gold up to $1288.50.
However, after digesting a large (300k vs. 213k) upward revision to last month's report, S&P futures turned positive (2792), the DX shot to 97, and knocked gold under the overnight low to reach $1284.
Shortly thereafter at 8:30 AM, the US December Trade Balance Report was worse than expected (-$59.8B vs. exp. -$57.8B, highest in 10 years), with a large negative revision to the November report. The DX plunged to 96.81, and gold recovered to $1286.50.
US stocks turned lower after their open (S&P -8 to 2781) with losses in the Energy and Health Care sectors lagging.
The US 10-year bond yield came down from 2.719% to 2.704%, but the DX remained steady - supported by a plunge in the Canadian Dollar ($1.3375 - $1.3455, dovish Bank of Canada statement).
Gold likewise remained steady, trading narrowly between $1285.50 - $1286.
Later in the morning, US stocks continued to work lower (S&P -17 to 2772), hurt by a further dip in oil (WTI to $55.44, EIA reported larger than expected draw in US oil inventories, 7.1M bpd vs. exp. 1.5Mbpd).
The 10-year yield dipped further to 2.688% (1-week low), and the DX slipped to 96.78. Gold edged higher, trading up to $1287.
US stocks pared losses into mid-day(-8 to 2780), helped by some dovish comments from the Fed's Williams ("new normal" of slow growth will keep the Fed patient, GDP likely to slow to 2% this year, with constraining factors - global slowdown, geopolitical uncertainty, and tighter financial conditions).
The US 10-year yield ticked up to 2.69%, and the DX clawed back to 96.90. Gold held up fairly well, with a limited decline to $1286.
Into the afternoon, US equities traded down to fresh intraday lows (S&P -20 to 2769), concerned about lack of news on the US-China trade deal and awaiting the Fed's Beige Book. The US 10-year yield dipped to 2.861%, and the DX ticked down to 96.86. Gold edged higher to $1287 in response.
Open interest was up 3.0k contracts, showing a mix of new shorts down to yesterday's $1281 low along with some new bargain hunting longs. Volume was lower with 239k contracts trading.
While bulls were disappointed with gold's decline, they were encouraged that gold broke its streak of 5 consecutive lower lows.
They're still troubled with gold's failure to gain in the past two weeks, when the DX has come off from its 97.37 high. However, bulls are confident that the trend is their friend, and while the up trendline from the 11/13 $1196 low was violated, technicians have other up trendlines that are still intact, going back to the 8/16/18 $1160 low.
They look for the strong rally over the past three months to carry further, expecting continued volatility in equity markets along with a pause in Fed rate hikes for a considerable period and a further decline in the US dollar to resume driving gold higher.
Bulls also point to the delayed Commitment of Traders Report (as of 2/26) released yesterday and estimates that the current COT Report still has the large funds with a significant gross short position.
Therefore, the bulls feel the gold market remains set up to move higher, as these shorts will provide fuel to further upside moves – when forced to cover. Many bulls are seeing gold approaching oversold (14-day RSI = 35.5) having fallen $66 since its $1347 high on 2/20.
They feel that gold's correction down from $1347 has been overdone, and expect a quick bounce back to the former support level at $1303-05.
Bears cheered gold's decline today, along with the dollar's strength, though some were disappointed that gold didn't breach $1277-80 when the DX flirted with 97. While some bears took some profits in front of $1277-80, others remain comfortable selling into strength and will continue to use rallies as entry points for getting short(er).
They maintain that gold's advance had been overdone – having rallied $70 since the $1277 low on 1/24 (5.48%), $114 since the $1233 low on 12/14 (9.25%), and $151 since the $1196 low on 11/13 (12.63%).
They maintain that the 20% correction in equities – much of which occurred during very illiquid holiday trading – was also overdone, and expect the rebound seen over the past 10 weeks to continue. They expect equities will find further momentum from the S&P eclipsing its 200-day moving average (2746) two weeks ago, and will get a further boost when the S&P consolidates over the key 2800 level.
Bears also feel that the plunge in the US dollar seen since 12/14 (97.71 – 95.03, 2.74%) has also overshot, and look for the rebound in the greenback to carry forward and pressure gold lower.
Bears think that the recent severe cuts in growth estimates by the UK and ECB, along with a cut by the Reserve Bank of India, a recent change to lower guidance by the Bank of Australia, and China's slowdown, the US is left as the global growth engine.
This, they feel should keep the US dollar well bid. Bears expect further long liquidation to continue, and expect a breach of initial support at $1277 – 80 (7 bottoms – 12/28, 1/4, 1/21, 1/22, 1/23, 1/24 and 1/25 lows) to bring a test of the 100-day moving average at $1267.
All markets will continue to focus on geopolitical events (especially Brexit news), developments with the Trump Administration (especially on US-China trade, potential legal issues), oil prices, Q4 corporate earnings, and will turn to this afternoon's Beige Book followed by reports tomorrow on Japan's Leading Index, Eurozone GDP, ECB rate decision, US Challenger Job Cuts, Jobless Claims, Nonfarm Productivity, Unit Labor Costs, Consumer Credit, and comments from the ECB's Draghi, and the Fed's Brainard for near term direction.
In the news: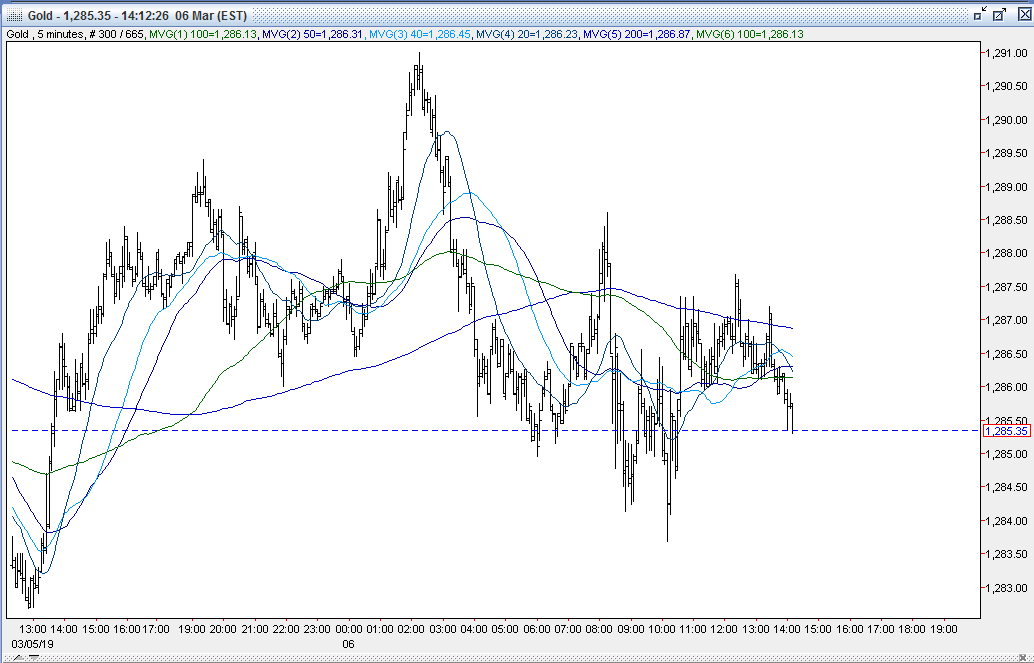 Resistance levels:
$1290-91 – double top – 3/5 and 3/6 highs
$1297 – 3/4 high
$1298 – 1/28 low
$1300 – psychological level, options
$1302 – 50-day moving average
$1303-05 – 5 bottoms - 1/29, 2/7,2/11, 2/13 and 2/14 lows
$1306 – 40-day moving average
*$1307– up trendline from 11/13 $1196 low
$1311-13 – double bottom 2/15 and 2/28 lows
$1315 – 20-day moving average
$1317 – 2/27 low
$1321-23 – quadruple bottom – 2/18, 2/19, 2/21, and 2/26 lows
$1322-23 – quadruple top – 5/14/18, 1/30, 2/1, and 2/15 highs
$1325 – options
$1325 - 27 – 6 tops- 1/31, 2/18, 4/26/18, 4/27/18,4/30/18, and 5/11/18 highs
$1327 – 2/28 high
$1330 – double top – 2/27 and 2/26 highs
$1333 –double top 2/22 and 2/25 highs
$1336 – 4/23/18 high
$1342 – double top - 2/19 and 2/21 highs
$1346-47 – double top 2/20 and 4/20/18 highs
$1353-56 – triple top – 4/12/18, 4/18/18 and 4/19/18 highs
*$1365-67– triple top – 8/2/16, 1/25/18 and 4/11/18 highs
*$1373-75 – double top – 7/6/16 and 7/11/16 highs
Support levels:
$1281-84 – triple bottom ¾, 3/5, and 3/6 lows
$1281 – 3/5 low
$1277 – 80 7 bottoms – 12/28, 1/4, 1/21, 1/22, 1/23, 1/24 and 1/25 lows
$1275 – options
$1274 – 12/28 low
$1267 – 100-day moving average
$1265-67 – 12/25, 12/26 ,and 12/27 lows
$1259 – 12/24 low
$1254 – 12/21 low
$1250 – options
$1247 – 200-day moving average