Gold remained nervous and choppy last night, trading in a range of $1207.95 - $1216.45, and largely fading movements in the US dollar.
After a dip to $1208 during early Asian time, gold rallied through its 100-day moving average at $1214 to $1216.45, where it was capped by yesterday's high.
The move was fueled by a slide in the DX to 96.76, which was weakened by a rise in the pound ($1.3029) and the euro ($1.1351) as PM May won the backing of the cabinet on her Brexit deal.
However, the Brexit deal was plunged into uncertainty on the subsequent resignation of a series of British ministers – including chief Brexit negotiator Raab – along with a call of a no-confidence vote on May's leadership. Sterling tumbled to $1.2752 and the euro sank to $1.1271, lifting the DX to 97.39.
Gold sold off, but the downside was limited to $1208 as safe-haven bids off of the turmoil supported the yellow metal. Global equities were mixed with the NIKKEI off 0.2%, the SCI +1.4%, European markets ranged from -0.4% to +0.1%, and S&P futures were +0.3%.
While Powell's comments were generally neutral, stocks were given a boost by comments from China's Commerce Ministry's Feng that the US and China have resumed high-level talks on trade. However, weaker oil prices (WTI from $56.29 to $55.56) from a larger than expected build in oil inventories reported by the API last night were a headwind for equities.
At 8:30 AM, US economic data was a mixed bag, leaving markets little changed. Better than expected report on Retail Sales (0.8% vs exp. 0.5%) the Empire State Manufacturing Index (23.3 vs. exp. 20), Import Prices (0.5% vs. exp. 0.1%) and Export Prices (0.4% vs. exp. 0.1%) were largely offset by misses in the Philly Fed Index (12.9 vs. exp. 20), Retail Sales ex Autos and Gas (0.3% vs. exp. 0.4%), and Jobless Claims (216k vs. exp. 214k).
US stocks turned lower on their open (S&P -25 to 2676), with losses in Walmart and Amazon leading a slide in the Consumer Discretionary sector, with news of May's Brexit deal becoming uncertain weighing on sentiment. The US 10-year bond yield, which slipped overnight with other global yields – continued to move lower to 3.085%. The DX pulled back to 97.11, and gold rallied. However, resistance at the last two night's highs at $1216 held again.
Into mid-day, US equities turned positive (S&P +7 to 2709), with the IT, Materials and Financials sectors leading the rebound. The move was aided by a further recovery in oil (WTI to $57.23) - despite a larger than expected build in US oil inventories from the EIA report.
The 10-year yield ticked up to 3.094%, and the DX advanced to 97.20, helped by a fresh low in sterling ($1.2745) and a dip in the euro ($1.1306) after a previous rebound. Gold was caught in the crosscurrents and traded in a choppy fashion between $1212 and $1215.50.
Open interest was off 3.6k contracts, showing a net of short covering from yesterday's $8 advance. Volume was higher and remained robust with 305k contracts trading.
All markets will continue to focus on geopolitical events (especially Brexit developments), developments with the Trump Administration (especially on US-China trade, potential legal issues), oil prices, Q3 corporate earnings, and will turn to reports tomorrow on German Wholesale Prices, Eurozone CPI, US Industrial Production, Capacity Utilization, Kansas City Fed Index, the Commitment of Traders Report, and comments from the Bundesbank's Weidmann and the Fed's Evans for near-term direction.
In the news: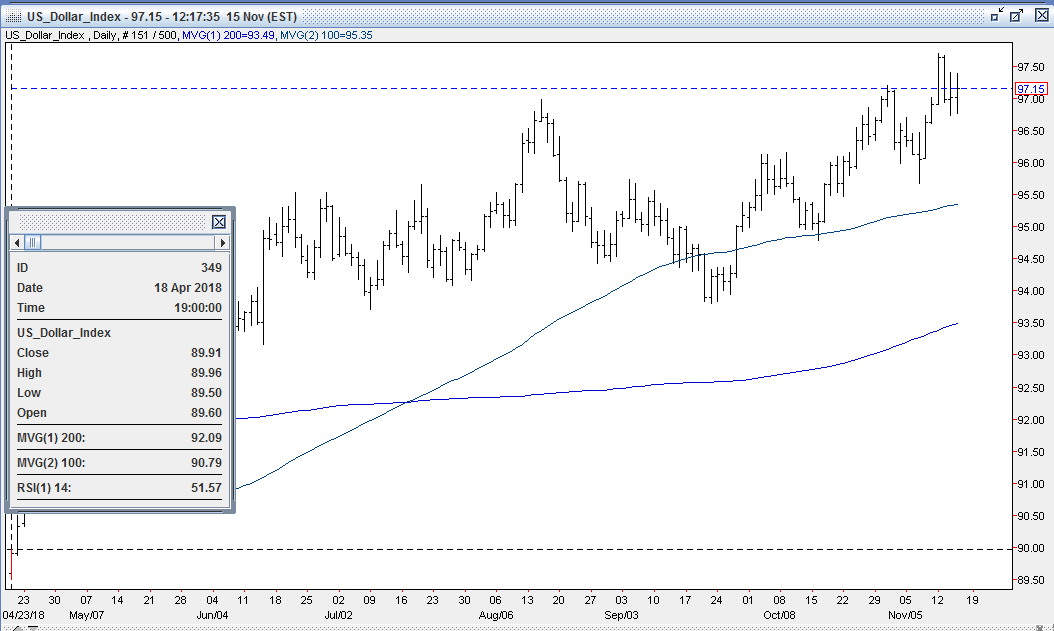 Resistance levels:
*$1214 – 100-day moving average
$1216 – double top - 11/14 and 11/15 high
$1223 – 11/9 high
$1224 – 20-day moving average
$1225 – options
$1227 – 11/8 high
*$1234 – down trendline from 4/23 $1336 high
$1235-38 – 6 tops –10/29, 11/1, 11/2, 11/5, 11/6 ,and 11/7 highs
$1239-40 – double top, 10/23 and 10/25 highs
$1243 – 10/26 high
*$1245-46 – double top – 7/16 and 7/17 highs
$1250 - options
$1251-53 – triple bottom 7/4, 7/5, and 7/6 lows
$1259-61 – quadruple top – 6/27, 7/4, 7/5, and 7/6 highs
$1262 – 50% retracement from 4/11 $1365 high to the 8/16 $1160 low
Support levels:
$1213 – 40 day moving average
$1211 – 11/12 high
$1211 – 50 day moving average
$1207-08 - 10/2, 10/3, and 10/4 highs
$1206 – 11/9 low
$1205 – 11/13 high
$1201 – 11/12 low
$1201 – 50% retracement of up move from 8/16 $1160 low to 10/26 $1143 high
$1200 – psychological level, options
*$1200 – up trendline from 8/16 $1160 low
$1198 – 11/14 low
$1196 – 11/13 low
$1191 – 10/11 low
*$1181 - 85 – 9 bottoms - 8/20, 8/23, 8/24, 9/27, 9/28, 10/1, 10/8, and 10/9, and 10/10lows
$1175 – options strike
$1172 8/17 low
*$1160 – 8/16 low
$1156 – 1/4/17 low
$1150 – options
$1146 – 1/4/17 low