Gold firmed modestly overnight, trading in a choppy fashion in a fairly narrow range of $1201.40 - $1206.80.
Like yesterday, gold ran into resistance in front of $1207-09 – the 6 top high and the 50-day moving average – which it hasn't crossed above since 4/23.
Gold was lifted by a tumble in the dollar, which moved through its 100-day moving average (94.56) and the neckline of a head and shoulders pattern at 94.30 to reach 93.83 – a 10-week low.
The greenback was pressured by strength in the yen (112.34 – 1122.04, Abe re-elected), pound ($1.3140 - $1.3297, stronger UK Retail Sales data, optimistic comments on Brexit), the euro ($1.1670 - $1.1777, 10-week high), the yuan (6.854 – 6.840) and some emerging market currencies (South African rand, Brazilian real, Russian rouble, Indian rupee).
Global equities were modestly higher and a slight headwind for gold with the NIKKEI unchanged, the SCI was off 0.1%, European markets were up from 0.2% to 0.8%, and S&P futures were +0.1%. Oil prices were a little lower (WTI from $70.80 - $70.58, Trump tweets that OPEC must get prices down) and weighed on stocks.
Buying on the CX open took gold past its overnight high to reach $1207.70, but again, resistance held.
At 8:30 AM, stronger than expected reports on US Jobless Claims (201k vs. exp. 210k – lowest level since 1969) and the Philly Fed Index (22.9 vs. exp. 15.8) lifted S&P futures ( +10 to 2925), and pushed the US 10- year bond yield to 3.096% - another 4-month high.
The DX turned higher (DX to 93.95), and gold slipped back to $1205. However, gold quickly rebounded to make its high at $1208.50 –where resistance held once again - when some residual dollar selling took the DX back to 93.86.
US stocks opened very firm and well into record territory (S&P +17 to 2925, record high), with tech, materials, financial, and consumer staples all posting strong gains.
At 10AM, slight misses on US Existing Home Sales (5.34M vs. exp. 5.38M) and Leading Indicators (0.4 vs. exp. 0.5) were outweighed by a large miss on Eurozone Consumer Confidence.
The US 10-year yield pulled back to 3.075%, but the DX firmed (DX to 94.15). The greenback was also boosted by pullbacks in sterling ($1.3231) and the euro ($1.1738) after the EU's Tusk rejected May's Brexit plan while May defended her proposals. Gold retreated in response, but found support at $1203.
Into the afternoon, US stocks extended their gains (S&P +25 to 2933), but the 10-year yield slipped back to 3.059%. The DX dipped back below 94 (93.95), and gold rebounded to $1207.
Later in the afternoon, US stocks trimmed some gains, (S&P finished +24 to 2932, record high close), and the 10-year yield hovered between 3.06% - 3.07%. The DX slid back to 93.85, but held above its prior low. Gold ticked up to $1207.75, but was again thwarted by resistance at $1207-09. It was $1207 bid at 4PM with a gain of $4.
Open interest was 5.0k contracts, showing a net of new longs (but some new shorts) from yesterday's advance. Volume was a little higher with 244k contracts trading.
Some bulls were satisfied with today's $4 gain, given the record highs in equities and fresh 4-month high (3.096%) in the US 10-year bond yield.
However, most were frustrated that despite the early plunge (0.80%) in the DX, gold couldn't manage to take out resistance at $1207-09.
Bulls remain steadfast in their thinking that gold bottomed at $1160 on 8/16 after a $35 2-day capitulation, and will look to either add to long positions on weakness, or on some expected ensuing upside momentum.
They maintain the market has been and remains extremely oversold - having dropped $205 (15.0%) since the 4/11 $1365 high, and $149 (11.4%) since the $1309 high on 6/14.
Bulls strongly believe that the dollar's rally was badly overextended, and expect its correction from the 8/15 96.99 high (up 9.90% since its 88.25 low on 2/14) to continue, and drive a significant short covering rally in gold.
Bulls are looking for gold to consolidate recent gains over $1187 (50% retracement of up move from the 8/16 $1160 low to last week's $1214 high) and then challenge upside resistance levels at $1207-09 (6 top - 8/29, 8/30, 8/31, 9/6, and 9/14 highs), $1212 (down trendline from the 8/10 $1217 high) then $1216-18 (5 tops, 8/6, 8/7, 8/8, 8/9 and 8/10 highs).
Beyond this, bulls are looking for a move to at least $1262 – the 50% retracement of the move down from the 4/11 $1365 high to the 8/16 $1160 low.
In addition, bulls maintain that last Friday's Commitment of Traders Report showing the large funds remain net short (turned short 4 weeks ago for the first time since 2002) and with a massive gross short position (206k contracts –short side of gold an extremely crowded trade) leaves this market set up in a highly favorable position to move up from potential heavy short covering and sidelined longs returning to the market.
Bears have been using gold's recent bounce off of $1160 to rebuild short positions scale up, and are comfortable to continue to sell into any strength. Many bears believe that gold's recovery rally ($1160 - $1214) has been completed, and point to its inability to take out the $1214 double top high last Thursday, and today's failure to get past $1207-09 – despite the massive plunge in the DX - as evidence that the yellow metal will resume its decline.
This is witnessed by last Friday's COT Report showing the large funds remain net short, with a hefty 206k gross short position. They feel fuel from a rebound in the dollar from its recent correction will provide downside pressure on gold, and that the dollar's ability to strengthen against other currency majors (and emerging market currencies) still has legs.
They will be gunning for stops below initial support at $1198 (up trendline from 8/16 $1160 low), followed by $1193 (triple bottom - 9/12, 9/14, and 9/17 lows), $1190 (up trendline from 10/19/08 $682 low), $1187 (50% retracement of up move from 8/16 $1160 low to 8/28 $1214 high), and $1183 - 84 (triple bottom - 8/20, 8/23, and 8/24 lows) to lead to a test of $1175 (options strike) and then $1171-73 (quadruple bottom – 8/15, 8/17, 1/6/17 and 1/9/17 lows).
All markets will continue to focus on geopolitical events (especially emerging markets), developments with the Trump Administration (especially on US-China and US-Canada trade, potential legal issues), oil prices, and will turn to reports tomorrow on Japan's CPI, PMI, All Industry Activity Index, and Department Store Sales, Germany's PMI, Eurozone PMI, US Markit Manufacturing and Services PMI, Baker-Hughes Rig Count, and Commitment of Traders Report for near-term guidance.
In the news: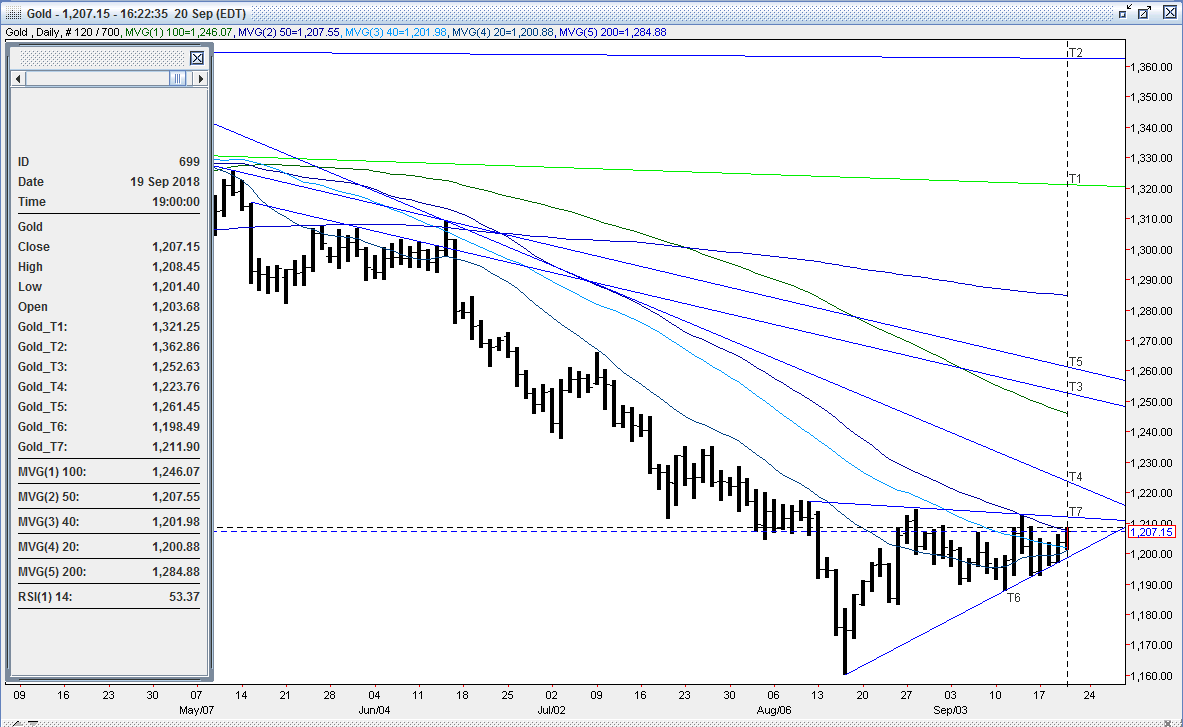 Resistance levels:
$1207-09 –7 tops, 8/29, 8/30, 8/31, 9/6, 9/12, 9/14, and 9/20 highs
$1208 – 50 day moving average
$1212 – down trendline from 8/10 $1217 high
$1213-14 – triple top – 8/13, 8/28, and 9/13 highs
$1216-18 – 5 tops, 8/6, 8/7, 8/8, 8/9 and 8/10 highs
$1220-21 – 8/2 and 8/3 highs
$1225 – 7/30 high
$1225 - options
$1227-28 – 7/27, 7/31 highs
$1234-35 – triple top, 7/23, 7/25, and 7/26 highs
$1235 -38 – 6 bottoms –7/16/18, 7/13/18, 12/12/17, 7/18/17, 7/19/17, 7/20/17 lows
$1245-46 – double top – 7/16 and 7/17 highs
$1246 – 100-day moving average
$1250 - options
$1251-53 – triple bottom 7/4, 7/5, and 7/6 lows
$1259-61 – quadruple top – 6/27, 7/4, 7/5, and 7/6 highs
$1262 – 50% retracement from 4/11 $1365 high to the 8/16 $1160 low
Support levels:
$1202 – 40 day moving average
$1201 – 20-day moving average
$1201– 9/20 low
$1200 – psychological level, options
$1198 - up trendline from the 8/16 $1160 low
$1196 – 9/18 low
$1193 – triple bottom, 9/12, 9/14, and 9/17 lows
$1190 – up trendline from 10/19/08 $682 low
$1188-90 – double bottom, 9/4 and 9/11 lows
$1187 – 50% retracement of up move from 8/16 $1160 low to 8/28 $1214 high
$1183 - 84 – triple bottom - 8/20, 8/23, and 8/24 lows
$1175 – options strike
$1171-73– quadruple bottom – 8/15, 8/17, 1/6/17 and 1/9/17 lows
$1166 – 1/5/17 low
$1160 – 8/16 low
$1156 – 1/4/17 low
$1150 – options
$1146 – 1/4/17 low