For a preview of what is coming to the wider housing market, look to…Dallas?
Higher mortgage rates following a multi-year period of almost impossibly low mortgage rates. Real estate investment buyers outbidding other speculators, driving up the prices of houses nationwide, as flipping came back into vogue.
When there's next-to-free money to be borrowed, you can bet it will be borrowed. By anyone who can get it, for any reason at all.
Lots of ZIRP-driven mortgage date was originated over the past decade. Now, with mortgage rates near 8-year highs, money isn't so free anymore.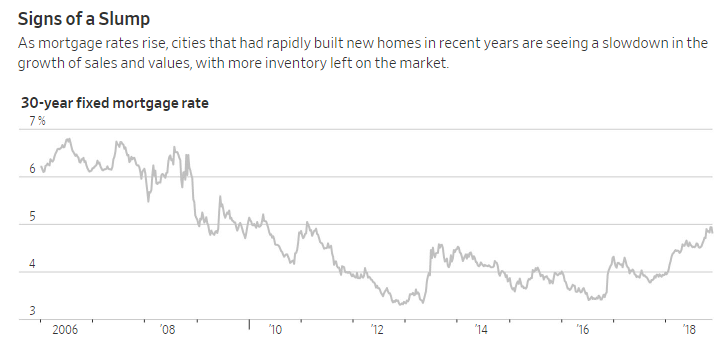 And sellers now find a wildly frothed-out market desperately trying to maintain nosebleed pricing in the face of housing starts that are still ramping up despite falling sales.
And inventories are spiking dramatically in what were the hottest housing markets, yet sellers are still holding out for peak-bubble pricing.
I lived in Las Vegas during the entire lifecycle of the subprime bubble. When that market first froze, then crashed, entire ghost towns of were-going-to-be developments were abandoned. It looked an awful lot like "Edgestone at Legacy" in Frisco, TX, looks now:
Will these lots ever even see housing starts? Let alone completions? Let alone sales? A quick survey of the above charts should be plenty to suggest to buyers it's time to wait, tell sellers it's time to cut prices fast, and make large-scale developers lose plenty of sleep wondering just how much good money they might be throwing after bad. Which is when they walk away from blasted moonscapes like the above...when, at last, there is no greater fool left.
Check out the full text of Laura Kusisto's excellent article here.