Gold sold off overnight in a range of $1194.70 - $1185. It tripped sell stops under the $1192 double bottom (last 2 sessions lows) and $1188 (1/30/17 low), but found support at $1185, the up trendline from 10/19/08 $682 low.
Gold's tumble was again triggered by a stronger US dollar, with the DX reaching a fresh 14-month high at 96.92.
Though the Turkish lira continued to rebound (6.40 – 6.03, Qatar pledged $15B of direct investments in Turkey) some other emerging markets were soft and dollar supportive including the Chinese yuan (hits a 19-month low at 6.6933), the South African rand (14.20 – 14.72), the Indonesian rupiah (14,646, near 3-year low), Mexican Peso (18.86 – 19.15), and Argentine Peso (29.75 – 30.30).
The greenback also drew strength early in Asian hours against the yen (111.10-111.43), and later against the euro ($1.1350 $1.1315, fresh 13-month low, concerns over the continent's banks to Turkey), and the pound ($1.2730 - $1.2690, fresh 14-month low, ongoing concerns for a no-deal Brexit with the next round of talks resuming tomorrow).
Global equities were weaker, with concerns for an emerging markets contagion still front and center - with the NIKKEI off 0.7%, the SCI off 2.1% (disappointing quarterly report from Tencent), European markets were down from 0.1% to 0.6% ,and S&P futures were -0.2%. Weakness in oil ($67.20 - $66.02, surprise large draw in US oil inventories in last night's API report) weighed on stocks.
At 8:30 AM, stronger than expected readings on US Retail Sales (0.5% vs. exp. 0.1%) and the Empire State Manufacturing Index (25.6 vs. exp. 20) and Q2 Productivity (2.9% vs. exp. 2.4%) was followed by a decent report on Industrial Production (0.1% vs. exp. 0.3%, but last month's reading revised from 0.6% to 1.0%) at 9:15AM.
S&P futures pared losses (2826), and the US 10-year bond yield ticked up to 2.875%. The DX climbed further, taking out the overnight high to reach 96.99. Gold broke through support at $1185, touching off sell stops that took it to $1181 - where bargain hunting bids emerged in front of the low from 1/17/17.
Later in the morning, US stocks turned down sharply (S&P -37 to 2802 ), with energy, consumer discretionary, and tech leading decliners.
A further plunge in oil (WTI to $64.48, 2-month low, EIA reported larger build than the API in crude and distillates with draw expected) contributed to the weakness in equities.
The 10-year yield fell to 2.837% (1-month low), and the DX retreated to 96.66. Gold, however, failed to advance, and residual selling pressure (some rumors of central bank selling) knocked it below support at $1281 to reach $1175, where support from the option strike held.
Later in the afternoon, US stocks came off their lows (S&P finished off 23 to 2816), helped by reports that the White House was preparing a new "Buy America" executive order.
The 10-year yield climbed back to 2.866%, and the DX hovered between 96.66-96.72. However, residual selling in gold continued, and support at $1175 was eventually broken. It traded down to $1173 – a fresh 19-month low – and was $1175 bid at 4PM with a loss of $19.
Open interest was up 1k contracts, showing a small net of new longs from yesterday's rebound to $1199. Volume was much lower with 249k contracts trading.
Some bulls were disappointed with gold's outsized loss today (1.59%) compared with the dollar's 0.40% advance, and for the yellow metal's inability to hold in front of key technical levels – especially the uptrend line $1185 (up trendline support from from 10/19/08 $682 low).
However, other bulls remain steadfast that gold has or is very close to putting in a major bottom, and continue to look to buy on weakness. They maintain the market has been extremely oversold - having dropped $192 (14.1%) since 4/11, and $136 (10.4%) since 6/14.
Also, its 14-day RSI - currently at 19.3 and screaming oversold – hasn't been this low in 3 years, and has spent only a scant 6 sessions north of 35 since 6/14.
Bulls strongly believe that the dollar's rally is badly overextended, and expect a meaningful correction in the greenback from today's high (up 9.90% since its 88.25 low on 2/14) to help trigger a significant short covering rally in gold.
Bulls are looking for gold to consolidate ahead of $1171-72 (double bottom 1/6/17 and 1/9/17 lows) and then challenge resistance at the prior support levels at $1185, $1192, $1195-98 and then $1205-08.
In addition, bulls maintain that last Friday's Commitment of Traders Report with a historically and relatively very low Net Fund Long Position (12k contracts, low since Dec '15) and a massive and growing gross short position (+22k to 196k contracts –short side of gold becoming an extremely crowded trade) leaves this market set up in a highly favorable position to move up from potential heavy short covering and sidelined longs returning to the market.
Some bears took profits today in front of $1185 and then $1175, and will look for renewed strength in gold to rebuild scale up short positions.
Other bears, however, are still looking for gold to decline significantly more, as witnessed by Friday's COT Report showing another large build in fund gross shorts (+22k contracts to 196k contracts). They feel fuel from a firmer dollar will continue to provide downside pressure on gold, and that the dollar's ability to strengthen against other currency majors (and emerging market currencies if the current crisis lingers) still has legs. They will be gunning for stops below $1171-72 (double bottom 1/6/17 and 1/9/17 lows) $1166 (1/5/17 low) and $1156 (1/4/17 low) to lead to a test of $1150.
All markets will continue to focus on geopolitical events (especially with Turkey and other emerging markets), developments with the Trump Administration (especially on US-China trade), Q2 corporate earnings, oil prices, and will turn to reports tomorrow on Japan's Trade Balance, German Wholesale prices, UK Retail Sales, Eurozone Trade Balance, US Jobless Claims, Housing Starts, Building Permits, and the Philadelphia Fed Index for near term guidance.
In the news: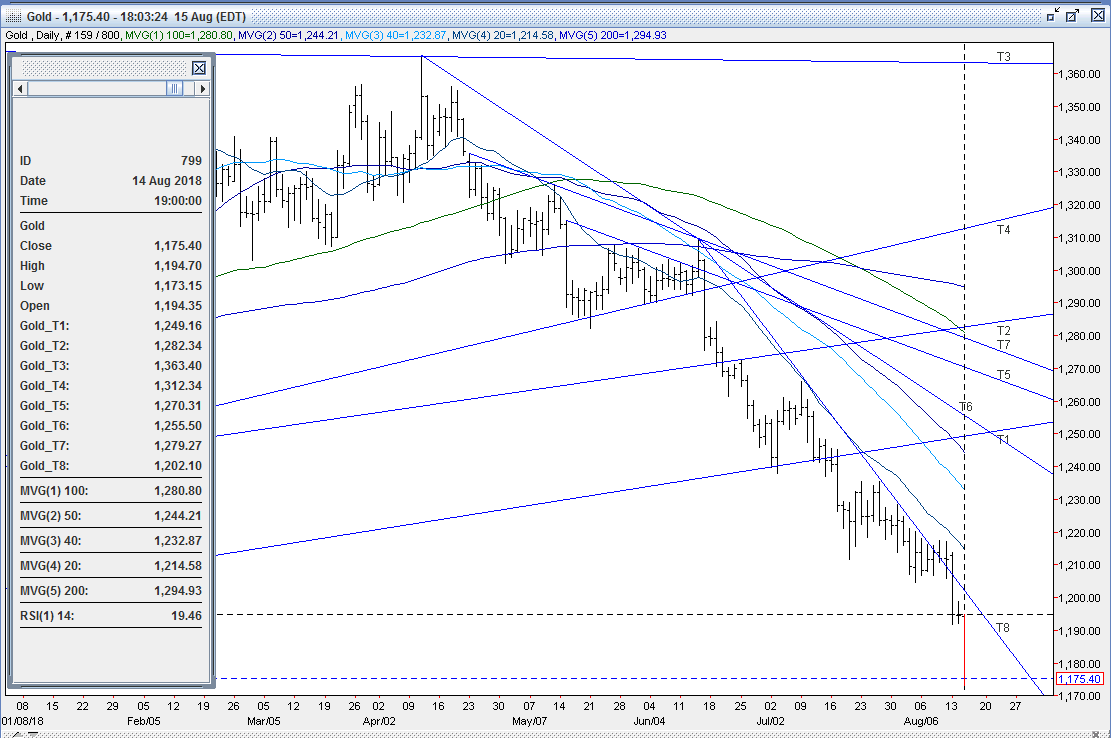 Resistance levels:
$1177 – 1/11/17 low
$1181 – 1/27/17 low
$1185 – up trendline from 10/19/08 $682 low
$1192 – double bottom 8/13 and 8/14 lows
$1195 – 8/15 high
$1195-98 - 5 bottoms1/31/17, 2/1/17, 3/9/17, 3/13/17, 3/15/17 lows
$1199 – 8/14 high
$1200 – psychological level, options
$1202 – down trendline from 6/14 $1309 high
*$1205-08 – 9 bottoms – 8/2, 8/3, 8/6, 8/7, 8/8, 8/10 7/7/17, 7/10/17 and 7/11/17 lows
$1214 – 20-day moving average
$1216-18 – 5 tops, 8/6, 8/7, 8/8, 8/9 and 8/10and highs
$1220-21 – 8/2 and 8/3 highs
$1225 – 7/30 high
$1225 - options
$1227-28 – 7/27, 7/31 highs
$1234-35 – triple top, 7/23, 7/25, and 7/26 highs
$1235 -38 – 6 bottoms –7/16/18, 7/13/18, 12/12/17, 7/18/17, 7/19/17, 7/20/17 lows
$1233 – 40 day moving average
$1244 – 50 day moving average
$1245-46 – double top – 7/16 and 7/17 highs
$1250 - options
$1250 -50% retracement from 4/11 $1309 high to 8/13 $1192 low
$1251-53 – triple bottom 7/4, 7/5, and 7/6 lows
$1259-61 – quadruple top – 6/27, 7/4, 7/5, and 7/6 highs
$1266 – 7/9 high
$1268 – 6/26 high
$1270-73 – triple top, 6/21, 6/22, and 6/25 highs
$1275 – options
$1278 – up trendline from 1/9/17 $1171 low
$1275 – 6/15 low
$1276 – 6/20 high
$1281 – 100-day moving average
$1281-82 – double bottom, 5/21 and 12/27 lows
$1282 – 6/18 high
$1284 – 6/19 high
$1288 – double bottom, 5/22 and 5/23 lows
$1292-95 –5 bottoms – 6/6, 6/7, 6/8, 6/11, 6/12, and 6/13
$1294– 200-day moving average
Support levels:
$1175 – options strike
$1171-72 – double bottom 1/6/17 and 1/9/17 lows
$1166 – 1/5/17 low
$1156 – 1/4/17 low
$1150 – options
$1146 – 1/4/17 low