Gold advanced last night in a range of $1207.85 - $1216.20. The rally was fueled by a fair amount of short covering, but ran into resistance at $1216 – the down trendline from the 6/14 $1309 high.
Gold gained ground as the US dollar pulled back, with the DX declining from 95.37 – 94.99. The greenback softened from a rebound in the beleaguered yuan (6.8615 – 6.82) and some strength in the yen (111.42 – 111.05, stronger Household Spending, Average Cash Earnings).
The dollar was also under pressure from the euro, which continued its recovery from yesterday ($1.1550 - $1.1608, stronger German Trade balance) and a bounce in sterling ($1.2937 - $1.2974) from yesterday's 11-month lows.
Firmer global equities were a headwind for gold, though, with the NIKKEI up 0.7%, the SCI +2.7%, European markets up from 0.8% to 0.9%, and S&P futures were +0.2%. Higher oil prices (WTI to $69.72) were supportive of stocks.
US equities opened stronger (S&P +14 to 2864), and remained firm into mid-day with energy and financials leading gainers.
Stocks were aided by stronger than expected reports on JOLTS Job Openings (6.662M vs. exp. 6.625M), the IBD/TIPP Economic Optimism Index (58 vs. exp. 57.2) and a further rise in oil (WTI to $69.80).
The US 10-year bond yield advanced from 2.945% to 2.969%, and the dollar rebounded to 95.19. Gold retreated in response, and declined to $1210.50. However, as we've seen many times recently, dip buying emerged, and gold was bid back up to $1213.75.
Into the afternoon, US stocks remained firm near their highs, supported by strength in Tesla (Musk hints at taking the company private), and the 10-year yield rose further to 2.975%. The DX climbed to 95.28, and gold retreated. The yellow metal sold off down to $1208, where support at the 6-bottom low (8/2, 8/3, 8/6, 7/7/17, 7/10/17 and 7/11/17) at $1205-08 held.
Late in the afternoon, US stocks trimmed some gains, and the S&P finished +8 to 2858 , and within 50 bp of its all - time high of 2873 from 1/26. The 10-year yield ticked up to 2.977%, but the DX slipped back to 95.17. Gold clawed back to $1210.50, and was $1210 bid at 4PM with a gain of $2.
Open interest was off 0.6k contracts, showing a near balance of long liquidation along with some bottom fishing new longs from yesterday's advance. Volume was lower with 206k contracts trading.
Bulls were disappointed that gold failed yet again to take out its down trendline from the 6/14 $1309 high at $1216 - despite the DX slipping below 95 last night. However, they feel that gold has or is very close to putting in a major bottom.
They maintain the market has been extremely oversold - having dropped $160 (11.7%) since 4/11, and $104 (7.94%) since 6/14. Also, its 14-day RSI is currently at 31, and has spent only 6 sessions north of 35 since 6/14.
Bulls remain steadfast in their belief that the dollar's rally is overextended, and expect a meaningful correction in the greenback from its recent 95.66 1-year high last (up 8.40% since its 88.25 low on 2/14) to help trigger a significant short covering rally in gold.
Bulls are looking for a breach of $1215 (down trendline from its 6/14 $1309 high, options) to trip some buy stops to test next resistance levels at the double top at $1220-21, the $1225 options strike, the double top at $1228-29, and then $1235-38 (old support level, and triple top).
They expect a significant correction to at least $1257 – the 50% retracement its move down from $1309 (4/11 high) to last week's $1205 low. In addition, bulls maintain that Friday's Commitment of Traders Report with a historically and relatively very low Net Fund Long Position (35k contracts, low since Dec '15) and a massive and growing gross short position (+2k to 172k contracts –short side of gold becoming a very crowded trade) leaves this market set up in a highly favorable position to move higher from potential heavy short covering and sidelined longs returning to the market.
Bears trading the range had another opportunity today to take profits in ahead of the 7-bottom low at $1205-08, and are comfortable to wait for some modest strength to re-establish short positions. However, other bears are still looking for gold to decline significantly more, as witnessed by Friday's COT Report showing another build in fund gross shorts (+2k contracts to 174k contracts).
They feel fuel from a firmer dollar (DX touched 95.66 on 7/19, fresh 1 year high) will continue to provide downside pressure on gold, and that the dollar's ability to strengthen against other currency majors still has legs. In addition, they feel that continued strength in US equities (S&P within 0.5% of all-time highs) will put additional pressure on gold. They will be gunning for stops below $1205-08 (6 bottoms) to lead to a test of $1200 followed by $1195-98.
All markets will continue to focus on geopolitical events, developments with the Trump Administration (especially on US-China trade), Q2 corporate earnings, oil prices, and will turn to reports tomorrow on the BOJ's Summary of Opinions, Trade Balance, and Economy Watchers Survey, China's Trade Balance, and Foreign Direct Investment, US MBA Mortgage Applications, and Oil Inventories, and comments from the Fed's Barkin for near-term direction.
Gold in the news: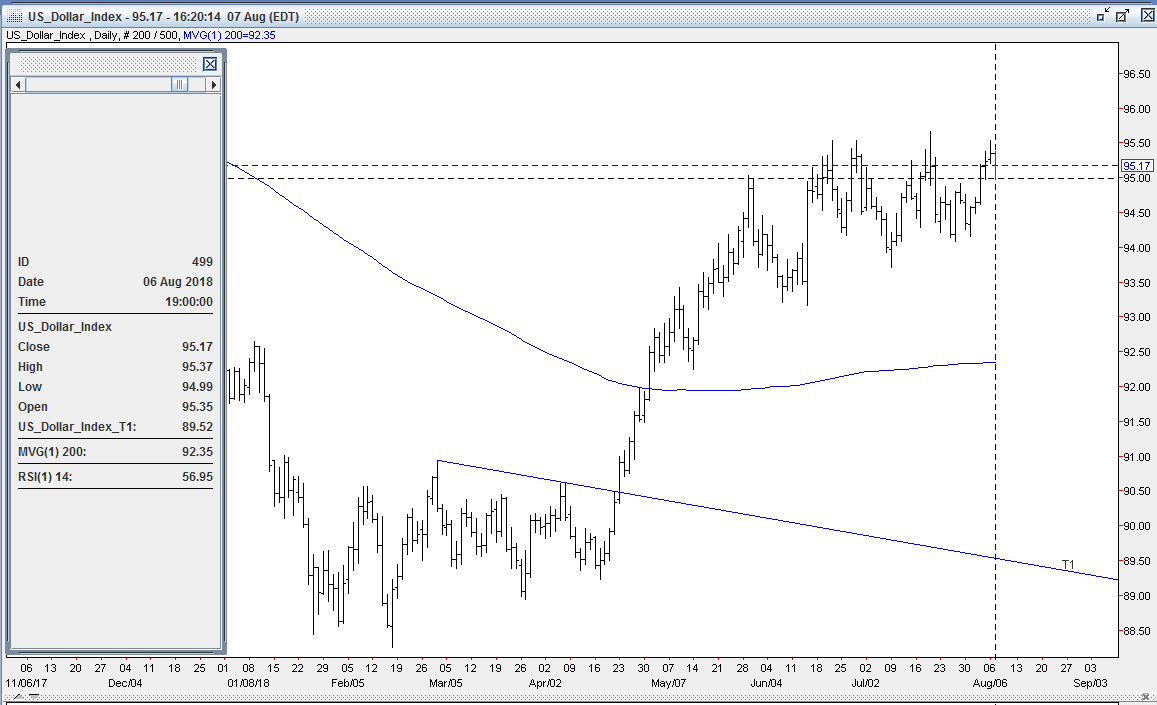 Resistance levels:
$1216 – 8/7/high
$1216 – down trendline from 6/14 $1309 high
$1218 – 8/6 high
$1220-21 – 8/2 and 8/3 highs
$1225 – 7/30 high
$1225 - options
$1226 – 20-day moving average
$1227-28 – 7/27, 7/31 highs
$1234-35 – triple top, 7/23, 7/25, and 7/26 highs
$1235 -38 – 6 bottoms –7/16/18, 7/13/18, 12/12/17, 7/18/17, 7/19/17, 7/20/17 lows
$1244 – up trend line from 12/17/15 $1048 low
$1245 – 40 day moving average
$1245-46 – double top – 7/16 and 7/17 highs
$1250 - options
$1251-53 – triple bottom 7/4, 7/5, and 7/6 lows
$1256 – 50 day moving average
$1259-61 – quadruple top – 6/27, 7/4, 7/5, and 7/6 highs
$1266 – 7/9 high
$1268 – 6/26 high
$1270-73 – triple top, 6/21, 6/22, and 6/25 highs
$1275 – options
$1278 – up trendline from 1/9/17 $1171 low
$1275 – 6/15 low
$1275 – 50% retracement of down move from 6/14 $1309 high to 7/2 $1240 low
$1276 – 6/20 high
$1281-82 – double bottom, 5/21 and 12/27 lows
$1282 – 6/18 high
$1284 – 6/19 high
$1288 – double bottom, 5/22 and 5/23 lows
$1289 – 100-day moving average
$1292-95 –5 bottoms – 6/6, 6/7, 6/8, 6/11, 6/12, and 6/13
$1295 - up trendline from 12/15/16 $1123 low
$1295 – down trendline from 5/15 $1315 top
$1297– 200-day moving average
$1299 – 6/13 high
$1300 – psychological level, options
$1300 – 6/12 high
$1300 -03–7 tops 6/1, 6/5,6/6, 6/7, 6/8, 6/11, and 6/12 highs
$1301 – 50% retracement of up move from 12/12/17 $1236 low to 1/25/18 $1366 high
$1301 – down trendline from 4/11 $1365 high
$1305 – down trendline from 4/23 $1336 high
$1306 -08 – quadruple top, 5/24, 5/25, 5/29, and 5/31 highs
$1315 – 5/15 high
$1318 -19 – quadruple top 5/3, 5/7, 5/8 and 5/9 highs
Support levels:
$1205-08 – 7 bottoms – 8/2, 8/3, 8/6, 8/7, 7/7/17, 7/10/17 and 7/11/17 lows
$1200 – psychological level, options
$1195-98 - 5 bottoms1/31/17, 2/1/17, 3/9/17, 3/13/17, 3/15/17 lows
$1188 – 1/30/17 low
$1181 – 1/17/17 low