Gold traded higher overnight in a range of $1201.90 - $1208.80. It advanced to resistance at the 5-top high at $1207-09 (8/29, 8/30, 8/31, 9/6, and 9/12 highs), fueled by some weakness in the US dollar.
The DX dipped to 94.36 during European hours, pressured by continued strength in the euro ($1.1690 - $1.1721, upbeat comments from Draghi still resonating) and firming in some emerging market currencies (Turkish lira, Indonesian rupiah, Russian rouble, Indian rupee).
Global equities were mostly firmer and were a headwind for gold, however, with the NIKKEI up 1.2%, the SCI off 0.2%, European shares were up 0.3%, and S&P futures were +0.2%. Oil was modestly firmer (WTI from $68.75 - $68.95) and aided the up move in stocks.
At 8:30 AM, while the headline US Retail Sales Report missed expectations (0.1% vs. exp. 0.4%), there were large upward revisions to last month's reports – both headline and excluding autos.
This was followed by a better than anticipated reading on Industrial Production at 9:15 AM (0.4% vs. exp. 0.3%), as well as some modestly hawkish commentary from the Fed's Evans (economy firing on all cylinders, normal to expect Fed to continue to raise rates until "mildly restrictive").
The US 10-year bond yield - which had already climbed overnight to 2.996%, rose to 3.001% (6-week high), and took the DX to 94.77. Gold retreated, but found some interim support at $1201.
At 10 AM, reports on Business Inventories (0.6% vs. exp. 0.5%) and the University of Michigan Consumer Sentiment (100.8 vs. exp. 96.6) were both better than expected.
US stocks - which had weakened on their open (S&P -3 to 2901, news that Paul Manafort plead guilty and was going to cooperate with Mueller as part of deal) – turned higher (S&P +4 to 2908).
The 10-year yield ticked up to 3.003%, and the DX climbed further to 94.83. Gold tripped some sell stops under $1201, $1200 (yesterday's low), $1198-99 (former triple top - 9/5, 9/10, and 9/11 highs) and $1197 (20-day moving average) to reach $1196, with a fair amount of long liquidation seen.
Around noon, a report from Bloomberg that Trump has given the go ahead on $200B more in tariffs on Chines products – despite attempts by Treasury to restart talks with Beijing - clobbered US stocks (S&P -7 to 2896). The 10-year yield slumped to 2.981%, but the dollar – which has appreciated on news of trade disputes – advanced (DX to 94.99). Gold wiped out a modest bargain hunting rally to $1198 on the way to $1193, where support at the 9/12 low held.
Later in the afternoon, US stocks recovered to finish unchanged (S&P to 2905), while the 10-year yield moved back up to 2.996%. The DX remained firm but stayed below 95, and gold was $1194 bid at 4PM with a loss of $8.
Open interest was up 4.1k contracts yesterday - showing mostly new longs on the way up to $1213 along with some subsequent new shorts on the retreat to $1202.
Volume was higher with 324k contracts trading. The CFTC's Commitment of Traders Report as of 9/11 showed the large funds cutting 1.4k contracts of longs and 7.3k contracts of shorts to reduce their net short position to 7k contracts.
Having this group still net short – they turned short on 8/17 for the first time in 16 years – is obviously not good for bullish sentiment. However, having the large funds net short leaves the gold market set up to move sharply higher as the short side of gold has become an extremely crowded trade.
With longs on the sidelines and a massive gross short position having been constructed (206k contracts), gold just needs a spark to unleash a torrent of buying from shorts covering and sidelined long-side players returning.
Some bulls were disappointed with gold's decline today, on top of its retreat from the $1214 3-week high made early yesterday – especially given the DX remains south of 95.
However, other bulls see gold holding up fairly well, given the US 10-year bond yield was flirting with 3% once again and the S&P is within spitting distance (35bp) of its all-time high.
Bulls remain steadfast in their thinking that gold bottomed at $1160 on 8/16 after a $35 2-day capitulation, and will look to either add to long positions on weakness, or on some expected ensuing upside momentum.
They maintain the market has been and remains extremely oversold - having dropped $205 (15.0%) since the 4/11 $1365 high, and $149 (11.4%) since the $1309 high on 6/14. Bulls strongly believe that the dollar's rally was badly overextended, and expect its correction from the 8/15 96.99 high (up 9.90% since its 88.25 low on 2/14) to continue, and drive a significant short covering rally in gold.
Bulls are looking for gold to consolidate recent gains over $1187 (50% retracement of up move from the 8/16 $1160 low to last week's $1214 high) and then challenge resistance at $1207-09 (6 top - 8/29, 8/30, 8/31, 9/6, and 9/14 highs), and then $1216-18 (5 tops, 8/6, 8/7, 8/8, 8/9 and 8/10 highs).
Beyond this, bulls are looking for a move to at least $1262 – the 50% retracement of the move down from the 4/11 $1365 high to the 8/16 $1160 low. In addition, bulls maintain that today's Commitment of Traders Report showing the large funds remain net short (turned short 4 weeks ago for the first time since 2002) and with a massive gross short position (206k contracts –short side of gold an extremely crowded trade) leaves this market set up in a highly favorable position to move up from potential heavy short covering and sidelined longs returning to the market.
Bears have been using gold's recent bounce off of $1160 to rebuild short positions scale up, and are comfortable to continue to sell into any strength. Many bears believe that gold's recovery rally ($1160 - $1214) has been completed, and point to gold's inability to take out the $1214 double top high yesterday and failure to hold above $1200 as evidence that the yellow metal will resume its decline.
This is witnessed by today's COT Report showing the large funds remain net short, with a massive 206k gross short position. They feel fuel from a rebound in the dollar from its recent correction will provide downside pressure on gold, and that the dollar's ability to strengthen against other currency majors (and emerging market currencies) still has legs.
They will be gunning for stops below key support levels in the mid $1180's - $1188 (up trendline from 10/19/08 $682 low), $1187 (50% retracement of up move from 8/16 $1160 low to 8/28 $1214 high), and $1183 - 84 (triple bottom - 8/20, 8/23, and 8/24 lows) to lead to a test of $1175 (options strike) and then $1171-73 (quadruple bottom – 8/15, 8/17, 1/6/17 and 1/9/17 lows).
All markets will continue to focus on geopolitical events (especially emerging markets), developments with the Trump Administration (especially on US-China and US-Canada trade, potential legal issues), oil prices, and will turn to reports Monday on Eurozone CPI and the US Empire State Manufacturing Index for near-term direction.
In the news: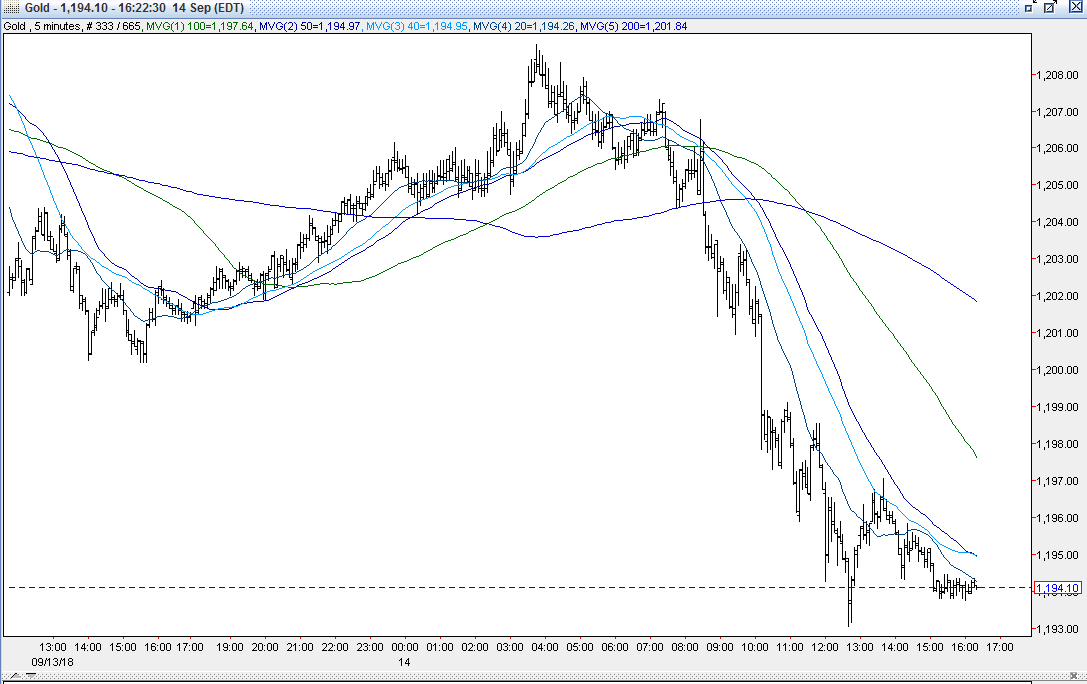 Resistance levels:
$1198-99 – triple top - 9/5, 9/10, and 9/11 highs
$1199 - up trendline from the 8/16 $1160 low
$1199 – 20-day moving average
$1200 – 9/13 low
$1200 – psychological level, options
$1204 – 40 day moving average
$1202-04 – triple top – 9/3, 9/4, and 9/7 highs
$1207 - 09 –6 tops, 8/29, 8/30, 8/31, 9/6, 9/12, and 9/14 highs
$1211 – 50 day moving average
$1213-14 – triple top – 8/13, 8/28, and 9/13 highs
$1216-18 – 5 tops, 8/6, 8/7, 8/8, 8/9 and 8/10 highs
$1220-21 – 8/2 and 8/3 highs
$1225 – 7/30 high
$1225 - options
$1227-28 – 7/27, 7/31 highs
$1234-35 – triple top, 7/23, 7/25, and 7/26 highs
$1235 -38 – 6 bottoms –7/16/18, 7/13/18, 12/12/17, 7/18/17, 7/19/17, 7/20/17 lows
$1245-46 – double top – 7/16 and 7/17 highs
$1250 – 100-day moving average
$1250 - options
$1251-53 – triple bottom 7/4, 7/5, and 7/6 lows
$1259-61 – quadruple top – 6/27, 7/4, 7/5, and 7/6 highs
$1262 – 50% retracement from 4/11 $1365 high to the 8/16 $1160 low
$1266 – 7/9 high
$1268 – 6/26 high
$1270-73 – triple top, 6/21, 6/22, and 6/25 highs
$1275 – options
$1275 – 6/15 low
$1276 – 6/20 high
$1281-82 – double bottom, 5/21 and 12/27 lows
$1282 – 6/18 high
$1284 – 6/19 high
$1286– 200-day moving average
$1288 – double bottom, 5/22 and 5/23 lows
$1292-95 –5 bottoms – 6/6, 6/7, 6/8, 6/11, 6/12, and 6/13
Support levels:
$1193 – double bottom, 9/12 and 9/14 lows
$1189 – up trendline from 10/19/08 $682 low
$1188-90 – double bottom, 9/4 and 9/11 lows
$1187 – 50% retracement of up move from 8/16 $1160 low to 8/28 $1214 high
$1183 - 84 – triple bottom - 8/20, 8/23, and 8/24 lows
$1175 – options strike
$1171-73– quadruple bottom – 8/15, 8/17, 1/6/17 and 1/9/17 lows
$1166 – 1/5/17 low
$1160 – 8/16 low
$1156 – 1/4/17 low
$1150 – options
$1146 – 1/4/17 low