Overnight, gold traded either side of unchanged in a range of $1204 - $1211.15, fading movement in the US dollar.
Gold climbed to its high $1211.15 high during late Asian / early European time, triggering some buy stops over the 7-top resistance level $1207-09 as the DX took out yesterday's 93.83 low (fresh 10-week low).
However, gold failed to breach $1212 (down trendline from 8/10 $1217 high) and the triple top at $1213-14 (8/13, 8/28, and 9/13 highs), and the lack of follow-through bids let the market quickly slip back to $1207-08.
Later during European time, gold was pressed down to $1204 as the DX recovered to 94.08.
The DX was aided by weakness in the euro ($1.1802 - $1.1760, weaker Eurozone PMI data) and the pound ($1.3270 - $1.3185, Brexit concerns).
Stronger global equities (following yesterday's strong advance in the US) weighed on gold with the NIKKEI +0.9%, the SCU +2.5%, European markets were up from 0.7% to 1.0%, and S&P futures were +0.2%. Firmer oil prices (WTI from $70.13 - $70.92) aided the move in stocks.
Just ahead of and through the NY open, reports that UK PM May would be taking a firm stance in her upcoming speech on Brexit (as she subsequently did – never agree to separate Northern Ireland from the UK, rejects staying in the single market, UK is getting ready for a no-deal Brexit) sent sterling ($1.3056) and the euro ($1.1733) plunging further.
The DX ran up to 94.34, and knocked gold lower. Sell stops were hit under $1200 (up trendline from the 8/16 $1160 low) and $1196-97 (double bottom 9/18 and 9/19 lows) to reach $1192, slightly overshooting support at $1193 (triple bottom, 9/12, 9/14, and 9/17 lows). Heavy long liquidation (reports of 10k Dec contracts sold) was seen.
At 9:45 AM a lower than expected reading on the US Markit Composite PMI (large miss in Services) capped the opening gains in US stocks, and knocked the S&P back to unchanged (2933).
A big drop in oil ($71.77 - $70.11, rumors OPEC considering hiking supply) along with comments from US Economic Aid Kevin Hassett (US getting very, very close to moving ahead on a trade deal without Canada) aided the move.
The US 10-year bond yield dipped from 3.083% to 3.061%, and the DX retreated to 94.10. Gold came off the floor and rebounded to $1200 – with bargain hunting buying seen.
Into the afternoon, US equities turned higher (S&P +5 to 2938, telecom sector leads gainers), and the US 10-year yield ticked up to 3.079%. The DX climbed to 94.31, and gold slipped back to $1196.
Later in the afternoon, a NY Times report that deputy attorney general Rod Rosenstein suggested that he secretly record President Trump and discussed the 25th Amendment (he later denied this) helped turn US stocks back to near unchanged (S&P finished -1 to 2929).
The US 10 year yield slipped down to 3.065%, and the DX traded down to 94.20. Gold edged up to $1199 and was $1199 bid at 4PM with a loss of $8.
Open interest was off 1.2k contracts, showing a small net of short covering from yesterday's advance.
Volume was modestly higher with 252k contracts trading. The CFTC's Commitment of Traders Report as of 9/18 showed the large funds cutting 0.6k contracts of longs and adding 2.7k contracts of shorts to increase their net short position to 11k contracts.
Having this group still net short – they turned short on 8/17 for the first time in 16 years – remains a headwind for the bullish argument. However, having the large funds net short leaves the gold market set up to move sharply higher as the short side of gold has become an extremely crowded trade.
With longs on the sidelines and a massive gross short position having been constructed (208k contracts), gold just needs a spark to unleash a torrent of buying from shorts covering and sidelined long-side players returning.
Tough day for the bulls…Initially, they were disappointed with gold's failure to take out resistance at $1212 and then $1214 last night - given the weakness in the US dollar – levels which they feel could have generated significant short covering.
Later on they were disheartened when May's Brexit comments strengthening the dollar tripped heavy long liquidation through $1200 (up trendline of pennant formation from $1160 low).
However, some bulls will take solace in the dip buying that led to a sharp bounce back from $1193, and that gold remains over $1187 – the 50% retracement of up move from the 8/16 $1160 low to the 8/28 $1214 high.
Bulls remain steadfast in their thinking that gold bottomed at $1160 on 8/16 after a $35 2-day capitulation, and will look to either add to long positions on weakness, or on some expected ensuing upside momentum.
They maintain the market has been and remains extremely oversold - having dropped $205 (15.0%) since the 4/11 $1365 high, and $149 (11.4%) since the $1309 high on 6/14. Bulls strongly believe that the dollar's rally was badly overextended, and expect its correction from the 8/15 96.99 high (up 9.90% since its 88.25 low on 2/14) to continue, and drive a significant short covering rally in gold.
Bulls are looking for gold to consolidate recent gains over $1187 (50% retracement of up move from the 8/16 $1160 low to last week's $1214 high) and then challenge upside resistance levels at $1212 (down trendline from the 8/10 $1217 high), $1213-14 (triple top – 8/13, 8/28, and 9/13 highs) and then $1216-18 (5 tops, 8/6, 8/7, 8/8, 8/9 and 8/10 highs).
Beyond this, bulls are looking for a move to at least $1262 – the 50% retracement of the move down from the 4/11 $1365 high to the 8/16 $1160 low.
In addition, bulls maintain that today's Commitment of Traders Report showing the large funds added to their net short position (turned short 4 weeks ago for the first time since 2002) and with a massive gross short position (208k contracts –short side of gold an extremely crowded trade) leaves this market set up in a highly favorable position to move up from potential heavy short covering and sidelined longs returning to the market.
Bears have been using gold's recent bounce off of $1160 to rebuild short positions scale up, and are comfortable to continue to sell into any strength.
Many bears believe that gold's recovery rally ($1160 - $1214) has been completed, and point to its inability to take out the $1214 double top high last Thursday and again last night (despite the dollar weakness), along with today's breach of $1200 (psych level and up trendline from the 8/16 $1160 low) as evidence that the yellow metal will resume its decline.
This is witnessed by today's COT Report showing the large funds added to their net short position and have with a hefty 208k gross short position.. They feel fuel from a rebound in the dollar from its recent correction will provide downside pressure on gold, and that the dollar's ability to strengthen against other currency majors (and emerging market currencies) still has legs.
They will be gunning for stops below initial support at $1193 (triple bottom - 9/12, 9/14, and 9/17 lows), followed by $1190 (up trendline from 10/19/08 $682 low), $1187 (50% retracement of up move from 8/16 $1160 low to 8/28 $1214 high), and $1183 - 84 (triple bottom - 8/20, 8/23, and 8/24 lows) to lead to a test of $1175 (options strike) and then $1171-73 (quadruple bottom – 8/15, 8/17, 1/6/17 and 1/9/17 lows).
All markets will continue to focus on geopolitical events (especially emerging markets), developments with the Trump Administration (especially on US-China and US-Canada trade, potential legal issues), oil prices, and will turn to reports Monday on Germany's IFO Survey, the US Chicago Fed National Activity Index, and the Dallas Fed Manufacturing Activity Index for near-term guidance. Looming ahead Wednesday is the FOMC's rate decision, statement, and press conference from Powell.
In the news: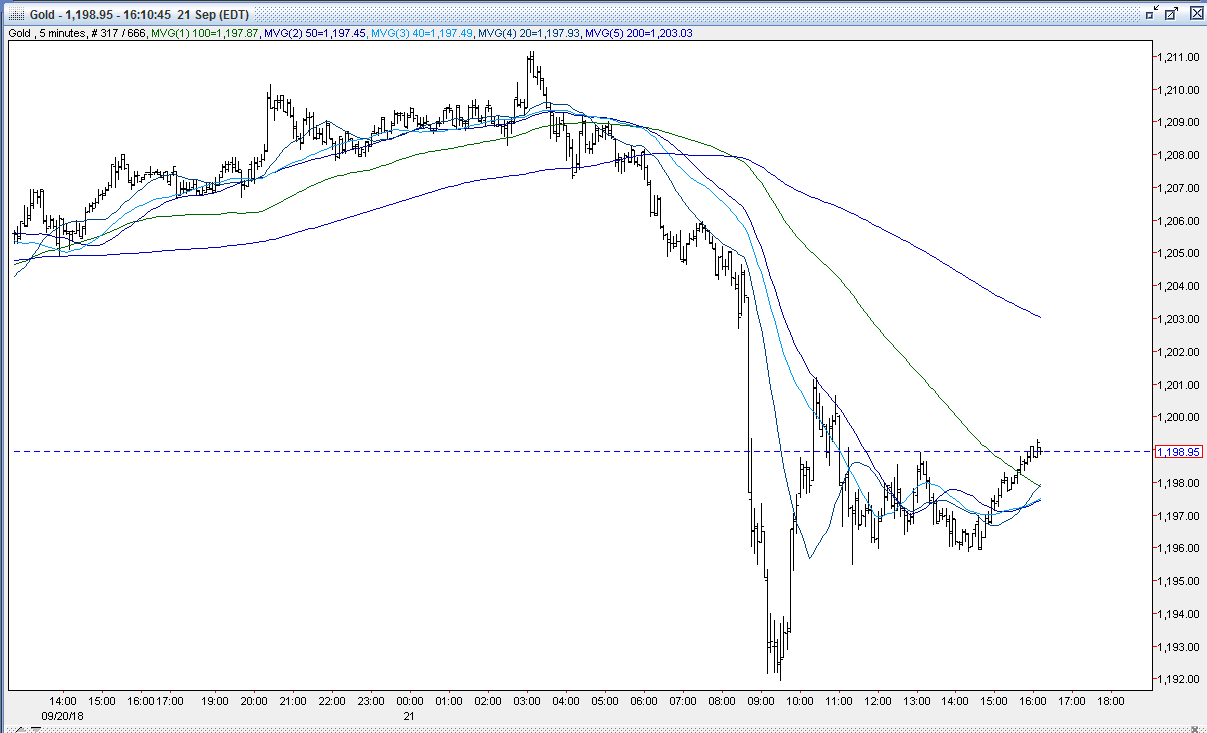 Resistance levels:
$1200 – 20-day moving average
$1201 – 40 day moving average
$1200 – psychological level, options
$1200 - up trendline from the 8/16 $1160 low
$1207 – 50 day moving average
$1207-09 –7 tops, 8/29, 8/30, 8/31, 9/6, 9/12, 9/14, and 9/20 highs
$1211 – 9/21 high
$1212 – down trendline from 8/10 $1217 high
$1213-14 – triple top – 8/13, 8/28, and 9/13 highs
$1216-18 – 5 tops, 8/6, 8/7, 8/8, 8/9 and 8/10 highs
$1220-21 – 8/2 and 8/3 highs
$1222 – down trendline from 4/11 $1365 high
$1225 – 7/30 high
$1225 - options
$1227-28 – 7/27, 7/31 highs
$1234-35 – triple top, 7/23, 7/25, and 7/26 highs
$1235 -38 – 6 bottoms –7/16/18, 7/13/18, 12/12/17, 7/18/17, 7/19/17, 7/20/17 lows
$1245-46 – double top – 7/16 and 7/17 highs
$1245 – 100-day moving average
$1250 - options
$1251-53 – triple bottom 7/4, 7/5, and 7/6 lows
$1259-61 – quadruple top – 6/27, 7/4, 7/5, and 7/6 highs
$1262 – 50% retracement from 4/11 $1365 high to the 8/16 $1160 low
Support levels:
$1196-97- double bottom 9/18 and 9/19 lows
$1193 – triple bottom, 9/12, 9/14, and 9/17 lows
$1192 – 9/21 low
$1190 – up trendline from 10/19/08 $682 low
$1188-90 – double bottom, 9/4 and 9/11 lows
$1187 – 50% retracement of up move from 8/16 $1160 low to 8/28 $1214 high
$1183 - 84 – triple bottom - 8/20, 8/23, and 8/24 lows
$1175 – options strike
$1171-73– quadruple bottom – 8/15, 8/17, 1/6/17 and 1/9/17 lows
$1166 – 1/5/17 low
$1160 – 8/16 low
$1156 – 1/4/17 low
$1150 – options
$1146 – 1/4/17 low