Gold was choppy last night, trading either side of unchanged in a relatively narrow range of $1322.65 - $1328.65.
It continued to fade movements in the US Dollar, which spiked a couple of times north of 91 to reach 91.08 – a fresh 3-month high.
A weaker German IFO report that softened the euro ($1.2224 - $1.2182) helped boost the greenback.
Gold, however, was well supported at the quadruple bottom at $1321-23 and failed to weaken further.
Gold also withstood pressure from firming global equities (NIKKEI rose 0.9%, the SCI added 0.2%, European shares were unch to +0.2%, and S&P futures were +0.4%), and a bounce back in the US 10-year yield from 2.957% to 2.99%.
After the NY open, stronger than expected reports on the Case-Shiller 20-City Home Price Index (0.83% vs. exp. 0.70%), New Home Sales (694k vs. exp. 630k), and Consumer Confidence (128.7 vs. exp. 126) failed to lift the DX above its overnight highs, as did a foray over the 3% level in the US 10-year yield (3.003% - fresh 4-year high).
A pullback in US stocks (S&P -8 to 2661, despite oil reaching $69.38, tensions between Saudis and Yemen) led by losses in Alphabet and 3M weighed on the dollar.
Gold traded higher, and found some light stops beyond the overnight high at $1329 to reach $1330.80 by late morning.
Near mid-day, some calming remarks from Trump on...
Iran - US could have a deal with Iran through visiting French President Macron
China – Mnuchin going to China within days to negotiate trade disputes
North Korea – wants meeting as soon as possible, praises Kim Jong Un as very open and honorable
...took US stocks off of the floor and into positive territory (S&P +2 to 2772) The 10-year yield pulled back to 2.985%, and the dollar hovered between 90.82- 90.96. Gold came off its highs, and drifted down to $1327.50.
Into the afternoon, however, US stocks turned back down (S&P -52 to 2617, consumer staples and tech lead decliners).
Bellicose comments from Trump on Iran reversed much of the calming sentiment from hours earlier.
The 10-year yield hovered around 2.98% - 2.985%, and the DX retreated to 90.73. Gold advanced in response, and took out its earlier high at $1330.80 to reach $1332.70.
Later in the afternoon, US equities came off their lows (S&P – 37 to 2633) while the 10-year yield ticked back up to 2.996%. The dollar clawed back to 90.79, and gold slipped to $1330.50. The yellow metal was $1331 bid at 4PM with a gain of $7.
Open interest was off 4.6k contracts, reflecting a net of long liquidation from yesterday's $12 drop. Volume was a little higher with 312k contracts trading.
Bulls were encouraged by gold's ability to hold support at $1321-23 (quadruple bottom), despite the early strength in the dollar and equities along with the move over 3% in the US 10-year bond to a fresh 4-year high.
They will look to take out initial resistance at yesterday's $1335 high (old support) and then to challenge next resistance at $1350 followed by the quadruple top at $1355 - 57 (3/26, 3/27, 4/18, and 4/19 highs).
Bears remain comfortable selling into strength. They still believe a major bottom in the DX from 2 months ago is in place at 88.25, and expect its rebound to resume - especially after taking out the down trendline from the 90.94 March 1 high at 90.50 yesterday, and reaching a fresh 3-month high today at 91.08.
Though gold failed to breach support at $1321-23 (5 bottoms) today and the market felt a bit oversold, the bears expect within a few sessions to breach this support, take out the 100-day moving average at $1319, and trip more liquidating sell stops to challenge the quadruple bottom at $1307-10.
All markets will continue to focus on the volatility in the equity and bond markets, geopolitical events, developments with the Trump Administration, corporate earnings, oil prices, and will turn to reports tomorrow on US MBA Mortgage Applications and Oil Inventories for near-term direction.
In the news: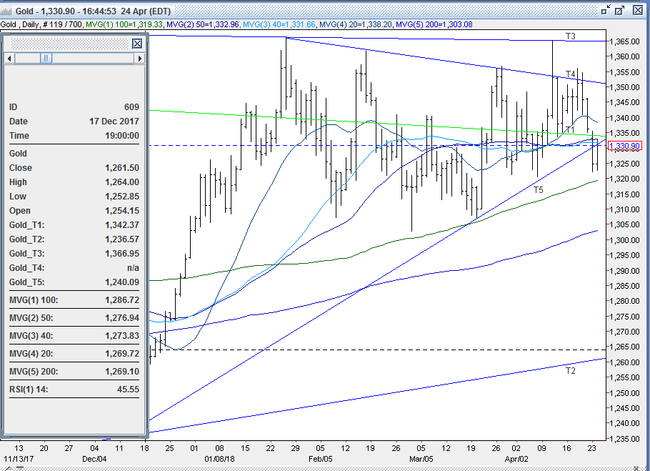 Resistance levels:
$1332 – 40 day moving average
$1333 – 4/24 high
$1333 – 50 day moving average
$1335 – 4/23 high
$1334-35 triple bottom – 4/12, 4/13, and 4/20 lows
$1335 – 50% retracement of down move from 1/25 $1366 high to 3/1 $1303 low
$1338 – 4/17 low
$1338 – 20-day moving average
$1341 – 4/19 low
$1345 – down trendline from 8/2013 weekly chart
$1346 – 4/20 high
$1350 – options
$1352 – down trendline from 1/25/18 $1366 high
$1355 - 57 – quadruple top, 3/26, 3/27, 4/18, and 4/19 highs
$1365 – down trendline from 7/6/16 $1375 high
$1365-67 – 6 tops 4/11, 1/25, 8/2/16, 8/3/16, 8/4/16, and 8/5/16 highs
$1375 – 7/6/16 high
$1388-89 – double top 3/16/14, 3/17/14 highs
Support levels:
$1330 – up trend line from 12/12 $1236 low
$1325 - options
$1321-23 – quadruple bottom, 3/29, 4/5, 4/6 and 4/23 lows
$1319 – 100-day moving average
$1313-15 – quadruple bottom, lows 3/2, 3/9, 3/12, 3/13
$1307-10 – quadruple bottom – 3/16, 3/19, 3/20, and 3/21 lows
$1303 – 3/1 low
$1303– 200-day moving average
$1302 – 1/1 low
$1301 – 50% retracement of up move from 12/12/17 $1236 low to 1/25/18 $1366 high
$1300 – psychological level, options
$1294 – 12/29 low
$1287 – 12/28 low
$1281 – 12/27 low