Gold rose overnight in a range of $1302.70 - $1311.10. It tripped some buy stops over $1303-05 (triple top, 6/15/18, 1/25, and 1/28 highs), and the $1309 the high from 6/14/18.
The gain was driven by a further pullback in the US dollar, which reached a two-week low (DX to 95.62).
Strength in sterling ($1.3175) and the euro ($1.1450) from decreasing odds of a no-deal Brexit ahead of tonight's votes weighed on the greenback.
Mostly firmer global equities were a headwind for gold however, with the NIKKEI up 0.1%, the SCU was off 0.1%, European markets were up from 0.1% to 1.4%, and S&P futures were +0.1%. A rebound in oil (WTI from $51.84 - $52.60) was supportive of stocks.
After the NY open, US stock futures advanced (+5 to 2647), aided by a stronger earnings report from 3M.
The US 10-year bond yield ticked up to 2.746%, and the DX recovered to 95.83. Gold was nervous and choppy – to be expected at a 7-month high – and declined to $1306.
At 10AM, a much worse than expected report on US Consumer Confidence (120.2 vs. exp. 124.6) knocked US stocks into negative territory (S&P -12 to 2631) with the IT, Communication Services, and Consumer Discretionary sectors lagging.
The 10-year yield slipped to 2.721%. The DX, however, was choppy – caught in the crosscurrents as weakness in the pound ($1.3125) and the euro ($1.1410) - off of comments from the EU's Junker that the Brady amendment to replace the Northern Irish backstop won't work – kept the dollar supported (DX between 95.75 – 95.85). Gold probed higher and traded up to $1311.60.
Into the afternoon, US stocks recovered (S&P unch at 2644), with gains in Industrials and Materials offsetting the losses in IT.
The 10-year yield continued to edge lower, and slid to 2.712%, while the DX remained choppy around 95.80. Gold, after a modest pullback to $1309, made a fresh 8-month high at $1312.
Later in the afternoon, news that the UK Parliament rejected the amendment to extend article 50 sent the pound down to $1.3065 and lifted the DX to 95.86. Gold came off its high, but underlying buying support limited the pullback to $1310.50. Gold was $1311 bid at 4PM with a gain of $8.
Open interest was off 7k contracts, showing a combination of early long profit taking followed by some later short covering from yesterday's session. Volume was lower but still very robust with 387k contracts trading – again, inflated by the Feb-April spreads.
Bulls cheered today's $8 advance that saw the breach of 2 key resistance levels $1303-05 and $1309 to reach 8-month highs.
They were also encouraged that the market went out firm and held these levels, as the modest pullbacks were well-bid. The bulls feel that the trend is their friend and note the up trendline from the 11/13 $1196 low is still intact and expect the yellow metal's strong rally over the past two months to carry further.
They're expecting continued volatility in equity markets along with a pause in Fed rate hikes and a further decline in the US dollar to continue driving gold higher.
While we haven't seen the COT report in 6 weeks, bulls maintain that despite gold's sharp rally, a significant amount of large fund shorts still remain, and will provide further upside momentum when forced to cover.
Bulls expect gold to test initial resistance at $1315 (5/15/18 high), and then challenge $1318 -19 – (quadruple top 5/3/18, 5/7/18, 5/8/18 and 5/9/18 highs), $1322 (5/14/18 high), and then $1325 – 26 (options, quadruple top - 4/26/18, 4/27/18,4/30/18, and 5/11/18 highs).
Bears think that gold's advance has been overdone – having rallied $35 since the $1277 low on 1/24 (2.75%), $79 since the $1233 low on 12/14 (6.41%), and $116 since the $1196 low on 11/13 (9.70%).
The bears feel this market is overbought (14-day RSI = 70.4) and are comfortable selling scale up into strength. They maintain that the 20% correction in equities – much of which occurred during very illiquid holiday trading – was also overdone, and expect the rebound seen over the past month to continue.
Bears feel that the plunge in the US dollar seen since 12/14 (97.71 – 95.03, 2.74%) has also overshot, and look for the rebound in the greenback to carry forward. Bears will look for a breach of initial support at the former resistance at $1295-98 to lead to a test of $1286-88 (6 bottoms – 1/10, 1/11, 1/14, 1/15, 1/16, and 1/17 lows).
All markets will continue to focus on geopolitical events (especially Brexit developments), developments with the Trump Administration (especially on US-China trade, potential legal issues), oil prices, Q4 corporate earnings, and will turn to this afternoons earnings report from Apple, reports tomorrow on Japan's Consumer Confidence, French GDP, German GFK Consumer Confidence, UK Consumer Credit, Eurozone Confidence, US MBA Mortgage Applications, ADP Employment Change, Q4 GDP, Personal Consumption, New Home Sales, Oil Inventories, and the much awaited FOMC Rate Decision, Meeting Statement, and Powell's Press Conference for near term direction.
In the news: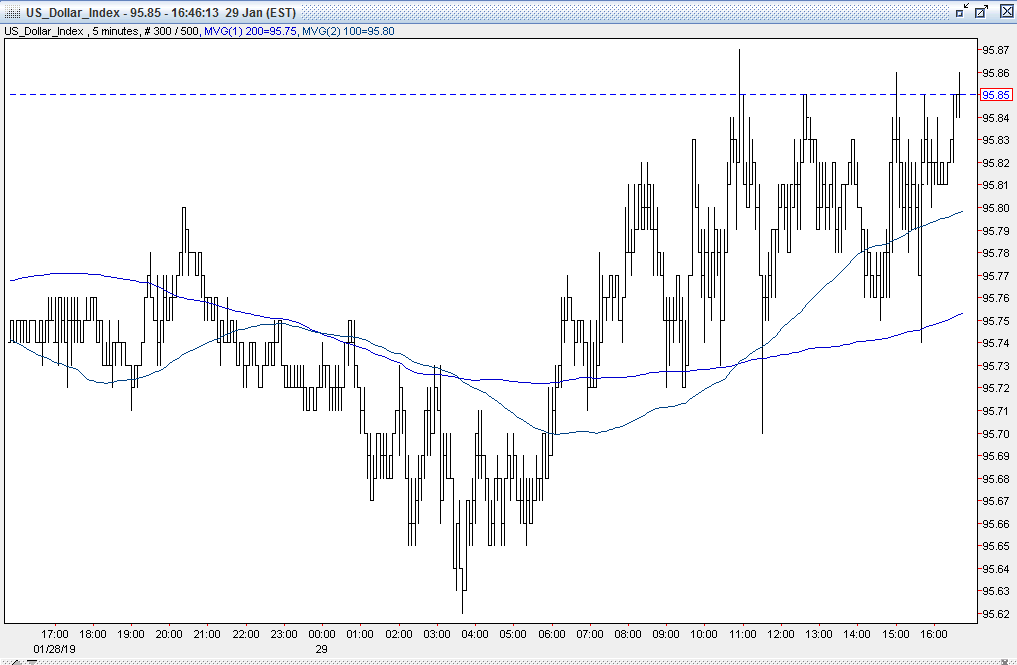 Resistance levels:
$1312 – 1/29 high
$1315 – 5/15/18 high
$1318 -19 – quadruple top 5/3/18, 5/7/18, 5/8/18 and 5/9/18 highs
$1322 – 5/14/18 high
$1325 - options
$1325 - 26 – quadruple top - 4/26/18, 4/27/18,4/30/18, and 5/11/18 highs
Support levels:
$1309 – 6/14/18 high
$1303-05 – triple top, 6/15/18, 1/25, and 1/28 highs
$1303 – 1/29 low
$1300 – psychological level, options
$1298 – 1/28 low
*$1295-98 – 8 tops – 1/3, 1/4, 1/10, 1/11, 1/14, 1/15, 1/16, and 1/17 highs
$1290 – 20-day moving average
$1287 – 1/23 high
$1286-88 – 6 bottoms – 1/10, 1/11, 1/14, 1/15, 1/16, and 1/17 lows
$1280 – 1/25 low
$1277 – 79 6 bottoms – 12/28, 1/4, 1/21, 1/22, 1/23, and 1/24 lows
$1275 – options
$1274 – 12/28 low
$1273 – 40-day moving average
$1270– up trendline from 11/13 $1196 low
$1265-67 – 12/25, 12/26 ,and 12/27 lows
$1264 – 50-day moving average
$1259 – 12/24 low
$1254 – 12/21 low
$1250 – options
*$1247 – 50% retracement of up move from 11/13 $1196 low
$1246 – 200-day moving average
$1242-43 - double bottom – 12/19 and 12/20 lows
$1238 – 100-day moving average
$1233-36 – quadruple bottom12/5, 12/6, 12/14 and 12/17 lows
$1231 – 12/4 low
$1229 – 50% retracement from 8/16 $1160 low to 1/4/19 $1298 high
$1225 – options