After having fallen in 8 of the past 10 sessions ($54), gold rebounded last night in a range of $1304.55 - $1312.
It faded a pullback in the surging dollar with the DX sliding from 92.50 – 92.22.
The greenback was pressured by strength in the euro ($1.1985 - $1.2032, better than expected Eurozone PMI), and a bounce in the beleaguered pound ($1.3580 - $1.3666).
A move up in the US 10-year bond yield (2.965% - 2.995%) and mostly firmer global equities were a headwind for gold.
The NIKKEI was off 0.2%, the SCI was flat, European Markets were up 0.1% - 1.1%, and S%P futures were +0.3% (Apple's strong earnings after yesterday's close supportive).
A dip in oil prices (WTI from $67.50 - $67.20, API reported larger than expected build in US oil inventories) as well as news of a potential Trump subpoena from Mueller weighed on stocks.
At 8:15 AM, a slightly better than expected reading on ADP Employment (204k vs. exp. 200k) lifted the DX to through yesterday's 92.57 high to reach 92.70 (fresh 4-month high).
This was despite the 10-year yield dipping back to 2.959%.
The dollar was helped by some technical selling in the euro as it broke below $1.20 to make a 4-month low.
Gold was pressed down to $1304, but support at the overnight low and 200-day moving average level held.
From there, selling interest seemed to dry up and bargain hunting bids brought it back up to $1306.
Later in the morning, US stocks turned lower (S&P -12 to 2643, consumer staples lead decliners), with a further decline in oil (WTI to $66.91 -EIA Oil Inventories showed a much larger than expected build) weighing.
The 10-year yield rebounded to 2.975%, and the DX retreated to 92.58. Gold continued to rebound, and traded up to $1307.
Into the afternoon, US stocks climbed back to unchanged (S&P to 2654) and became steady ahead of the release of the FOMC minutes at 2PM.
The 10-year yield hovered around 2.97%, and the DX firmed to 92.70.
Gold drifted lower, but once again found support at the 200-day moving average at $1305.
Open interest was up 4k contracts, showing a combination of new shorts but also some bargain hunting new longs from yesterday's decline. Volume was a little lower with 301k contracts trading.
All markets will continue to focus on the volatility in the equity and bond markets, geopolitical events, developments with the Trump Administration, corporate earnings, oil prices, and will turn to this afternoon's FOMC Meeting Statement followed by reports tomorrow on UK PMI, Eurozone PPI, CPI, US Challenger Job Cuts, Productivity, Unit Labor Costs, Jobless Claims, Trade Balance, Markit Services PMI, ISM Services, Durable Goods and Factory Orders for near term direction. Looming ahead Friday is the US April Payroll Report.
In the news: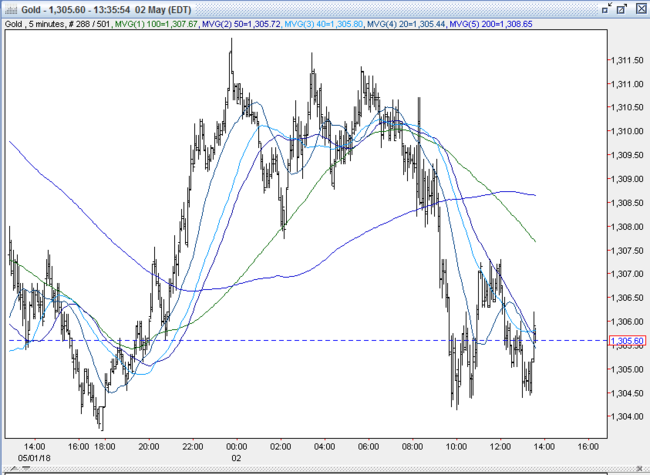 Resistance levels:
$1307-10 – five bottoms – 3/16, 3/19, 3/20, 3/21 and 4/30 lows
$1312 – 5/2 high
$1315 – double bottom – 4/26 and 4/27 lows
$1319 – 4/25 low
$1323 – 100-day moving average
$1321-23 – quadruple bottom, 3/29, 4/5, 4/6 and 4/23 low
$1324-25 – double top, 4/27 and 4/30 highs
$1325 – options
$1329 – 50 day moving average
$1331 – 40 day moving average
$1332 – 20-day moving average
$1332-33 – double top - 4/24 and 4/25 highs
$1335 – 4/23 high
$1334-35 triple bottom – 4/12, 4/13, and 4/20 lows
$1335 – 50% retracement of down move from 1/25 $1366 high to 3/1 $1303 low
$1337 – up trend line from 12/12 $1236 low
$1338 – 4/17 low
$1341 – 4/19 low
$1345 – down trendline from 8/2013 weekly chart
$1346 – 4/20 high
$1350 – options
$1350 – down trendline from 1/25/18 $1366 high
$1355 - 57 – quadruple top, 3/26, 3/27, 4/18, and 4/19 highs
$1365 – down trendline from 7/6/16 $1375 high
$1365-67 – 6 tops 4/11, 1/25, 8/2/16, 8/3/16, 8/4/16, and 8/5/16 highs
$1375 – 7/6/16 high
$1388-89 – double top 3/16/14, 3/17/14 highs
Support levels:
$1305– 200-day moving average
$1304 – 5/2 low
$1303 – 3/1 low
$1302 – double bottom - 1/1, 5/1 lows
$1301 – 50% retracement of up move from 12/12/17 $1236 low to 1/25/18 $1366 high
$1300 – psychological level, options
$1294 – 12/29 low
$1287 – 12/28 low
$1281 – 12/27 low