Gold was fairly steady overnight, trading either side of unchanged in a fairly narrow range of $1331.65 - $1336.70, and awaiting testimony from Fed Chairman Powell.
The dollar was similarly steady, with the DX moving in a tight range of 89.69 – 89.90. A continued bounce in the US 10-year yield from yesterday afternoon's 2-week low (to 2.877%) weighed on gold.
However, global equities were generally softer which supported the yellow metal. The NIKKEI gained 1.1%, the SCI lost 1.1%, Eurozone shares were flat to -0.6%, and S&P futures were off 0.2%. Slightly weaker oil prices (WTI from$64.08 - $63.57 weighed on stocks.
At 8AM, a weaker than expected reading on German CPI (1.4% vs. exp. 1.5%) knocked the euro down ($1.2320 - $1.2286), and sent the DX up to 90.03 (liquidity scant ahead of Powell's prepared remarks).
Gold sank in response, took out some stops under the overnight low to reach $1327, where support at the double bottom at $1326-27 from the last 2 sessions held.
At 8:30 AM, the initial take (algorithmic trading) of Powell's prepared remarks was a tad hawkish (expects further gradual increases in the funds rate, expects wages to increase at a faster pace, downplayed concerns over recent market volatility), and overcame weaker reports on US Goods Trade Balance (-$74.4B vs. exp. -$72.3B), and Durable Goods (-3.7% vs.. exp. -2.0%).
The 10-year yield shot to 2.89%, and the DX took out the double top at 90.06-07 to reach 90.12. Gold breached support at $1326-27 and the up trendline from the 12/12 $1236 low at $1325 to reach $1324.
At 10AM, much stronger than expected reports on Consumer Confidence (130.8 vs. exp. 126) and the Richmond Fed Manufacturing Index (28 vs. exp. 15) took the 10-year yield back up to 2.87%, and US stocks pushed higher (S&P +8 to 2787).
The DX took out recent highs at 90.18 and 90.24 to reach 90.30 - a 2-week high. Gold dipped back to $1324 after a prior bounce to $1330, but dip buying ahead of the quadruple bottom at $1319-22 provided support.
Later in the morning and into the afternoon, Fed Chair Powell's testimony to the House Financial Services Committee was viewed by markets as a bit hawkish ("My personal outlook for the economy has strengthened since December,"
"We've seen some data that in my case will add some confidence to my view that inflation is moving up to target", "We've also seen continued strength around the globe. And we've seen fiscal policy become more stimulative"). The probabilities for Fed interest rate hikes shown by FedWatch increased from yesterday as follows:
March from 78.9% to 87.4%
June from 62.8% to 76.2%
Sep from 42.3% to 55.5%
Dec (4th hike) from 24.4% to 35%
In response, the US 10-year yield rose further to 2.925%, while equities sold off (S&P -23 to 2756, also hurt by dip in oil to $62.72). The DX climbed to 90.50, and gold declined.
The yellow metal took out the quadruple bottom at $1319-22, and the $1316 low from 2/12 to reach $1313.20 (long liquidation seen).
In the afternoon, US stocks continued their sell-off as the S&P finished -36 to 2744, with utilities, consumer discretionaries and real estate the worst performers. The US 10-year yield pulled back to 2.895% as the stock losses mounted.
The dollar, caught in the cross currents was a bit choppy but stayed fairly firm, and traded between 90.22 and 90.40. Gold came off its floor to reach $1318.50, but was capped at the prior support level at $1319-22. It was $1318 bid at 4PM with a loss of $14.
Open interest was up 6k contracts, reflecting new longs in during yesterday's advance. Volume increased with 270k contracts trading.
Despite today's hammering, gold bulls still feel their uptrend – though dented – is still intact. They'll look for prices to consolidate ahead of key support at $1306-7 (triple bottom, lows 1/3, 1/4, 2/8), and then mount a challenge of initial resistance at $1319-22 (old quadruple bottom support) followed by $1325 (up trend line from 12/12 $1236 low).
Bears think that the dollar's rebound will extend, and expect the DX to take out resistance at 90.57-90.60 followed by 90.70-71 to continue to pressure gold lower.
The bears will be gunning for more long-liquidating sell stops under $1311 and $1307 to bring into play the 100-day moving average at $1300.
All markets will continue to focus on the volatility in the equity and bond markets, geopolitical events, developments with the Trump Administration, corporate earnings, oil prices, and will turn to reports tomorrow on Chinese PMI, Japanese Housing Starts and Construction Orders, German Unemployment Change, Eurozone CPI, US GDP, Chicago Purchasing Managers Index, Pending Home Sales, and Oil Inventories for near-term direction.
In the news:
Gold suffers double whammy as yields, dollar rally after Powell testimony
ScotiaMocatta fails to find a buyer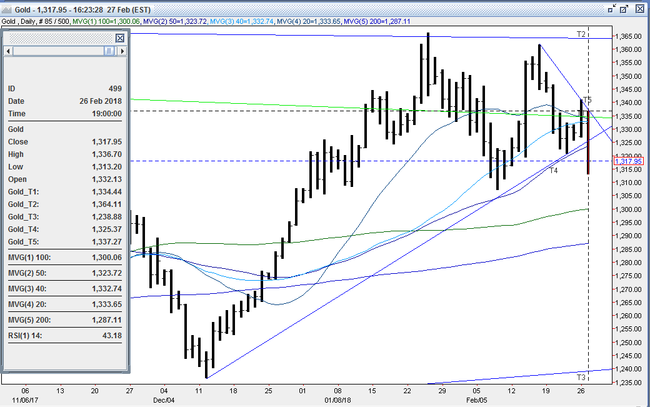 Resistance levels:
$1319 – 22 – quadruple bottom, 2/13, 2/14, 2/21, and 2/22 lows
$1324 – 50 day moving average
$1325 – up trendline from 12/12 $1236 low
$1326-27 – double bottom 2/23 and 2/26 lows
$1328 – 2/20 low
$1332 – double top 2/22 and 2/23 highs
$1333 – 40 day moving average
$1334 – 20 day moving average
$1336 – 2/21 high
$1336 – 50% retracement of down move from 1/25 $1366 high to 2/8 $1307 low
$1337 – 2/27 high
$1338 – 11/9 election night high
$1341 – 2/26 high
$1347 – down trendline from 8/2013 weekly chart
$1347 – 2/20 high
$1350 – 52 – triple top – 1/29 , 2/1, and 2/2 highs
$1350 – options
$1351 – 2/19 high
$1356-58 – triple top, 2/15, 2/14, 1/26 highs
$1360 – down trendline from 1/25 $1366 top
$1362 – 2/16 high
$1365-67 – 5 tops 1/25, 8/2/16, 8/3/16, 8/4/16, and 8/5/16 highs
$1375 – 7/6/16 high
$1388-89 – double top 3/16/14, 3/17/14 highs
Support levels:
$1316 – 2/12 low
$1313 – 2/27 low
$1311 – 2/9 low
$1306-7 – triple bottom, lows 1/3, 1/4, 2/8
$1304 – 1/2 low
$1302 – 1/1 low
$1301 – 50% retracement of up move from 12/12/17 $1236 low to 1/25/18 $1366 high
$1300 – psychological level, options
$1300 – 100-day moving average
$1294 – 12/29 low
$1287 – 12/28 low
$1287– 200-day moving average
$1281 – 12/27 low
$1281 – 50% retracement of up move from 7/10/17 $1205 low to 9/8/17 $1357 high