Gold softened overnight in a range of $1220.90 -$1225.65, fading the direction of the US dollar.
The yellow metal ticked up to its high of $1225.65 during early Asian time as the DX edged to its low of 96.73.
Later during European hours, however, gold slid to its low of $1220.90 - finding support ahead of $1218-21 (6 bottoms, 11/19, 11/20, 11/21, 11/23, 11/25, and 11/29 lows).
Gold was pressured as the dollar turned higher (DX to 97.02) - boosted by weakness in sterling ($1.2809 - $1.2746, ongoing Brexit concerns) and the euro ($1.14 - $1.1357, miss in German Retail Sales, Euro CPI).
Global equities were mixed with the NIKKEI up 0.4%, the SCI was +0.8% (despite misses on China's PMIs), European shares were off from 0.4% to 0.7%, and S&P futures were off 0.5%. A pullback in oil (WTI from $51.40 - $50.33) weighed on stocks.
Some dovish comments from the Fed's Kashkari (Fed should pause on rate hikes, rates close to neutral, hiking rates too forcefully could risk recession) and Williams (risk of inflation persistently too low, neutral rate of interest not far from current levels) along with upbeat comments from US Trade Rep Lighthizer (would be surprised if Trump-Xi meeting wasn't a success) helped boost S&P futures (2740), and took the US 10-year bond yield down to 3.011%.
The DX, however failed to decline and rose to 97.10 as further weakness in sterling ($1.2734, growing uncertainty about Brexit amid fierce opposition in Parliament) and the euro ($1.1333) kept it firm. Gold – after rebounding to $1223 – slid to $1220.
After opening weaker, US stocks rallied into positive territory by mid-morning (S&P +9 to 2747), aided by a much stronger than expected reading on the Chicago PMI (66.4 vs. exp. 58.5).
The 10-year yield rebounded to 3.021%, and the DX rose further to 97.25. Gold broke support at $1218-21 and fell to $1216.50. However, as we have seen on numerous occasions, bargain hunting buying quickly emerged to lift gold back to $1222.75.
US equities climbed higher into the afternoon (S&P +14 to 2752), with gains in the Utilities, Industrials, Health Care and Real Estate sectors leading the advance. Stocks were lifted by upbeat comments from a Chinese official that "consensus is steadily increasing" in the US-China trade talks. The 10-year yield retreated to 3.011%, but the dollar - which had been supported for months from trade tensions – failed to decline. The DX rose to 97.31, as sterling remained weak and the euro dipped lower ($1.1305). Gold declined in response and slid back to $1220.
Later in the afternoon, US stocks went out stronger (S&P ends +22 to 2760), but the 10-year yield ticked to 3.006%. The DX pulled back to 97.18 – but remained fairly firm given the market expectations for some type of truce in the US/China trade dispute. Gold edged up to $1222 and was $1222 bid at 4PM with a loss of $2.
Open interest was again off significantly – 27.9k contracts – showing a net of short covering from yesterday's gain, along with a fair number of closeouts of both longs and shorts instead of rolling positions into February.
Volume was lower with 307k contracts trading. The CFTC's Commitment of Traders Report as of 11/27 showed the large funds slashing 8.7k contracts of longs and trimming 1.7k contracts of shorts to reduce their net long position to 2k contracts.
This was done largely during gold's pullback from $1330 on 11/21 to $1212 on 11/27. While the funds position remains net long, it is still historically and comparatively extremely low.
This sets up the gold market very well to move sharply higher as the short side of gold is still a very crowded trade.
With many longs still on the sidelines and a massive gross short position still remaining (155k contracts), gold just needs a significant spark to unleash a torrent of buying from shorts covering and sidelined long-side players returning.
Bulls were disappointed that despite a market expectation for at least a "truce" between US-China on trade (no increase in tariffs, agree to talk) that lifted equities, the DX rallied significantly (holding trade tension premium) and kept gold from testing resistance between $1226-30.
Nonetheless, bulls are encouraged that gold is back again on the verge of challenging this key resistance level. Bulls remain steadfast in their thinking that gold bottomed at $1160 on 8/16 after a $35 2-day capitulation.
They still have an uptrend in place from that level, and will look to continue to add to long positions on weakness, or on some expected ensuing upside momentum. They maintain the market has been and remains extremely oversold - having dropped $205 (15.0%) since the 4/11 $1365 high, and $149 (11.4%) since the $1309 high on 6/14.
Bulls strongly believe that the dollar's recent climb from its 9/21 93.81 low to the 97.70 high two weeks back (+4.15% to fresh 17-month high) is badly overextended, and expect a correction to drive a significant short covering rally in gold.
Bulls are looking for a spark that will aid in taking out $1226-30, which they feel should ignite further buying to challenge $1235-38 (6 tops –10/29, 11/1, 11/2, 11/5, 11/6, and 11/7 highs), and then $1245-46 (double top – 7/16 and 7/17 highs).
In addition, bulls maintain that today's Commitment of Traders Report still shows the funds with a massive gross short position (155k contracts). They feel the that the short side of gold is still a very crowded trade, and that the gold market is still set up in a highly favorable position to move up from potential heavy short covering (as we saw today) and sidelined longs returning to the market.
Bears were relieved that the DX held well – and actually advanced significantly - given the upbeat comments and market expectations on the US and China at least reaching a "truce".
Bears remain comfortable scale-up selling into strength, feeling moves toward overhead resistance at $1226-30 and $1235-38 will continue to provide a good entry point for short positions.
Bears point to the lack of follow-through gold has presented on recent rallies: yesterday's failure to take out $1228-30, the failure to breach$1235-38 (6 tops –10/29, 11/1, 11/2, 11/5, 11/6, and 11/7 highs) during the first week of Nov, the failure to take out $1244 on 10/26 (would have tripped down trendline from 4/23 $1336 high), and that the fairly heavy amount of short covering seen thus far from the prior few week's COT reports has failed to lead to a breach of at least $1250 - as signs of a tired market – and expect a significant pullback to unfold.
Many bears are firm in their conviction that fuel from dollar strength, higher interest rates (though that argument is losing steam with 10-year hovering just over 3% and recent Fed speak decidedly more dovish) and a rebound in equities (as we saw continue today) will provide downside pressure on gold, and see prices north of $1200 offering a great opportunity to get short(er).
This is witnessed by today's COT Report that a shows massive gross short position (155k contracts) still remains. Bears will look for a breach of initial support at $1211 (100-day moving average, double bottom) and then expect a challenge of $1206 – the up trendline from 8/16 $1160 low, followed by a test of $1200.
All markets will continue to focus on geopolitical events (especially Brexit developments), developments with the Trump Administration (especially on US-China trade, potential legal issues), oil prices, and will turn to reports Monday on China's Caixin PMI, Eurozone PMI, US Markit PMI, ISM Manufacturing, and comments from the BOE's Haldane and the Fed's Kaplan for near-term direction.
In the news: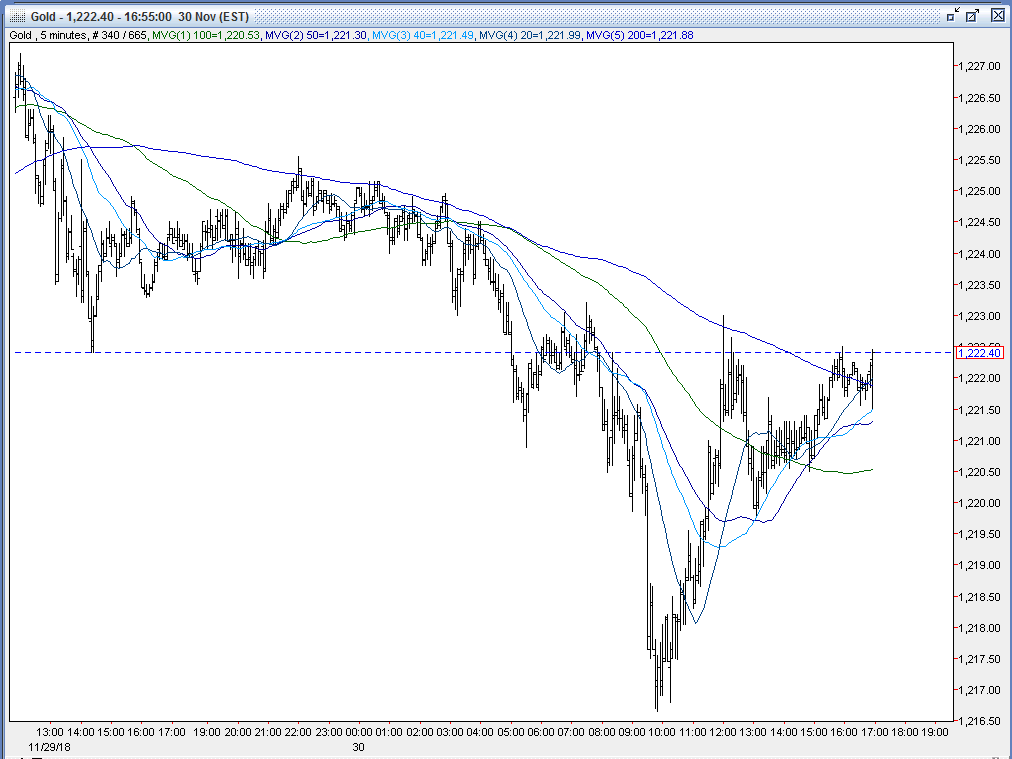 Resistance levels:
$1225 – options
$1226 – 27 – double top, 11/28 and 11/30 highs
*$1227 – down trendline from 4/23 $1336 high
$1228-30 5 tops – 11/20, 11/21, 11/22, 11/23 and 11/26 highs
$1235-38 – 6 tops –10/29, 11/1, 11/2, 11/5, 11/6 ,and 11/7 highs
$1239-40 – double top, 10/23 and 10/25 highs
$1243 – 10/26 high
*$1245-46 – double top – 7/16 and 7/17 highs
$1250 - options
$1251-53 – triple bottom 7/4, 7/5, and 7/6 lows
$1259-61 – quadruple top – 6/27, 7/4, 7/5, and 7/6 highs
$1262 – 50% retracement from 4/11 $1365 high to the 8/16 $1160 low
Support levels:
$1218-21 – 6 bottoms, 11/19, 11/20, 11/21, 11/23, 11/25, and 11/29 lows
$1221 – 40 day moving average
$1220 – 20-day moving average
$1217 – 11/30 low
$1216 – 50 day moving average
*$1211 – 100-day moving average
$1211-12 – double bottom (11/27 and 11/28 lows).
$1208 – 11/15 low
*$1206 – up trendline from 8/16 $1160 low
$1201 – 50% retracement of up move from 8/16 $1160 low to 10/26 $1143 high
$1200 – psychological level, options
$1196-98 – double bottom – 11/13, 11/14 lows
$1191 – 10/11 low
*$1181 - 85 – 9 bottoms - 8/20, 8/23, 8/24, 9/27, 9/28, 10/1, 10/8, and 10/9, and 10/10lows
$1175 – options strike
$1172 8/17 low
*$1160 – 8/16 low
$1156 – 1/4/17 low
$1150 – options
$1146 – 1/4/17 low