The sharp selloff in US stocks yesterday spilled into other global markets last night with the NIKKEI falling 4%, the SCI dropping 5.2%, European markets were off 1.3% to 1.7%, and S&P futures were off another 1.1% (on top of the 3.3% it shed yesterday).
Investors sought safe havens, which were the yen (112.55 – 111.97, 1-month high), global bonds - with the yields on the JGP (0.159% to 0.14%), German Bund (0.55% to 0.491%), the UK Gilt (1.72% to 1.675%) and the US 10 year bond (3.20% to 3.142%) all significantly lower - and gold.
The yellow metal took out resistance at yesterday's $1195 high, $1197 (20 and 40 day moving averages), $1199 (50-day moving average), and $1200 to reach $1205.65 – where resistance at $1204-06 (double top – 10/5, 10/8 highs) held.
A moderate decline in the DX was also a key factor in gold's strength, dipping to 95.10 from 95.55 as the greenback was pressured by safe-haven strength in the yen, and a firmer euro ($1.1515 - $1.1582) and pound ($1.3181 - $1.3243) on rising Brexit expectations.
At 8:30 AM, a miss on US CPI (0.1% vs. exp. 0.2%) and Core CPI (0.1% vs. exp. 0.2%) along with a miss on US Jobless Claims knocked the US 10-year yield – which had rebounded to 3.195% - down to 3.155%. S&P futures rallied (2785 +5 to 2785), aided by an attempt to reassure equity markets from White House
Economic Advisor Larry Kudlow (sell off is normal bull market correction, pictur of economy is very good – best in years), and talk that Trump would meet with China's Xi in November. The DX was caught in the cross currents, but moved lower to 94.98 and lifted gold higher. Gold took out $1206, $1207 (down trendline from 4/11 $1365 high), $1209 (down trendline from 8/10 $1217 high) and the 10-tops between $1207-09 to reach $1210.
Equity market strength proved short-lived, however, with fears over rising interest rates resonating. The S&P plunged through the late morning and into the afternoon, falling 75 points to 2709 – a 3 month low (large program selling was seen). The energy (larger than expected build in US oil inventories, WTI down to $70.50) real estate, financials and healthcare sectors weighed.
Investors moved to safer havens once again, with the US 10-year yield falling to 3.123%. The yen, which had softened to 112.53, took out its prior high to reach 111.81. The DX, which had recovered to 95.33 sank below 95 to reach 94.99.
Gold climbed higher, fed by short covering stops through $1213-14 (triple top – 8/13, 8/28, and 9/13 highs), $1216-18 (5 tops, 8/6, 8/7, 8/8, 8/9 and 8/10 highs), $1216-18 (5 tops, 8/6, 8/7, 8/8, 8/9 and 8/10 highs), $1220-21 (8/2 and 8/3 highs), and $1225 (7/30 high, options) to reach $1226.20 (2 ½ month high), where resistance in front of $1227-28 (7/27, 7/31 highs) finally held.
Late in the afternoon, an announcement that Trump and Xi agreed to meet at the G-20 summit next month took US stocks off of their lows (S&P finished -57 to 2728). The 10-year yield ticked back up to 3.155%, while the DX recovered to 95.08. Gold pulled back to $1220 and was $1223 bid at 4PM with a hefty gain of $29.
Open interest was off 6.6k contracts, showing a decent amount of short covering from yesterday's advance. Volume was higher with 262k contracts trading.
Bulls cheered gold's outsized $29 gain today – despite the DX remaining over 95, and the US 10-year yield hovering around 3.15%. Bulls remain steadfast in their thinking that gold bottomed at $1160 on 8/16 after a $35 2-day capitulation, and will look to continue to add to long positions on weakness, or on some expected ensuing upside momentum.
They maintain the market has been and remains extremely oversold - having dropped $205 (15.0%) since the 4/11 $1365 high, and $149 (11.4%) since the $1309 high on 6/14. Bulls strongly believe that the dollar's rally was badly overextended, and expect its correction from the 8/15 96.99 high (up 9.90% since its 88.25 low on 2/14) to continue, and drive a significant short covering rally in gold.
Bulls are looking for gold to challenge initial resistance at $1227-28 (7/27, 7/31 highs) and then look to trip $1230 - the 100-day moving average – and hope to ignite some momentum following buying as well as short covering over this key level which should bring $1234-35 (triple top, 7/23, 7/25, and 7/26 highs) and $1245-46 (double top – 7/16 and 7/17 highs) into play.
Beyond this, bulls are looking for a move to at least $1262 – the 50% retracement of the move down from the 4/11 $1365 high to the 8/16 $1160 low.
In addition, bulls maintain that last Friday's Commitment of Traders Report showing the large funds added to their net short position (now 22k contracts net short - turned short 7 weeks ago for the first time since 2002) and with a massive gross short position (214k contracts –short side of gold an extremely crowded trade) leaves this market set up in a highly favorable position to move up from potential heavy short covering and sidelined longs returning to the market – as witnessed in today's price action.
A lot of bears got stopped out today during gold's $29 rampage higher. However, other bears remain comfortable trading gold from the short side, scale-up selling into rallies, and see today's strength as an opportunity to get short from more desirable levels.
Many bears are firm in their conviction that fuel from dollar strength, higher interest rates and a rebound in equities will continue to provide downside pressure on gold.
This is witnessed by last Friday's COT Report showing the large funds added to their net short position and have constructed a hefty 214k gross short position. They will be looking for a quick corrective move lower, back through former support points of $1221, $1217, $1214, and $1207-09, and then a re-test of $1200.
All markets will continue to focus on geopolitical events (especially Brexit developments), developments with the Trump Administration (especially on US-China trade, potential legal issues), oil prices, Q3 corporate earnings, and will turn to reports tomorrow on China's New Yuan Loans and Foreign Direct Investment, German CPI, Eurozone Industrial Production, US Import Prices, Export Prices, Baker-Hughes Rig Count, and the Commitment of Traders Report for near-term direction.
In the news: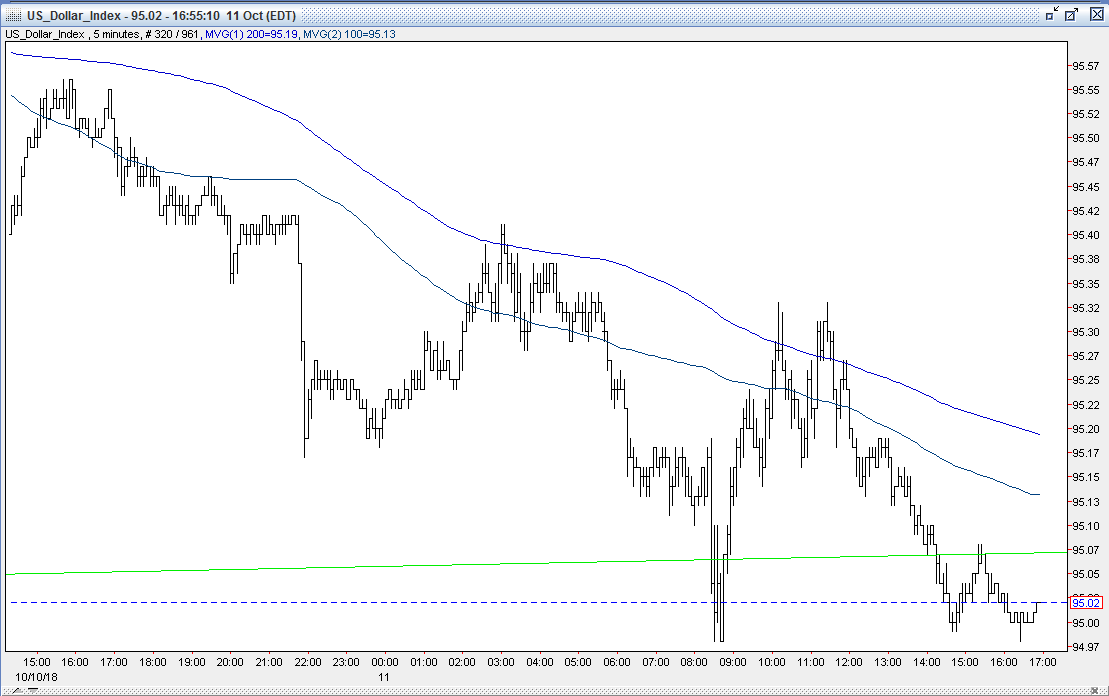 Resistance levels:
$1225 – 7/30 high
$1225 - options
$1227-28 – 7/27, 7/31 highs
*$1230 – 100-day moving average
$1234-35 – triple top, 7/23, 7/25, and 7/26 highs
$1245-46 – double top – 7/16 and 7/17 highs
$1250 - options
$1251-53 – triple bottom 7/4, 7/5, and 7/6 lows
$1259-61 – quadruple top – 6/27, 7/4, 7/5, and 7/6 highs
$1262 – 50% retracement from 4/11 $1365 high to the 8/16 $1160 low
Support levels:
$1220-21 – 8/2 and 8/3 highs
$1216-18 – 5 tops, 8/6, 8/7, 8/8, 8/9 and 8/10 highs
$1213-14 – triple top – 8/13, 8/28, and 9/13 highs
$1211 – 9/21 high
*$1209 – down trendline from 8/10 $1217 high
$1207-09 –10 tops, 8/29, 8/30, 8/31, 9/6, 9/12, 9/14, 9/20, 10/2, 10/3, and 10/4 highs
*$1205 – down trendline from 4/11 $1365 high
$1204 – 06 – double top – 10/5, 10/8 highs
$1200 – psychological level, options
$1199 – 50 day moving average
$1198- up trendline from the 8/16 $1160 low
$1198 – 40 day moving average
$1198 – 20-day moving average
$1194 - 10/10 high
$1192-94 – 5 bottoms, 9/12, 9/14, 9/17, 9/21, and 9/23 lows
$1187 – 50% retracement of up move from 8/16 $1160 low to 8/28 $1214 high
$1187 – up trendline from 8/16 $1160 low
$1185 – 10/10 low
$1181 - 84 – 7 bottoms - 8/20, 8/23, 8/24, 9/27, 9/28, 10/8, and 10/9 lows
$1175 – options strike
$1172– quadruple bottom – 8/17 low
$1160 – 8/16 low
$1156 – 1/4/17 low
$1150 – options
$1146 – 1/4/17 low