Gold firmed overnight in a range of $1188.80 - $1194.80. It took out some light stops over the past two sessions tops at $1192-93 to reach its high. Out of character, it was able to advance despite strength in the dollar as the DX took out stops over a triple top at 95.36-37 to reach 95.74 – matching the high from 9/3.
The dollar was boosted from weakness in the euro ($1.1575 - $1.1505, 6-week low, continued Italian budgetary concerns, lawmaker Conte talks up readopting a national currency) and the pound ($1.3049 - $1.2940, miss on UK PMI).
Global equities were mostly weaker and gold supportive with the NIKKEI down 0.1%, China was closed, European markets were off from 0.5% to 1.0%, and S&P futures were -0.3%. Firmer oil (WTI from $75.33 - $75.86, high since 11/2014, markets bracing for next month's sanctions against Iran) were supportive of stocks.
Shortly after the NY open, comments from UK former Foreign Minister Boris Johnson to back May's Brexit plan turned the pound sharply higher ($1.2990). The euro also rebounded ($1.1570) as Italy's Conte walked back earlier comments and calls euro "unrenounceable".
The DX tumbled back to 95.36 (support at the former triple top), and launched gold sharply higher. The yellow metal tripped buy stops over last night's high at $1195, $1198 (20 and 40 day moving averages), $1199 (9/27 high), $1200 and $1203-4 (triple top, 9/24, 9/25, and 9/26 highs) to reach $1208.40 – where resistance at $1207-09 (7 tops, 8/29, 8/30, 8/31, 9/6, 9/12, 9/14, and 9/20 highs) finally held. A fair amount of short covering was seen.
US equities turned higher by late morning (S&P +7 to 2931) and into the afternoon with trade related stocks (Boeing, Caterpillar) leading gainers. Stocks were also boosted by upbeat comments from the Fed's Powell ("remarkably positive outlook" for US eco, verge of "historically rare: era of ultra- low unemployment and tame prices). The US 10-year bond yield moved up from 3.046% to 3.069%, and the DX recovered to 95.54. Gold retreated in response, and slipped to $1201.50.
Later in the afternoon, US stocks turned down (S&P finished -1 to 2923 – though the DJ made a record high close), hurt by news from the Pentagon that mail sent to Defense Secretary Mattis and Navy Adm. Richardson were suspected of containing ricin, and a dip in oil (WTI to $74.94). The US 10-year yield ticked down to 3.052%, and the DX edged down to 95.44. Gold clawed back to $1203 bid at 4PM with a gain of $14.
Open interest was off 1.5k contracts, showing a net of long liquidation from yesterday's decline. Volume was much lower with 228k contracts trading.
Bulls were encouraged by gold's price action today: 1) for its ability to rally overnight despite the strong advance in the DX to 95.74 - a 1-month high, 2) its outsized rally to $1208 on the greenback's moderate pullback to 95.36, 3) its ability to hold $1203 at the close (triple top, 9/24, 9/25, and 9/26 highs).
Bulls remain steadfast in their thinking that gold bottomed at $1160 on 8/16 after a $35 2-day capitulation, and will look to continue to add to long positions on weakness, or on some expected ensuing upside momentum.
They maintain the market has been and remains extremely oversold - having dropped $205 (15.0%) since the 4/11 $1365 high, and $149 (11.4%) since the $1309 high on 6/14. Bulls strongly believe that the dollar's rally was badly overextended, and expect its correction from the 8/15 96.99 high (up 9.90% since its 88.25 low on 2/14) to continue, and drive a significant short covering rally in gold.
Bulls are looking for gold to retest initial resistance at $1207-09 (8 tops, 8/29, 8/30, 8/31, 9/6, 9/12, 9/14, 9/20, and 10/2 highs), followed by $1211 (down trendline from the 8/10 $1217 high), $1213-14 (triple top – 8/13, 8/28, and 9/13 highs) and then $1216-18 (5 tops, 8/6, 8/7, 8/8, 8/9 and 8/10 highs). Beyond this, bulls are looking for a move to at least $1262 – the 50% retracement of the move down from the 4/11 $1365 high to the 8/16 $1160 low.
In addition, bulls maintain that last Friday's Commitment of Traders Report showing the large funds added to their net short position (now 17k contracts net short - turned short 6 weeks ago for the first time since 2002) and with a massive gross short position (210k contracts –short side of gold an extremely crowded trade) leaves this market set up in a highly favorable position to move up from potential heavy short covering (like we saw today) and sidelined longs returning to the market.
Bears were disappointed to see that gold was not knocked back below $1188 when the DX rallied to 95.74 last night. While some bears got stopped out covering their shorts on today's sharp rally, others remain comfortable selling into any rallies scale up. However, despite gold taking out some key resistance levels today, they still see a market that has its uptrend that is in serious jeopardy.
Many bears believe that gold's recovery rally ($1160 - $1214) has been completed, and point to its repeated inability to take out the $1214 double top (despite the dollar weakness) and repeated violations of up trendlines from the
$1160 low at $1196, as evidence that the yellow metal will resume its decline. This is witnessed by last Friday's COT Report showing the large funds added to their net short position and have constructed a hefty 210k gross short position.
They feel fuel from a rebound in the dollar from its recent correction will provide downside pressure on gold, and that the dollar's ability to strengthen against other currency majors (and emerging market currencies) still has legs. They will be gunning for stops below support at $1181 - 84 (5 bottoms - 8/20, 8/23, 8/24, 9/27, and 9/28 lows) to lead to a test of $1175 (options strike) and then $1171-73 (quadruple bottom – 8/15, 8/17, 1/6/17 and 1/9/17 lows).
All markets will continue to focus on geopolitical events (especially emerging markets), developments with the Trump Administration (especially on US-China and US-Canada trade, potential legal issues), oil prices, and will turn to reports on Japan's PMI, Eurozone PMI and Retail Sales, UK PMI, US PMI, ISM Services, Oil Inventories, and comments from the Fed's Brainard and Mester for near-term direction.
In the news: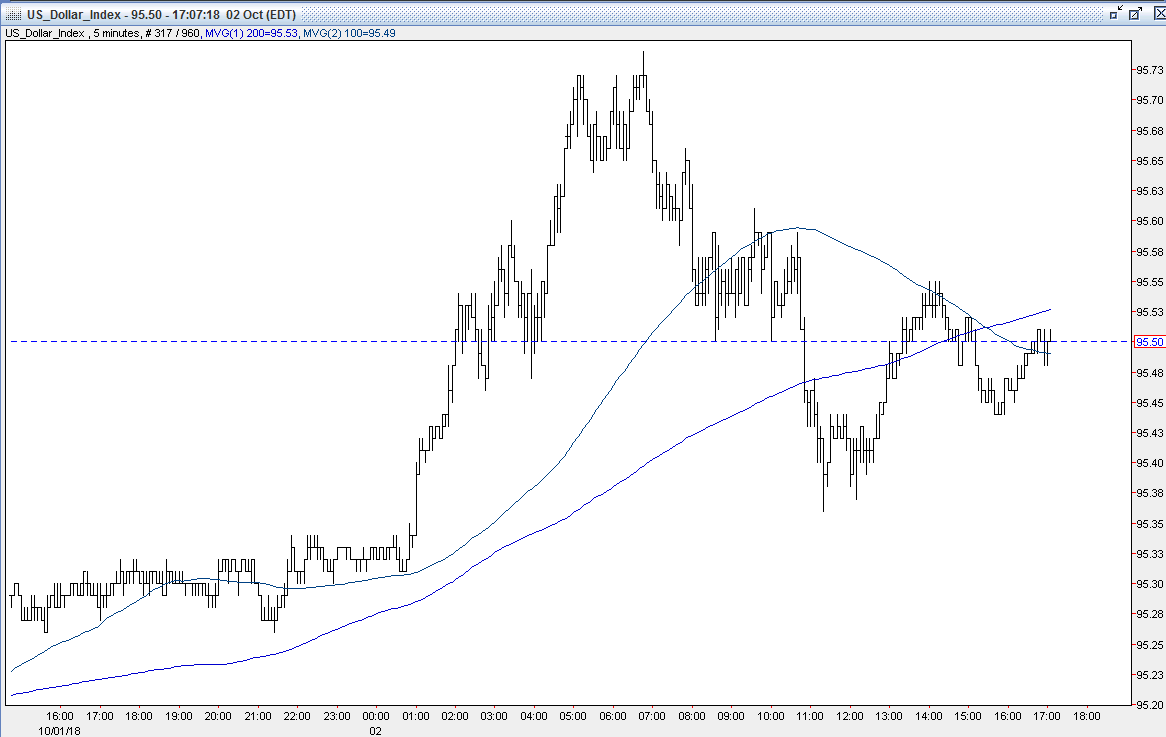 Resistance levels:
$1207-09 –8 tops, 8/29, 8/30, 8/31, 9/6, 9/12, 9/14, 9/20, and 10/2 highs
$1211 – 9/21 high
$1211 – down trendline from 8/10 $1217 high
$1213-14 – triple top – 8/13, 8/28, and 9/13 highs
$1216-18 – 5 tops, 8/6, 8/7, 8/8, 8/9 and 8/10 highs
$1220-21 – 8/2 and 8/3 highs
$1222 – down trendline from 4/11 $1365 high
$1225 – 7/30 high
$1225 - options
$1227-28 – 7/27, 7/31 highs
$1234-35 – triple top, 7/23, 7/25, and 7/26 highs
$1235 -38 – 6 bottoms –7/16/18, 7/13/18, 12/12/17, 7/18/17, 7/19/17, 7/20/17 lows
$1237 – 100-day moving average
$1245-46 – double top – 7/16 and 7/17 highs
$1250 - options
$1251-53 – triple bottom 7/4, 7/5, and 7/6 lows
$1259-61 – quadruple top – 6/27, 7/4, 7/5, and 7/6 highs
$1262 – 50% retracement from 4/11 $1365 high to the 8/16 $1160 low
Support levels:
$1203-04 –triple top, 9/24, 9/25, and 9/26 highs
$1202 – 50 day moving average
$1200 – psychological level, options
$1198 – 40 day moving average
$1198- up trendline from the 8/16 $1160 low
$1198 – 20-day moving average
$1194 – 9/28 high
$1192-94 – 5 bottoms, 9/12, 9/14, 9/17, 9/21, and 9/23 lows
$1192 – 10/1 high
$1190 – up trendline from 10/19/08 $682 low
$1185 – 10/1 low
$1188 - 9/11 low
$1187 – 50% retracement of up move from 8/16 $1160 low to 8/28 $1214 high
$1181 - 84 – 5 bottoms - 8/20, 8/23, 8/24, 9/27, and 9/28 lows
$1175 – options strike
$1172– quadruple bottom – 8/17 low
$1160 – 8/16 low
$1156 – 1/4/17 low
$1150 – options
$1146 – 1/4/17 low