Gold traded either side of unchanged last night in a range of $1180.90 - $1185.55, attempting to consolidate after its $20 selloff over the past two sessions.
Gold advanced to its $1185.55 high during Asian hours from some bargain hunting buying as the dollar slipped to 94.92.
The yellow metal showed resiliency during European time, only dipping to $1180..90 despite a sizeable run up in the dollar (DX found buying over its triple top at 95 to reach 95.37).
The greenback was boosted by a plunge in the euro ($1.1650 - $1.1570, 2-week low) as Italy approved a much higher than expected budget deficit of 2.4% (defying European demands) and Eurozone Core CPI missed expectations.
Global equities were mixed with the NIKKEI up 1.4%, the SCI up 1.1%, European markets were off from 0.2% to 0.7%, and S&P futures were off 0.3%.
At 8:30 AM, slight misses on US Personal Income (0.3% vs. exp. 0.4%) and Core PCE (0 vs. exp. 0.1%) pushed S&P futures lower (-12 to 2908), and tugged the US 10-year bond yield down from 3.041% to 3.03%.
The DX pulled back to 95.21, and gold moved higher. The yellow metal took out last night's high to reach $1186.50.
Weaker reports later in the morning on the Chicago PMI (60.4 vs. exp. 62) and the University of Michigan Sentiment (100.1 vs. exp. 100.5) knocked the DX further to 94.99 by mid-day.
The DX was also pressured by a rebound in the euro ($1.1629) from a modest lessening of concerns over the Italian budget situation as Italian stocks pared some losses and the 10-year Italian 10-year bond yield pulled back from 3.26% - 3.14%.
Gold tripped buy stops over the previous key support levels at $1187 (50% retracement of up move from 8/16 $1160 low to 8/28 $1214 high), $1188 (9/11 low), $1190 (up trendline from 10/19/08 $682 low) – reversing much of yesterday's decline. It topped out at $1193.65, where resistance from the old 5 bottom support level (9/12, 9/14, 9/17, 9/21, and 9/23 lows) held.
Into the afternoon, US stocks traded either side of unchanged, with gains in utilities, real estate and energy offset by losses in materials, communication services, and financials. The US 10-year bond yield ticked up to 3.05%, and the DX recovered to 95.14. Gold was tugged down to $1190.50 in response, but dip buying brought it quickly back near its prior high at $1193.60.
Later in the afternoon, US stocks remained near flat (S&P finished unchanged at 2914 ) and the 10-year yield remained near 3.05%. The DX ticked up to 95.17, and gold was nudged down to $1191.50. Gold was $1192 bid at 4PM with a gain of $8.
Open interest was up 7.5k contracts, showing mostly new shorts, but also some bargain hunting new longs from yesterday's decline. Volume remained robust with 368k contracts trading.
The CFTC's Commitment of Traders Report as of 9/25 showed the large funds trimming 4.8k contracts of longs and adding 1.9k contracts of shorts to increase their net short position to 17k contracts.
Having this group still net short – they turned short on 8/17 for the first time in 16 years – remains a headwind for the bullish argument. However, having the large funds net short leaves the gold market set up to move sharply higher as the short side of gold has become an extremely crowded trade.
With longs on the sidelines and a massive gross short position having been constructed (210k contracts), gold just needs a spark to unleash a torrent of buying from shorts covering and sidelined long-side players returning.
Bulls cheered gold's price action today: 1) for its ability to hold support at $1181-84 despite the overnight strength in the DX, and 2) for its ability to rebound sharply over the key former support levels that it tripped yesterday, and 3) its ability to end the day north of $1187 – the 50% retracement of up move from 8/16 $1160 low to 8/28 $1214 high.
Bulls remain steadfast in their thinking that gold bottomed at $1160 on 8/16 after a $35 2-day capitulation, and will look to continue to add to long positions on weakness, or on some expected ensuing upside momentum.
They maintain the market has been and remains extremely oversold - having dropped $205 (15.0%) since the 4/11 $1365 high, and $149 (11.4%) since the $1309 high on 6/14.
Bulls strongly believe that the dollar's rally was badly overextended, and expect its correction from the 8/15 96.99 high (up 9.90% since its 88.25 low on 2/14) to continue, and drive a significant short covering rally in gold.
Bulls are looking for gold to consolidate over $1181-84 low (5 bottoms - 8/20, 8/23, 8/24, 9/27, and 9/28 lows), and then challenge initial resistance between $1198-$1200 (up trendline from the 8/16 $1160 low, 20-day moving average, 40 day moving average, psychological level, options).
After this, bulls expect to challenge upside resistance levels at $1212 (down trendline from the 8/10 $1217 high), $1213-14 (triple top – 8/13, 8/28, and 9/13 highs) and then $1216-18 (5 tops, 8/6, 8/7, 8/8, 8/9 and 8/10 highs). Beyond this, bulls are looking for a move to at least $1262 – the 50% retracement of the move down from the 4/11 $1365 high to the 8/16 $1160 low.
In addition, bulls maintain that today's Commitment of Traders Report showing the large funds added to their net short position (now 17k contracts net short - turned short 6 weeks ago for the first time since 2002) and with a massive gross short position (210k contracts – short side of gold an extremely crowded trade) leaves this market set up in a highly favorable position to move up from potential heavy short covering and sidelined longs returning to the market.
Bears were disappointed that gold was not knocked under $1181-84 last night – given the strength in the dollar off of the turmoil in Italy. However, despite gold running back over some key support levels today, they still see a market that has made 5 consecutive lower highs, and with an uptrend that is in serious jeopardy.
Many bears believe that gold's recovery rally ($1160 - $1214) has been completed, and point to its repeated inability to take out the $1214 double top (despite the dollar weakness) and Wednesday's failure to hold the uptrend line from the $1160 low at $1196, as evidence that the yellow metal will resume its decline.
This is witnessed by today's COT Report showing the large funds added to their net short position and have with a hefty 210k gross short position.
They feel fuel from a rebound in the dollar from its recent correction will provide downside pressure on gold, and that the dollar's ability to strengthen against other currency majors (and emerging market currencies) still has legs. They will be gunning for stops below initial support at $1182 - 84 (5 bottoms - 8/20, 8/23, 8/24, 9/27, and 9/28 lows) to lead to a test of $1175 (options strike) and then $1171-73 (quadruple bottom – 8/15, 8/17, 1/6/17 and 1/9/17 lows).
All markets will continue to focus on geopolitical events (especially emerging markets), developments with the Trump Administration (especially on US-China and US-Canada trade, potential legal issues), oil prices, and will turn to reports Monday on China's PMI, Japan's Tankan Survey and PMI, Eurozone PMI and Unemployment Rate, UK PMI, US Vehicle Sales, Markit PMI, Construction Spending, ISM Manufacturing, and comments from the Fed's Bostic and Rosengren for near-term direction.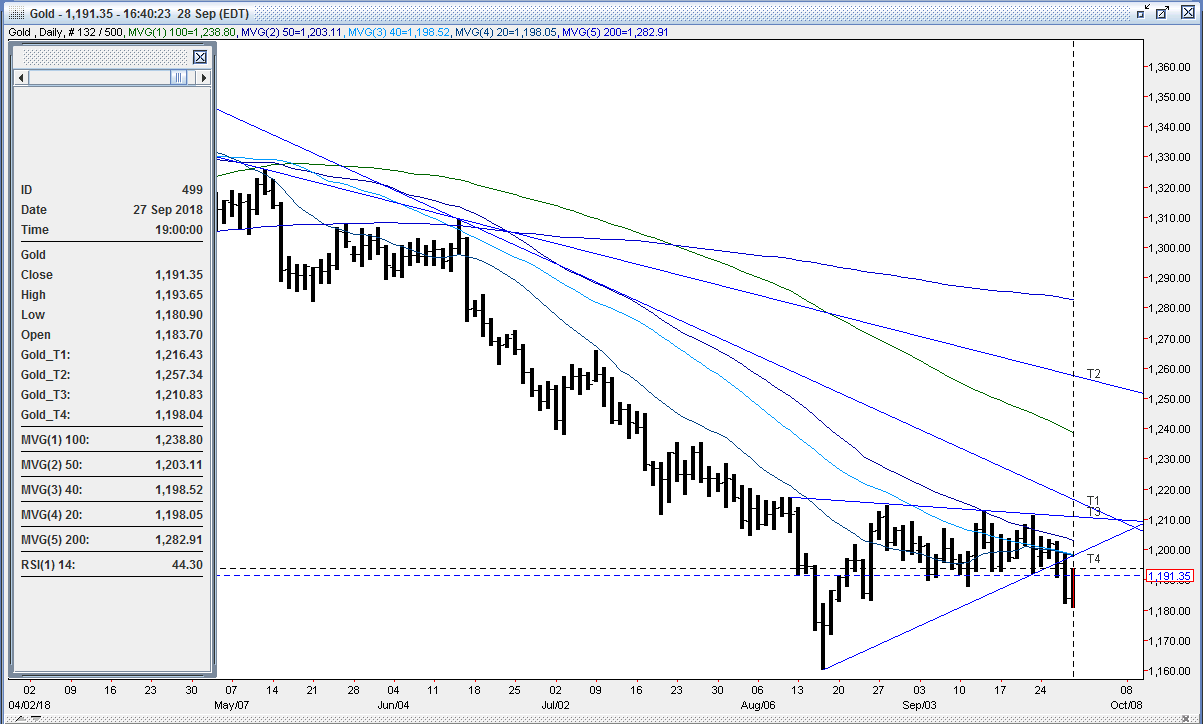 Resistance levels:
$1192-94 – 5 bottoms, 9/12, 9/14, 9/17, 9/21, and 9/23 lows
$1194 – 9/28 high
$1198- up trendline from the 8/16 $1160 low
$1198 – 20-day moving average
$1199 – 40 day moving average
$1200 – psychological level, options
$1203 – 50 day moving average
$1203 – 9/26 high
$1203-04 –triple top, 9/24, 9/25, and 9/26 highs
$1207-09 –7 tops, 8/29, 8/30, 8/31, 9/6, 9/12, 9/14, and 9/20 highs
$1211 – 9/21 high
$1211 – down trendline from 8/10 $1217 high
$1213-14 – triple top – 8/13, 8/28, and 9/13 highs
$1216-18 – 5 tops, 8/6, 8/7, 8/8, 8/9 and 8/10 highs
$1220-21 – 8/2 and 8/3 highs
$1222 – down trendline from 4/11 $1365 high
$1225 – 7/30 high
$1225 - options
$1227-28 – 7/27, 7/31 highs
$1234-35 – triple top, 7/23, 7/25, and 7/26 highs
$1235 -38 – 6 bottoms –7/16/18, 7/13/18, 12/12/17, 7/18/17, 7/19/17, 7/20/17 lows
$1239 – 100-day moving average
$1245-46 – double top – 7/16 and 7/17 highs
$1250 - options
$1251-53 – triple bottom 7/4, 7/5, and 7/6 lows
$1259-61 – quadruple top – 6/27, 7/4, 7/5, and 7/6 highs
$1262 – 50% retracement from 4/11 $1365 high to the 8/16 $1160 low
Support levels:
$1190 – up trendline from 10/19/08 $682 low
$1188 - 9/11 low
$1187 – 50% retracement of up move from 8/16 $1160 low to 8/28 $1214 high
$1181 - 84 – 5 bottoms - 8/20, 8/23, 8/24, 9/27, and 9/28 lows
$1175 – options strike
$1172– quadruple bottom – 8/17 low
$1160 – 8/16 low
$1156 – 1/4/17 low
$1150 – options
$1146 – 1/4/17 low