Gold had a modest bounce last night, trading in a narrow range of $1191 - $1195.75. This was despite the US dollar firming slightly (DX ranged from 95.28 – 95.67).
The greenback was lifted by continued weakness in emerging market currencies, with the Mexican peso, South African rand, Indonesian rupiah, and Indian rupee all considerably lower, along with some softness in the pound ($1.2870 - $1.2785, ex-BOE Governor King attacks Brexit plan as incompetent).
Global stock markets were lower and gold supportive with the NIKKEI down 0.4%, the SCI off 1.7%, European shares were down from 0.5% to 0.9%, and S&P futures were -0.3%.
A continued pullback in oil (WTI from $69.50 - $68.66, Tropical storm weakened) weighed on equities.
AT 8:30 AM, a slightly better than expected reading on the US Trade Balance (-$50.1B vs. exp. -$50.3B) was largely ignored.
However, shortly thereafter, reports that Germany decided to abandon some key Brexit demands combined with some dovish comments from the Fed's Bullard (makes case for halting interest rate hikes, saying the current stance of monetary policy is already at neutral – or perhaps restrictive) to knock the DX lower (95.06) as the pound shot higher ($1.2982) and the euro rallied ($1.1580 - $1.1638).
US stocks pared losses on their open (S&P -2 to 2894), and the US 10-year bond yield fell from 2.917% to 2.90%. Gold popped higher, and took out its overnight high to reach $1198.15 - but ran out of fresh buying interest to test resistance at $1200.
US stocks turned down by mid-morning (S&P -20 to 2877), with tech shares getting clobbered as executives from Facebook and Twitter were testifying to Congress about meddling and abuse of the social platforms.
The US 10- year yield slid further to 2.893%, while the DX hovered around 95.10-15. Gold, after a prior dip to $1195.50, traded up to make a fresh high at $1198.40 – but again failed to test $1200.
Later in the morning and into the afternoon, US stocks trimmed earlier losses (S&P-3 to 2893), with gains in consumer staples, utilities, real estate and telecom helping to offset the trouncing in the tech sector.
The 10-year yield ticked up to 2.90%, and the DX moved up to 95.22 – aided by a retraction from Germany on its Brexit stance which knocked back sterling ($1.2890) and the euro ($1.1610). Gold drifted lower, but found decent support again at $1195.
Late in the afternoon, the release by the NY Times of an anonymous op-ed allegedly from a White House official that was highly critical of Trump sent stocks lower at the close (S&P -8 to 2888). The 10-year bond yield was steady, trading either side of 2.90%. The DX ticked down to 95.11, and gold edged up to $1197. Gold was $1197 bid at 4PM with a gain of $5.
Open interest was up 6.5k contracts, showing some new shorts along with some bargain hunting new longs from yesterday's $8 decline. Volume ballooned with 438k contracts trading.
Bulls were pleased with today's gain, and that support at $1192 – though tested last night – held up well. Some bulls were a bit concerned though, that despite the DX flirting with support at 95, gold was unable to breach $1200.
The bulls are undeterred in their thinking that gold bottomed at $1160 on 8/16 after a $35 2-day capitulation, and will look to either add to long positions on weakness, or on some expected ensuing upside momentum.
They maintain the market has been and remains extremely oversold - having dropped $205 (15.0%) since the 4/11 $1365 high, and $149 (11.4%) since the $1309 high on 6/14.
Bulls strongly believe that the dollar's rally was badly overextended, and expect its correction from 8/15's 96.99 high (up 9.90% since its 88.25 low on 2/14) to continue, and drive a significant short covering rally in gold.
Bulls are looking for gold to consolidate recent gains over $1187 (50% retracement of up move from the 8/16 $1160 low to last week's $1214 high) and then challenge resistance at $1207-09 (triple top), and then $1216-18 (5 tops, 8/6, 8/7, 8/8, 8/9 and 8/10 highs). Beyond this, bulls are looking for a move to at least $1262 – the 50% retracement of the move down from the 4/11 $1365 high to the 8/16 $1160 low.
In addition, bulls maintain that Friday's Commitment of Traders Report showing the large funds still net short (turned short two weeks ago for the first time since 2002) and with a massive gross short position (210k contracts –short side of gold an extremely crowded trade) leaves this market set up in a highly favorable position to move up from potential heavy short covering and sidelined longs returning to the market.
Bears have been using gold's recent bounce off of $1160 to rebuild short positions scale up, and are comfortable to continue to sell into any strength. Many bears believe that gold's recovery rally ($1160 - $1214) has been completed and are looking for the yellow metal to resume its decline.
This is witnessed by Friday's COT Report showing the large funds are still net short, with a massive 210k contract gross short position. They feel fuel from a rebound in the dollar from its recent correction will provide downside pressure on gold, and that the dollar's ability to strengthen against other currency majors (and emerging market currencies) still has legs.
They will be gunning for stops below key support levels in the mid $1180's - $1187 (50% retracement of up move from 8/16 $1160 low to 8/28 $1214 high), $1185 (up trendline from 10/19/08 $682 low), and $1183 - 84 (triple bottom - 8/20, 8/23, and 8/24 lows) to lead to a test of $1175 (options strike) and then $1171-73 (quadruple bottom – 8/15, 8/17, 1/6/17 and 1/9/17 lows).
All markets will continue to focus on geopolitical events (especially emerging markets), developments with the Trump Administration (especially on US-China and US-Canada trade, potential legal issues), oil prices, and will turn to reports tomorrow on German Factory Orders and Construction PMI, US Challenger Job Cuts, ADP Employment Change, IU Claims, Nonfarm Productivity, Unit Labor Costs, Markit Services PMI, Factory Orders, ISM Services, Durable Goods, Oil Inventories, and comments from the ECB's Lautenschlaegger and the Fed's Williams for near-term direction.
In the news: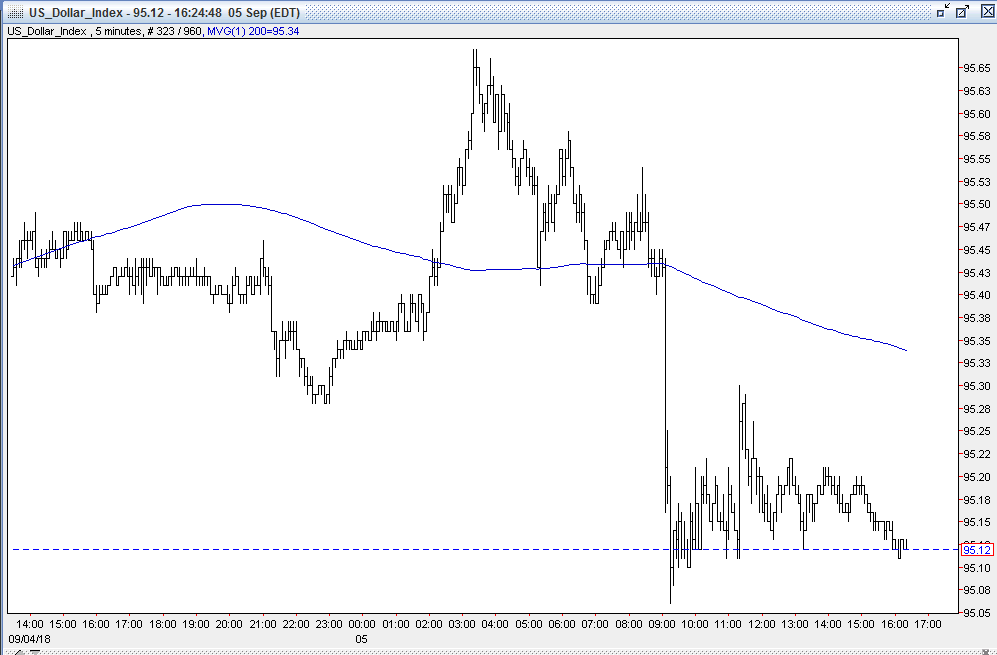 Resistance levels:
$1198 – 9/5 high
$1200 – psychological level, options
$1202 – 9/4 high
$1204 – 9/3 high
$1207 – 9 – triple top, 8/29, 8/30, and 8/31 highs
$1205-08 – 9 bottoms – 8/2, 8/3, 8/6, 8/7, 8/8, 8/10 7/7/17, 7/10/17 and 7/11/17 lows
$1209 – double top, 8/24, 8/31 highs
$1211 – 40 day moving average
$1214 – double top – 8/13 and 8/28 highs
$1216-18 – 5 tops, 8/6, 8/7, 8/8, 8/9 and 8/10 highs
$1219 – 50 day moving average
$1220-21 – 8/2 and 8/3 highs
$1225 – 7/30 high
$1225 - options
$1227-28 – 7/27, 7/31 highs
$1234-35 – triple top, 7/23, 7/25, and 7/26 highs
$1235 -38 – 6 bottoms –7/16/18, 7/13/18, 12/12/17, 7/18/17, 7/19/17, 7/20/17 lows
$1245-46 – double top – 7/16 and 7/17 highs
$1250 - options
$1251-53 – triple bottom 7/4, 7/5, and 7/6 lows
$1259 – 100-day moving average
$1259-61 – quadruple top – 6/27, 7/4, 7/5, and 7/6 highs
$1262 – 50% retracement from 4/11 $1365 high to the 8/16 $1160 low
$1266 – 7/9 high
$1268 – 6/26 high
$1270-73 – triple top, 6/21, 6/22, and 6/25 highs
$1275 – options
$1275 – 6/15 low
$1276 – 6/20 high
$1281-82 – double bottom, 5/21 and 12/27 lows
$1282 – 6/18 high
$1284 – 6/19 high
$1288 – double bottom, 5/22 and 5/23 lows
$1288– 200-day moving average
$1292-95 –5 bottoms – 6/6, 6/7, 6/8, 6/11, 6/12, and 6/13
Support levels:
$1197 – 20-day moving average
$1192 – triple bottom 8/22, 8/13 and 8/14 lows
$1191 – 9/5 low
$1187 – 50% retracement of up move from 8/16 $1160 low to 8/28 $1214 high
$1185 – up trendline from 10/19/08 $682 low
$1183 - 84 – triple bottom - 8/20, 8/23, and 8/24 lows
$1175 – options strike
$1171-73– quadruple bottom – 8/15, 8/17, 1/6/17 and 1/9/17 lows
$1166 – 1/5/17 low
$1160 – 8/16 low
$1156 – 1/4/17 low
$1150 – options
$1146 – 1/4/17 low