ORIGINAL SOURCE: Is Inflation Heating Up? By Chip Corley of equities.com on
This has caused havoc in the markets in the past and it looks that 2017 will be game changer if it play's out.
Here's what Chip Corley of equities.com had to say
In December's Consumer Price Report (CPI), both headline CPI and core CPI (excluding food and energy) surpassed the Fed's longstanding two-percent target. The rate of inflation remains tame, yet there appear to be other similar economic reports making the scenario interesting. Last month, I pointed out the relevance of the recent acceleration in economic productivity. As depicted in the chart below, the inflation rate as measured be the CPI has been increasing over the past five months. The last time the core and headline inflation numbers breached the Fed's threshold was February 2013. Depressed energy inputs were the primary cause of transitory deflationary signals. Higher inflation spooked the bond market sending intermediate and long dated bonds back near 12 month lows. Stocks traded lower on the report, until buyers firmed up prices at the closing bell.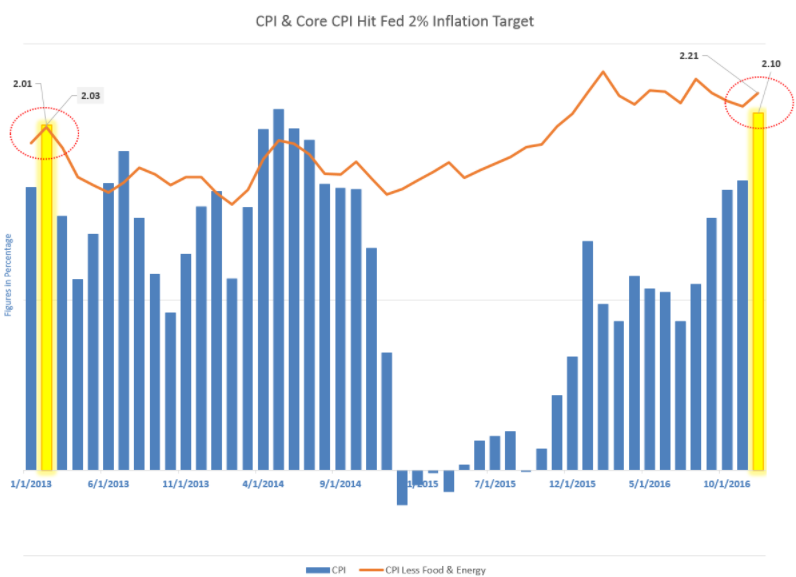 2017 is expected to be a year of change. People of all walks will be making decisions about their careers and personal lives. For many, that may entail relocating or moving elsewhere. Inflation, or the lack thereof, is a factor to be considered in the equation. The following chart shows the inflation rate for the 14 largest metropolitan areas. In 2016, inflation had been highest in San Francisco and Miami at 3.5% and 2.9% respectively, well ahead of the national average of 2.1%.